At Bulleen Art & Garden we focus on the environment and creativity. We have one of Melbourne's biggest ranges of herbs, fruit and vegies and we specialise in edible, indigenous and low water use plants.
We believe that food and habitat gardening is a positive contribution that everyone can make to the environment and their own community. Our staff have experience and expertise in gardening, the environment and the arts with strong connections to the local community. As a business, we take a leading role in inspiring new directions in gardening; developing a consideration for the environment; and stimulating interest in arts and craft.
BAAG's Environmental initiatives
For over 20 years BAAG has taken proactive steps to try and limit our impact on the environment our mission is to encourage others to follow our lead.
BAAG is located along side the Yarra River in Melbourne's north-east. The surrounding parklands act as magnificent backdrop to the nursery. BAAG is committed to helping to improve the local parks and has been actively revegetating the site in collaboration with Parks Victoria and the Friends of the Yarra Valley Parks for well over a decade.
Our environmental policy and environmental weed policy both reinforce BAAG's dedication to sustainable gardening. The policies are provided to all staff and cover a range of issues from the sourcing and sale of products to the advice that we provide our customers.
Would you like to work at BAAG?
Are you energetic, flexible and outgoing? Able to work in a diverse team environment? Not afraid of getting dirty? Environmentally aware and supportive of BAAG's sustainable policies? If so we'd love to hear from you! Click here to find out more.
BAAG in the Community


We are proud to be a part of our vibrant and diverse community. BAAG's community activities focus on our areas of interest and expertise; the environment, gardening, the arts and children. Links with the local community have been built over a long period through a combination of involvement and support. Our goal is to continue building on our established local community ties and become widely recognised as an important meeting place and resource for the community into the future.
BAAG a member of both Garden Centres Australia and SGA's Green Gardening Professionals..
Awards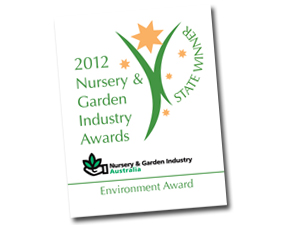 BAAG is widely regarded both within and outside of the nursery industry as a highly progressive business and leader on issues and opportunities relating to the environment and community engagement. We have been formally recognised on numerous occasions for our long-term commitment to the environment and our local community.
Premier's Sustainability Award Finalist: 2012
NGIA National Environment award: 2007, 2009
NGIV State Environment award: 2007, 2008, 2009, 2012
NGIA State Environment award: 2012
NGIA National Community award: 2007, 2009
NGIV State Community award: 2007, 2008, 2009, 2010
CAWS Australia's Most Weed-Wise Nursery award: 2007
Savewater Award: 2001
City of Manningham Business Environmental award: 1998
Accreditations
Sustainable Gardening Australia Certified Garden Centre
Water Saver Garden Centre Accreditation
Friends of the Yarra Valley Parks

The Friends of Yarra Valley Parks is a group whose primary aim is to involve the wider community in conservation issues and activities within the Yarra Valley Parklands, Melbourne, Australia. Their activities include plant propagation, planting and weed removal. We work with Parks Victoria rangers and focus our efforts in parks along the Yarra River from Burke Rd Ivanhoe upstream to Warrandyte. For more information about FYVP head to their website at www.yvfriends.org.au
Bolin Bolin Precinct
The Bolin Bolin Cultural Precinct incorporates bushland and a series of billabongs across the Yarra from the Artists Trail, past the Bolin Bolin Billabong from Bulleen Park to Heide Museum of Modern Art. Places of interest along the trail include Heide MOMA, Banksia Park, Bulleen Art and Garden, the Bolin Bolin Billabong, the Veneto Club and Bulleen Park.
If you would like to see some of the clippings from papers that we have collected over the years that have featured our garden centre please click here. We also have a few YouTube clips for you too watch. Grab some popcorn and enjoy!