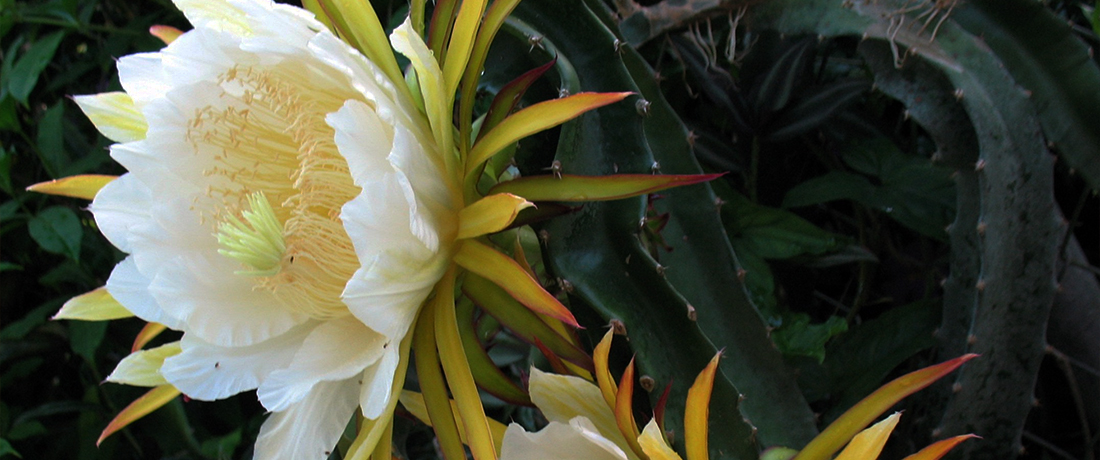 Important note about plant availability.
There are hundreds of factsheets on our website provided for your information. Not all plants will be available at all times throughout the year. To confirm availability please call (03) 8850 3030 and ask for the nursery.
These are a member of the cactus family and, like so many cacti, have spectacular flowers. In this case the flowers are followed by equally spectacular fruits. The fruits are so amazing to look at that the flavour, whilst very pleasant, doesn't really live up to the glamour of the appearance. The flesh is firm and crisp with a delicate sweet flavour, reminiscent of a melon or kiwi fruit. Interestingly, the less exotic yellow dragon fruit (more below) has the best flavour.
There are 3 main varieties of Dragon fruit:
Hylocereus undatus
Also known as Pitaya blanca or white-fleshed pitaya. This is the most commonly seen Dragon Fruit, the bright red skin is accented with green scales, and when sliced open the brilliant white flesh is dotted through with tiny edible black seeds all together creating a sensational appearance. Makes a dramatic centre piece for the otherwise pedestrian fruit platter. Fruit is commonly 350g but can weigh up to 1kg.
They can be served simply chilled and cut in half, with the flesh just scooped out with a spoon. Alternatively they can be used for a stunning sorbet, in fruit salads, in drinks, jams and desserts. Hylocereus undatus is a climbing cactus thought to originate in central and northern South America and is highly regarded as an ornamental plant due to the large, almost translucent, white scented night blooming flowers. These attract bats, bees and moths. The insects are attracted at dawn and dusk and the bats at night. Flowers last a maximum of 2 nights.
Grow in a sunny spot, but they have been known to dislike intense sunlight, so if you are in a very hot sunny part of the world some protection from the full afternoon sun may be advisable. Soil must be well drained and fertiliser requirements are not high. Train a single 3 ribbed stem up a sturdy post to around 1.8 to 2m and then encourage the branches to hang down to promote flowering and fruit set. Several plants can be grown up one post. The flowers are self-fertile and need longer day lengths to start flowering. Flowers may appear as early as October and continue until May, with peak flowering in January. Fruit set and development is rapid after flowering, harvest is approximately 28 days after flowering. Do not harvest until the fruit is fully expanded and the skin is almost fully coloured up. It is possible to leave the fruit on the stem up to 2 weeks, but you will need to protect them from predators.
Hylocereus costaricensis
Also known as Pitaya roja, red-fleshed pitaya, or as Hylocereus polyrhizus. A spectacular night flowering cactus with highly ornamental pink/red skin & red flesh fruit containing numerous small black seeds. Fruit can be up to 1kg with a raspberry/melon like flavour. Can be served simply chilled and cut in half, with the flesh just scooped out with a spoon. Alternatively can be used for a stunning sorbet, in fruit salads, in drinks, jams and desserts.
Choose a sunny spot, but protect from extreme sun. Red flesh pitaya prefers to sprawl along a trellis or on a fence line. Grow the stem up a post and then tie the lateral branches along the top of the fence or trellis. Not a deep rooted plant, irrigate and mulch (keep away from main stem) to ensure the roots do not dry out when fruiting, but make sure soil is well drained.
Hylocereus megalanthus
Also known as Pitaya amarilla, Yellow pitaya, or as Selenicereus megalanthus. Not as commonly grown as the red forms, possibly due to the much more nasty and significant thorns (these need to be removed before serving), this Pitaya has smaller fruit with a yellow skin and a white flesh. Generally regarded as the Dragon fruit with the best flavour, it also has strongly scented trumpet like flowers which are freely produced in late summer (night flowering) followed by fruit in 4-8 weeks.
Easy to grow in sun or semi shade, well drained organic rich soil. Can be grown up a post and hanging down, along a fence or even along the ground. Not at all frost tolerant, keep warm in winter (not below 8C).