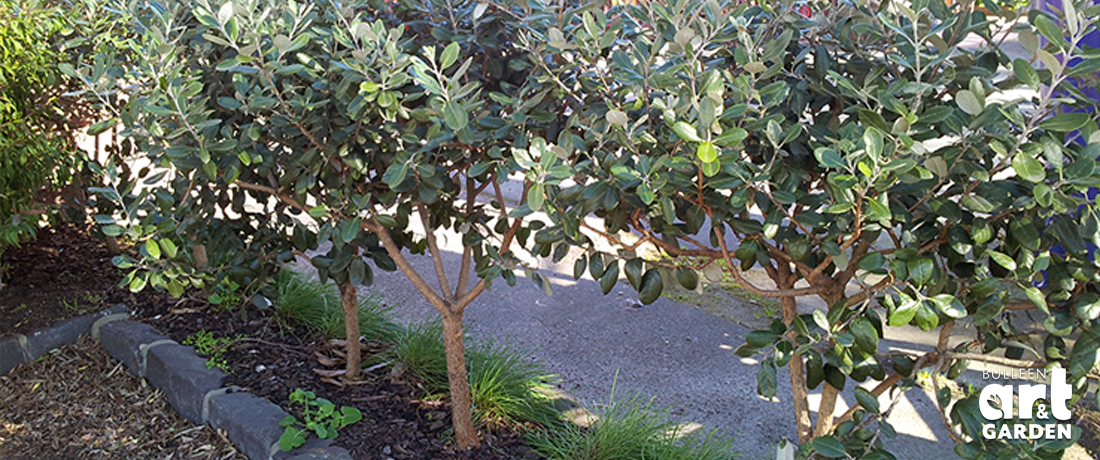 Important note about plant availability.
There are hundreds of factsheets on our website provided for your information. Not all plants will be available at all times throughout the year. To confirm availability please call (03) 8850 3030 and ask for the nursery.
I remember tasting my first Feijoa when one of the guys at University brought a bag of them on a class field trip. I was dazzled by these delicious little fruits and I can tell you that the bag of them did not last long! Feijoas, also known as Pineapple Guavas or Guavasteen, are native to Southern Brazil and Northern Argentina. You could be forgiven for assuming they are also native to New Zealand due to the way they are commercially grown there in the cool climate.
Feijoa is a species of the Myrtaceae family and are a slow growing shrub to about 3 – 4 metres. The leathery leaves are a grey green on top and white underneath. The elongated pear shaped fruit is about 5 – 10 cms long with a blue green waxy skin with a soft fruity flesh and a pulpy centre with tiny edible seeds.
Feijoas do best in a richly composted and well-drained soil with ample water in the summer to develop the fruit. If the bush gets too dry the fruit often fall off before they develop. Full sun is best but fruit will still grow in part shade.
Feijoa plants make excellent garden screens or windbreaks and can even be espaliered. They are very hardy against pests and diseases with the fruit fly being the only real pest when the fruit ripens. The red and white flowers are quite stunning and the petals can be used in sweets and drinks. Once the fruit are ripe they simply drop off the bush, fresh and ready to eat.
The flower petals are edible, with a flavour that is slightly sweet with hints of cinnamon. The most common use is as an addition to salads. They regularly are consumed by birds.
Feijoa varieties such as Mammoth, Triumph and Nazematze are popular in Australia and take about 3 years to start fruiting. Planting a couple of different varieties will definitely increase the yield and quality of the fruit. The flavour of the fruit can be described as a tangy fruit salad. These power packed little fruit are very high in Vitamin C and dietry fibre as well as containing B6, Potassium and Magnesium. Feijoas are used widely in cooking from jams, chutneys, cakes and puddings as well as a potent feijoa wine. However, I enjoy just eating them fresh with a teaspoon as a healthy, yummy snack.
Grafted Feijoas
Feijoas are one of those excellent garden plants that comfortably double as an ornamental and as an edible. If you are however, more concerned with the edible side of things then you may want to consider using a grafted feijoa instead.
Why use a grafted feijoa?
Seedling grown feijoas like those covered above have the advantage of being cheaper and readily available. They are perfect if you require an ornamental hedge where the fruit is a bonus. If however, the size and quality of the fruit is a major consideration, then a grafted feijoa has several advantages:
They will fruit years earlier
Superior quality cultivars are grafted onto sturdy rootstock
You can research which feijoa you want, and reliably get it, without the variability in fruit quality and size of seedling grown stock
Mammoth
Large, round to oval fruit. Slightly wrinkled thick skin. Flesh somewhat gritty, quality and flavour very good. Matures early in midseason. Softer and not as good a shipper as Triumph. Tree of upright habit, to 3m tall, strong growing. Self-fertile, but bears more fruit with cross-pollination.
White Goose
Large fruit with very sweet flavour and mildly aromatic smooth soft juicy pulp. Upright and vigorous plant. Early season March/April. Very cold tolerant.
Triumph
Juicy cream coloured flesh, mildly aromatic. Excellent sharp flavour. Late season. Oval. Upright vigorous growth. Tree approximately 4mx4m
Nazemetz
Very large, egg or pear-shaped fruit from self fertile flowers. However it is more fruitful when a pollinating variety planted close by. Nazemetz fruits have translucent, very sweet and flavourful flesh and ripen autumn through winter. Unlike most Feijoas, the flesh does not darken after being cut, but retains its clear colour.