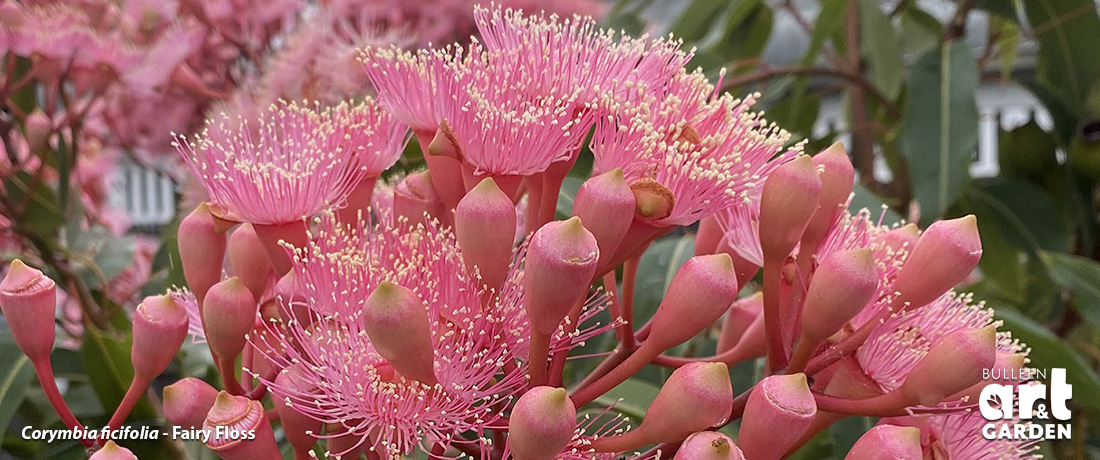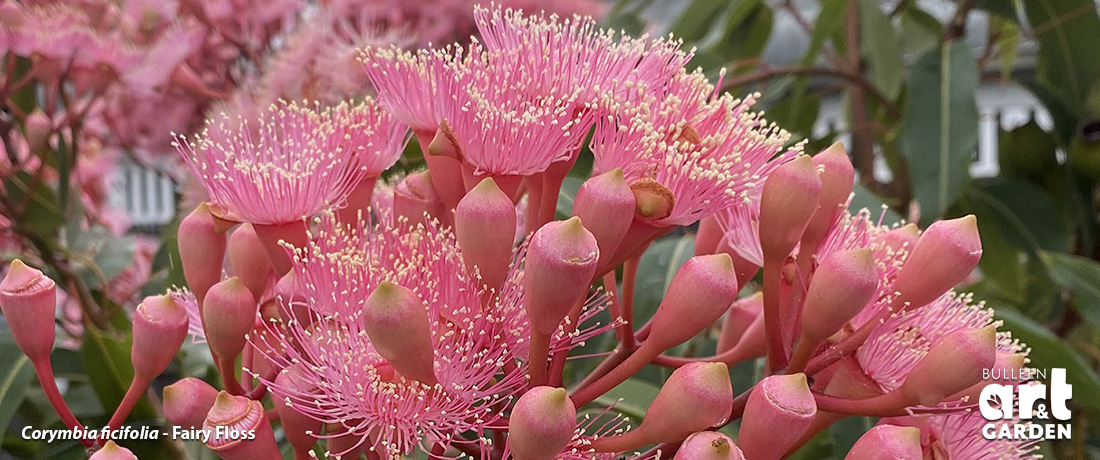 This is a fairly generic term, but commonly refers to Corymbia ficifolia and all the various grafted cultivars of this genus. They are available in a wide range of stunning flower colours… from soft pinks to vibrant oranges to flaming reds.
The original species Corymbia ficifolia is a sturdy tree from W.A., with thick green leaves and very variable height, from as low as 2m to as tall as 12-15m. When flowering it is an absolute mass of brilliant red to orange blossom. These are followed by large woody gum nuts. They cope very well with dry windy conditions, but don't tolerate hard frosts, waterlogging or humidity. Native birds absolutely love these trees, especially lorikeets.
The high degree of genetic variability has allowed breeders to select strains for size and for flower colour and by grafting them, they keep the characteristics. We now have a wonderful array of different cultivars of flowering gums, with widely varying colours and heights. Most of them have a dense rounded crown and an overall mushroom type form. Hybridising with Corymbia ptychocarpa (Bloodwood) has allowed these flowering gums to cope with the more humid conditions found in Sydney and north. Grafted forms of these are currently in the named 'Summer' series: Summer Beauty, Summer Red etc. and tend to have slightly larger flowers.
Keep young trees (up to 5 years) safe from frost and use a native fertiliser. Do not plant in heavy soil, needs good drainage. If you are on a heavy clay, consider raising the bed. Fertilise in spring using a low phosphorus fertiliser. These trees produce large quantities of large gumnuts, if you lightly prune after flowering you will reduce the number of gumnuts and increase flowering the subsequent season.
Grafting of these trees is notoriously difficult, and supply rarely meets demand. They are generally fairly expensive, so it is worthwhile ensuring they are well sited in a sunny, well drained position, with a good soil. Stake them while they are young, they have a heavy canopy which catches the wind. Remove all growth from below the graft union. Grafted rootstocks are generally Corymbia maculata, Corymbia ptychocarpa or seedling Corymbia ficifolia. Unlike the conventional fruit and nut trees which have been grafted for centuries, these tree have been available for less than two decades, so there is not a lot of good information on their longevity.

Important note about plant availability.
There are hundreds of factsheets on our website provided for your information. Not all plants will be available at all times throughout the year. To confirm availability please call (03) 8850 3030 and ask for the nursery.
Mini Red
2.5m x 2m
Barely a tree, almost a tall shrub, great for the suburban garden and the startling eye-catching red blossom is largely at eye level and is stunning. Birds love it and the low height mean it is easier to see the birds when they are feasting on the flowers. Has been known to give a smaller second flowering in autumn.
Baby Scarlet (syn. Cardinal's Scarlet)
3-4m x 3m
Vivid scarlet flowers from creamy pink capsules in mid-summer to autumn. Bronzy to red new growth. Rounded canopy. Fairly quickly grows to its mature height unlike Baby Orange which is slower growing.
Baby Orange
3m x 3m
Bronzy new growth on the large leaves, forming a dense round canopy. Eye-catching bright orange blossom over summer on a compact tree. Slow growing. Good for pots.
Orange Splendour
4-6m x 3-4m
Medium to fast growing with bright orange summer blossom and a dense rounded habit. Dark green leaves.
Summer Glory
4-6m x 3m
Vibrant pink flowers. A hybrid (x C.ptychocarpa) bred to cope with humidity.
Calypso (Calypso Queen)
5-6m x 4m
Wonderful specimen tree with bronzy/red new growth and an incredible covering of gorgeous deep salmon pink blossom emerging from pink capsules in summer.
Lollypops
5m x 3m
Dusty Pink flowers
Summer Beauty
5-6m x 4m
Strong musk pink flowers. The yellow capsule interior gives a bright contrast to the pink anthers and the overall effect is stunning. A hybrid developed to cope with humidity.
Summer Red
5-6m x 3-4m
Large bright cerise red flowers. A hybrid developed to cope with humidity. Large glossy green leaves with paler reverse. Irregular rounded canopy. Absolutely gorgeous.
Summer Snow
5-7m
Creamy white blossom with lovely long stamens held in pink capsules – very beautiful.
Snowflake
6m x 4-5m
Creamy white flowers contrasting effectively with the very dark green foliage. Dense broad canopy
Wildfire
6m x 3-5m
Beautiful tree with fiery scarlet red blossom set off by the pale milky pink/white capsules over summer and into early autumn. Dense canopy of glossy dark green leaves with paler reverse, new growth has bronze tones.
Wild Sunset
6m x 4m
Vivid orange/red flowers through summer and into autumn.
Burgundy
6-7m x 4m
Deeper burgundy flowers on an upright elegant tree. New leaves emerge red and change to green as they mature and form a very dense canopy.
Fairy Floss
5-7m x 4m
Sensational specimen tree with two toned soft pink blossom through summer. The flowers stand out beautifully against the strong green foliage in a rounded crown.