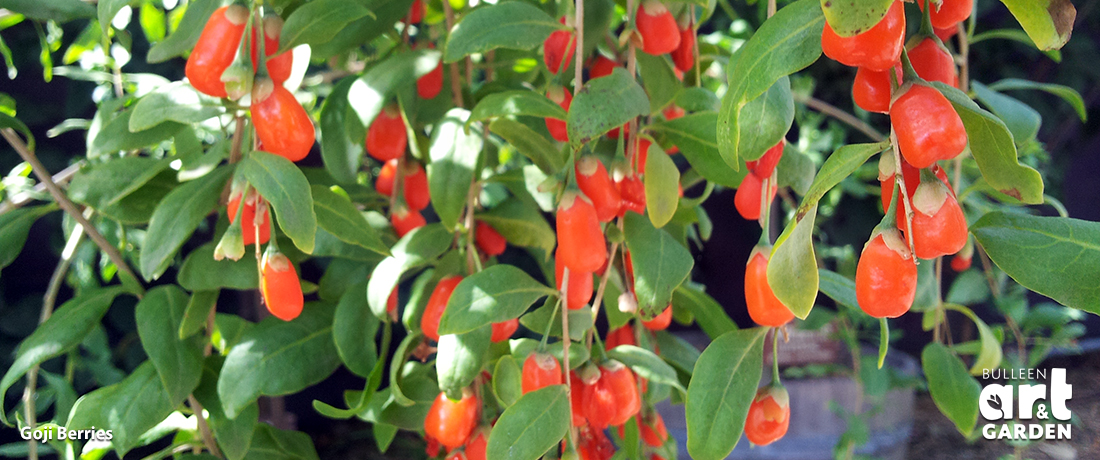 Important note about plant availability.
There are hundreds of factsheets on our website provided for your information. Not all plants will be available at all times throughout the year. To confirm availability please call (03) 8850 3030 and ask for the nursery.
After being away from the nursery for a while I'm always interested to come back and see how the plants are growing around the place, what is in flower, what is fruiting and what is struggling or thriving. So this time after a break, the first thing I noticed was the goji plant (Lycium barbarum) in Edible Alley, the edible garden alongside the BAAG driveway, its pendulous branches positively dripping with glowing, orange fruits.
It is the first time our goji has fruited, as the new growth was pruned in previous years before having a chance to fruit (they are tip-bearers) and because the plant was still young (they start producing after 2-3 years). Now that it is established, we knew not to prune it until after fruiting and have been well rewarded. Feel free to try one when you are in next before they finish. They are small but quite refreshing, not to mention a superfood.
To grow a goji plant, plant it in a sunny position with adequate food, water and drainage. Branches grow as long flexible stems that can be trained to allow the ends to weep and then pruned to maintain a good shape after fruiting or in winter whilst dormant.