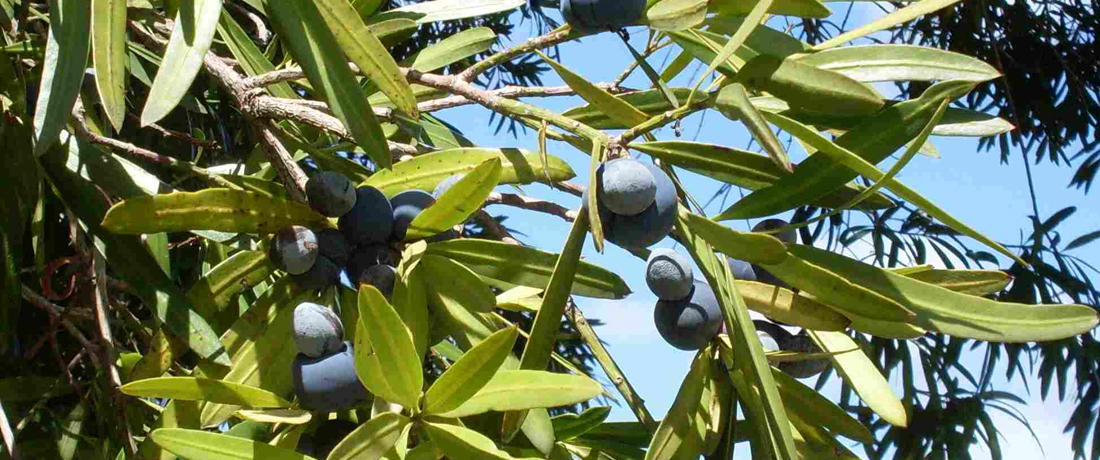 Important note about plant availability.
There are hundreds of factsheets on our website provided for your information. Not all plants will be available at all times throughout the year. To confirm availability please call (03) 8850 3030 and ask for the nursery.
An ancient tree originating 245 million years ago, Podocarpus elatus has been around since the dinosaur age and is from the same family as pine trees. It occurs naturally in subtropical rainforests of NSW and QLD, and as far south as the Victorian border. In the wild, the tree can grow to 36m tall and has a spreading crown, which makes it perfect as a shade tree. It is often used as a street tree in parts of Australia such as Adelaide. When planted in gardens it does not get as tall, reaching approximately 10m.
The edible part of the plant is the fleshy swollen stalk, similar in size and appearance to a large dusky purple grape, to which the seed is attached. The fruit has a mild plummy flavour in a sweet juicy thick pulp, and can be an acquired taste!
To produce fruit a male and female plant must be grown, creating a disadvantage for the home gardener, as the sex is not often indicated on the plant label in the nursery, and of course the garden would have to be large enough to accommodate two trees.
Cultivation
P.elatus is able to withstand mild frosts but not drought. It can stand temperatures of up to -7ºC, and will tolerate salt spray. It likes a rich, moist, slightly acidic soil. Incorporate lots of organic matter mixed with cow manure into the soil before planting.
Uses in the Kitchen
The edible fleshy stalk may be eaten raw, straight off the tree. Illawarra plums are typically used as a compliment for chilli and garlic, as well as sweet dishes. It can be used in sauces, preserves, muffins, cheesecakes and fruit compotes.
Use stainless steel utensils, not aluminium, to prevent bitterness, and add an acidifier to prevent discolouration of the fruit.
Recipe
Christmas Turkey stuffed with sausage mince, porcini mushrooms and garlic with Illawarra Plum sauce
Preparation time: 45 minutes
Cooking time: 2 hours
Ingredients:
Baked Turkey
Turkey (2-3 kilograms)
Butter
1 finely chopped onion
1 quartered onion (unpeeled) for flavour when baking
1 carrot for flavour when baking
Macadamia nut oil for basting
4 sticks of finely chopped celery
Minced garlic 2 dessert spoons
1/2 cup dried porcini mushrooms steeped in water for 5 minutes (normal mushrooms okay but porcini mushrooms have a lovely woody aroma)
1 kg sausage mince
About 6 bread slices chopped into cubes or processed to crumbs
1 egg
Salt to taste
Kitchen string for baking
6 slices of thinly sliced pancetta and prosciutto
1 cup chicken stock for keeping the turkey moist while cooking
Illawarra Plum Sauce
1 cup chicken stock
1/3 cup of red wine vinegar
1 cup red wine
Salt to taste
1 cup Illawarra plums
Native pepper to taste
Teaspoon of brown sugar
2 tablespoon of cornstarch mixed with water to make a liquid
Method
Make the Stuffing
1. Melt butter and sauté chopped onions and celery. Don't overcook.
2. Add 2 tablespoons chopped garlic
3. Add porcini mushrooms to frypan and sauté for 1 or 2 minutes. Turn off frypan.
4. Separately put cubed bread sausage meat in a bowl, put in sautéed ingredients and an egg
5. Mix well together with your hands and mash it all up
Prepare Turkey
1. Put turkey in baking dish onto a cooking rack surrounded by quartered onions, carrots and pumpkin (for flavour only)
2. Put stuffing into turkey cavity and bind it up with string around legs and breast
3. Baste turkey with macadamia oil
4. Pour beef stock into the baking dish
Cook Turkey
1. Put in a 180 degree Celsius oven for 2 hours basting regularly.
2. After the first 20 minutes baste turkey then wrap it with the pancetta and prosciutto slices.
3. Continue cooking and basting turkey with chicken stock every 20 minutes with chicken stock to keep moist.
Illawarra Plum Sauce
1. Combine chicken stock, red wine vinegar, red wine, Illawarra plums, native pepper and salt to taste in a large fry pan and reduce to half
2. Add cornstarch
3. Let it simmer for one or two minutes. It should not be too thick as it is a glaze.
4. Take off heat and sit before serving.