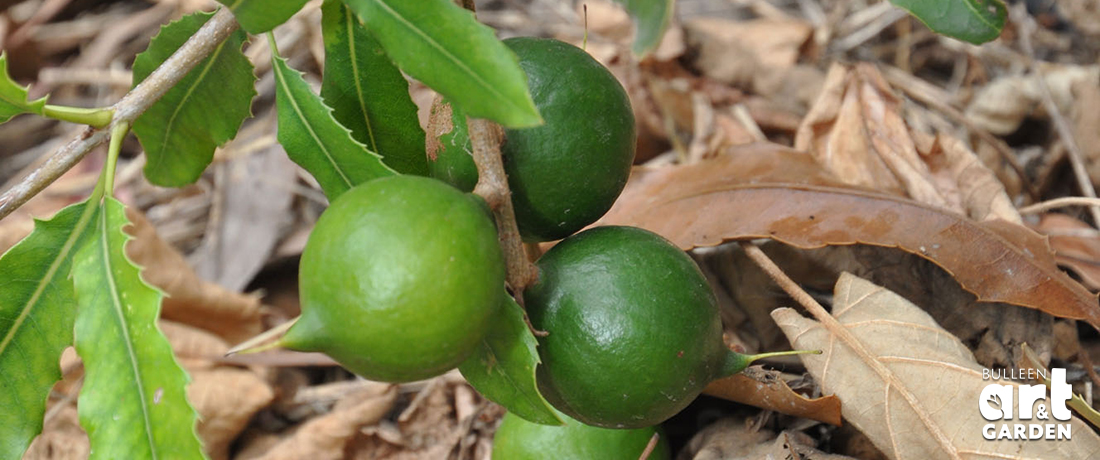 Important note about plant availability.
There are hundreds of factsheets on our website provided for your information. Not all plants will be available at all times throughout the year. To confirm availability please call (03) 8850 3030 and ask for the nursery.
Macadamia nuts are one of the few Australian 'bush foods' that have found success as a commercial food crop right around the world. These nuts have an amazing sweet, subtle buttery flavour with a soft, smooth, crunchy texture and are one of the most versatile nuts, they can be eaten raw or roasted, and added to a wide variety of recipes.
Macadamias are lovely small trees that produce highly ornamental flower displays and then of course a densely nutritious and flavoursome nut. Macadamias will grow and produce nuts in Melbourne, they just won't grow as tall as they would in the northern states, and they will grow in most soil types as long as the soil is well drained – they dislike waterlogged soils.
Being subtropical rainforest understorey trees, they will grow in light shade or full sun, and are fairly cold tolerant but need protection from strong winds and frost. When the temperature falls below minus 1 degrees Celsius, young trees (and lower trunks and flowers of mature trees) can be damaged, but the leaves of older trees can survive short periods down to minus 5 degrees Celsius.
Two species of macadamia nut trees are grown for nut production.
Macadamia tetraphylla (rough-shelled macadamia) from coastal Northern NSW – more cold-tolerant and can be grown as far south as Tasmania, and has leaves with serrated edges.
Macadamia integrifolia (smooth-shelled macadamia) from S.E. Queensland – the more tropical variety, whose adult leaves are very smooth with few serrations.
Some of the excellent commercial varieties of macadamias are actually hybrids (cross-breeds) of these two species.
Macadamias begin flowering in May, and although they flower very heavily, only a small percentage of the flowers will produce nuts. They are insect pollinated, especially by bees, so plant some bee-attracting plants, which flower at the same time as your macadamia tree. When the nuts are pea sized (about 5-8 weeks after flowering) the tree will prematurely drop a lot of nuts to regulate its crop load. By December the shells begin to harden and the nut oil levels begin to build up. Mature nuts will drop to the ground for harvesting from mid-February until August-September.
A note of caution, the nuts are poisonous to dogs as they cause a temporary weakness. The nuts however are very hard to crack and dogs are generally not credited with the ability to do so. The animals should therefore be safe alongside a macadamia planted in the yard.
If you want a known variety of macadamia nut, choose a grafted tree. It will begin to crop in 3-5 years, a few years earlier than a seedling grown tree.
Planting and Care
The best time to plant your macadamia tree is in autumn, as this gives the tree the longest time to establish itself before it faces the summer heat. The next best planting time is in spring, but remember to keep up with the watering, especially on those unseasonal hot spring days, as macadamias have shallow fine fibrous root systems that can dry out easily.
Macadamias grow best in a warm, sheltered position where they won't be exposed to strong winds, in a well-drained soil that contains organic matter. If drainage is an issue, mound the soil and add plenty of organic matter before planting.
You can improve your soil with compost to help clay soil drain better and to help sandy soil retain moisture. It is important to put a thick layer of mulch (5-10cm thick) around the tree to prevent it drying out and to keep the shallow tree roots cool in summer.
Feeding
Macadamias belong to the Proteaceae family of plants along with banksias, grevilleas, hakeas and proteas, and as such they are phosphorus sensitive, so don't fertilise them with large amounts of phosphorus-rich fertiliser such as blood & bone or chicken manure. In fact, it is best to wait until newly planted trees start putting on new growth before applying fertiliser. Typically, six months or more after planting, apply a light feed of native fertiliser or citrus food (they do not require large quantities of nitrogen fertiliser), and repeat at least twice a year, preferably provide a light feed every two to three months from spring to autumn (September to May).
Apply fertiliser to the soil surface and water it in immediately with a light watering, don't dig the fertiliser into the soil as macadamias are very sensitive to root damage.
Macadamia Tree Varieties
If you have limited space, consider a dwarf macadamia nut tree. They reach a size of 2-4m when fully established (around half the height of a regular sized macadamia tree), produce prolific quantities of smaller-sized nuts and are suitable for growing in pots. Where space is not an issue, there are a wide range of trees to choose from with different growth habits, cropping seasons and nut qualities. Macadamias are partially self-fertile, pollinators provide cross pollination which increases yields.
A4
Medium spreading tree with open canopy. Mid-season. Large nuts, high yielding, performs well in cooler regions. (compatible pollinators Daddow, 246)
A16
Small upright tree with moderate to dense canopy and willowing branches. Late season. Slow growing, high yielding, excellent quality medium-large nut. (compatible pollinators Daddow, 246)
A38
Medium very upright tree with very open canopy. Mid-season. Medium-large nut.
246
Large spreading tree with moderately dense canopy. Mid-season. Medium to large nuts.
Daddow
Medium-large vigorous upright to slightly spreading very dense tree. Long Mid-late season. Large high quality nuts, high yielding
Pinkalicious
Medium upright tree with dense canopy. Early season. Pink flowering.
Preparing for use in the kitchen
Nuts can be knocked onto tarps after they begin falling. They then need to be dehulled and dried. This is best done with a special macadamia nut cracker. The nuts can then be roasted in the oven.
Uses in the Kitchen
Use the nuts in biscuits, pesto, salads, slices, muffins, and with meat.
Macadamia nut pesto
Ingredients
1/2 cup raw unsalted macadamia nuts
1/2 cup finely grated Parmesan cheese
1/2 cup olive oil
1 cup fresh chopped basil leaves
1 cup fresh chopped parsley
1 teaspoon dried, ground mountain pepper
1 teaspoon dried, ground bush tomato
Method
Puree the nuts, Parmesan and 1/4 cup of the oil in the blender.
Add the remaining ingredients and blend to a chunky paste.
Serve with pasta or as a dip.
For more tasty recipes head to http://www.macnuts.com.au/.