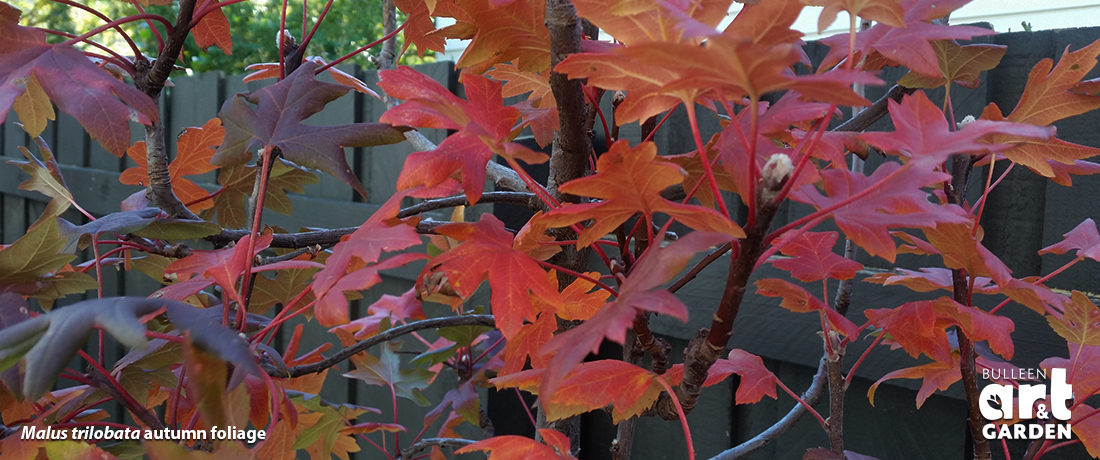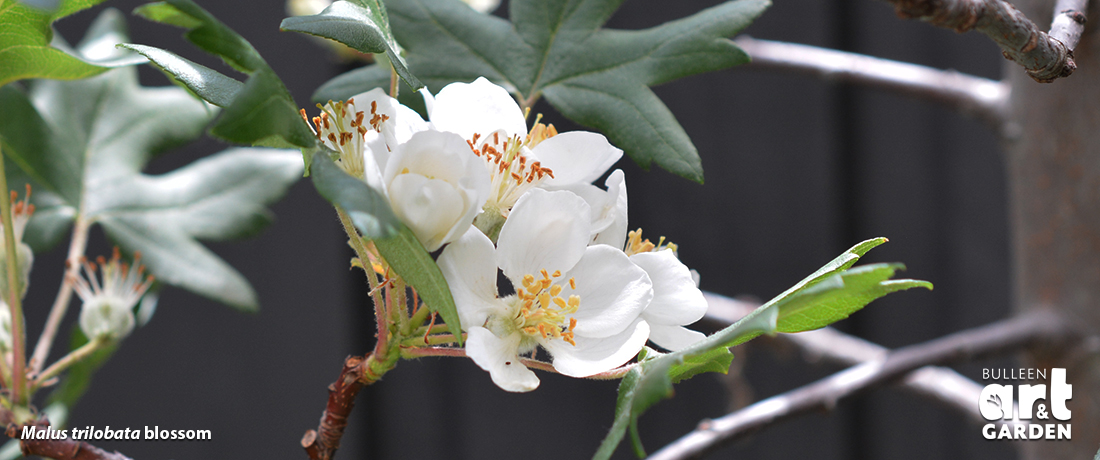 Also known as Lebanese wild apple, erect crab apple or three-lobed apple tree. This tree solves a lot of problems. At the nursery we are often asked for a very narrow tree to act as a screen or to run down a driveway. The ubiquitous Pyrus 'Capital', so beloved by both councils and designers grows to 11m by 3m wide, people have been planting them by the thousands, only to discover that 11m is actually very tall in a small space, and a bit overwhelming. Arborists are now busy cutting many of them down, or attempting to lower the crown – not an easy job with this tree.
On the other hand, Malus trilobata grows to a nice comfortable 6-7m x 2-4m wide. In addition, it has dark green, deeply lobed maple like leaves turning to brilliant and eye-catching red / scarlet in autumn. The charming white flowers of spring look good against the dark green foliage and are followed by green crab apples in autumn. A medium to fast growing tree, this tree has a reliably upright symmetrical slender pyramidal shape, imparting a slightly formal look.
It can take almost any soil, including compacted heavy clay soils – very useful for around Melbourne – but will obviously do best in a good well drained loamy soil. Will grow in full sun to part shade and can take heavy frosts. For those of us who love Canadian maples with their brilliant autumn foliage but find them too large, this is a great alternative.

Important note about plant availability.
There are hundreds of factsheets on our website provided for your information. Not all plants will be available at all times throughout the year. To confirm availability please call (03) 8850 3030 and ask for the nursery.