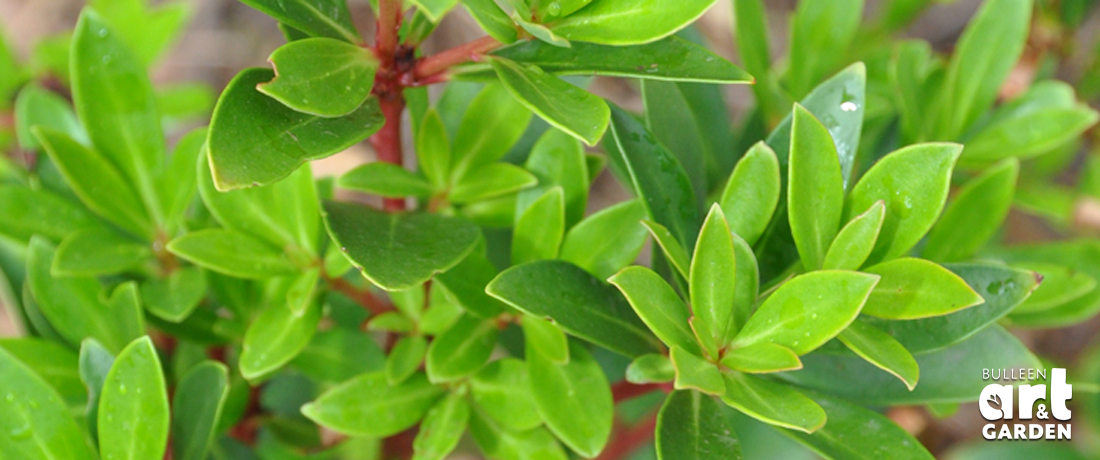 Important note about plant availability.
There are hundreds of factsheets on our website provided for your information. Not all plants will be available at all times throughout the year. To confirm availability please call (03) 8850 3030 and ask for the nursery.
Tasmannia lanceolata
This lovely example of a bush food plant occurs naturally in the cool, temperate rainforest areas of Tasmania, Victoria and New South Wales. Also known as Native Pepper, Mountain Pepper is a tall, evergreen shrub or small tree. It grows to between three and five metres, and up to ten metres in native habitats. It has distinctive reddish branches and smooth, narrow green leaves. Its creamy flowers appear in small clusters in September, followed by dark red berries that turn black when ripe in around March or April. The leaves have a hot flavour when chewed, and the berries are enjoyed by native birds. Mountain Pepper was used by indigenous tribes along the east coast of Australia as medicine and also a cooking spice. In the kitchen both the leaves and berries can be used to spice up numerous dishes.
Cultivation
You'll need both a female and male plant to produce fruit. A good windbreak tree, the Mountain Pepper is hardy and frost tolerant, but it's best to plant in a sheltered site that is either in dappled shade or receives morning sun. Choose a free draining spot and prepare the site with compost and manure, then mulch well after planting to keep the soil moist. Give it a feed with organic slow release fertiliser in early spring and late autumn.
Uses
The Australian native flavour wheel describes the berries as having an "aroma of bush scrub with perfumed, fruity lolly notes. Lingering heat on the palate", while the leaf has the "aroma of Australian bushland, dry paperbark and herbs. Developing heat on the palate."
The berries taste fruity to begin with, then the heat starts although it does not linger like chilli does. Both the leaves and the berries can be used as a pepper substitute. Use only a tenth of the amount of berries that you would use in place of normal pepper.
The leaf (often referred to in recipes as Mountain Pepper) is used in spice blends and can be added to spice up breads, sauces, chutneys, flavoured cheeses and olive oils.
Dried berries can be used like peppercorns to add a mild spicy kick to sauces, meat, batter, crumbing, marinades and wherever you would normally add black pepper or chilli. Air dry your berries then grind them in a pepper mill or mortar and pestle. Similarly, the leaves can be dried and ground for cooking and used for the peppery taste. Use the milder dried and ground leaves in curries, or throw a few whole leaves in the roasting dish to pepper up your meat. Try giving your aioli a kick and stir through some dried ground pepper leaf.
You could also try mixing some ground berries into bread dough for a colourful and spicy twang to your loaf; or add them to white chocolate instead of vanilla bean. Don't forget about the woody stems from the Mountain Pepper tree – they can be used as skewers to infuse a peppery taste into the meat or veg to be skewered. A crowd favourite is ground Mountain Pepper berries in a salt and (Mountain) pepper calamari dish – but let your taste buds do the walking and come up with some new uses of your own!
Some of the above recipe ideas for Mountain Pepper and many other native ingredients are featured on the menu at Charcoal Lane in Fitzroy.
Recipes
Pepperberry bark
Taken from Juleigh Robins' Wild food
Ingredients
375g plain flour
2 teaspoons salt
2 teaspoons castor sugar
2 teaspoons dried pepperberry, plus extra for sprinkling
40 g unsalted butter at room temperature
2 tablespoons milk
100 ml water
1 egg yolk
2 teaspoons sesame seeds
Method
Using a paddle attachment on your electric mixer, mix together the flour, salt, sugar, pepperberry and butter. Once the butter is well distributed through the dry ingredients, add the milk, water and egg yolk and work until the mixture forms firm dough. Cover the bowl and let the dough rest in the fridge for at least 1 hour.
Preheat the oven to 160ºC and line a large baking tray with baking paper.
Divide the dough into four. Roll each piece as thinly as possible using a pasta machine (if you don't have one, use a rolling pin). The finished flatbread should only be as thick as a corn chip, so work quickly, taking care not to overwork the dough. it may be necessary to refrigerate the dough again from time to time so that it can be successfully rolled. Rest the dough in the fridge for 20 minutes.
Tear the sheets of dough into 20-30 lengths and carefully place on the baking tray. With a pastry brush dipped in water, lightly brush the surface of the flatbread and sprinkle with the sesame seeds and a little extra ground pepperberry. Bake for 15 minutes until light golden brown. Cool completely before serving.
Tip: For something different, try rolling the dough through a pasta machine to achieve a very thin sheet and bake it in one piece so the end result resembles tree bark.
Pepperberry Jus
Taken from http://www.benjaminchristie.com/recipes/pepperberry-jus
Ingredients
750 ml (1 bottle) Shiraz
1 onion, finely diced
¼ bulb garlic
30g (2 tablespoon) pepperberry
1 bouquet garni
8lt beef stock
salt
Cooking instruction
In a pot sauté the onion, garlic and half of the pepperberry in a little oil. You want to get a little caramelisation happening before you add the red wine and bouquet garni, then reduce over low heat until the liquid has reduced by half. Add the beef stock and bring to the boil.
Simmer for 2-3 hours or until the liquid is the consistency of light syrup and coats the back of a spoon lightly. Finally add rest of the pepperberry, then strain with a fine sieve and season to taste.
The mountain pepper in this recipe adds a gentle heat and an interesting flavour that goes well with the creamy parmesan sauce. The sauce can be used to go with any pasta as a starter, or as a topping for lasagne or baked gnocchi. Try it and see what you think.
Mountain Pepper Linguini with Parmesan Cream and Pancetta
Taken from http://www.sydneyessential.com.au/essential-recipes/mountain-pepper-linguini-with-parmesan-cream-and-pancetta
Serves 4
Pasta Dough
3 cups 00 flour or semolina pasta flour for greater texture
4 x 60g eggs
3 tsp mountain pepper
Put the flour in the bowl of a food processor with the mountain pepper and pulse to combine. Add all the eggs and pulse until the mixture starts to form dough.
Pour onto a bench top and press together. Knead the dough until it is smooth and elastic. Wrap in cling film and put aside to rest. If the dough is too dry, wet your hands and continue kneading.
Rest the dough for at least 30 minutes before rolling out and making your linguini. Toss lightly in pasta flour and reserving in a bowl until required.
Put on a large pot of very well salted water and cook when the sauce ingredients are ready. The pasta will only take about 5 – 8 minutes to cook.
Cream Sauce
8 fine slices of pancetta, cut into quarters
1 small container or approximately 16 pieces of semi dried tomatoes
1½ bunch of Italian parsley, leaves picked from stems
1 tsp ground mountain pepper (optional)
95g freshly grated Parmesan
600ml thickened cream
1 tbsp olive oil
Sea salt to taste
Pour the cream into a thick bottom or non-stick saucepan. Bring the cream to near boiling point. The cream should be very hot, but if it boils turn it off and stand for a minute.
Add the grated cheese to the cream with the mountain pepper and stir until smooth. Add salt to taste and set aside. Start cooking the pasta, it will be done by the time the sauce is ready.
Warm a large shallow pan big enough to accommodate the pasta and the sauce. Add the olive oil and when hot add the pancetta. Turn it over and heat until it goes crispy and brown. Take it out and set it aside to add at the last minute.
Lower the heat and add the tomatoes and parsley, cooking for 1 to 2 minutes or until warmed through. Now add the Parmesan sauce and heat very gently.
Drain the pasta keeping a little of the water. Pour it into the sauce mix with the pancetta and toss with tongs until combined. Serve immediately (if you do not have a saucepan suitable for this, pour the heated sauce ingredients into a bowl with the cooked pasta and toss before serving).