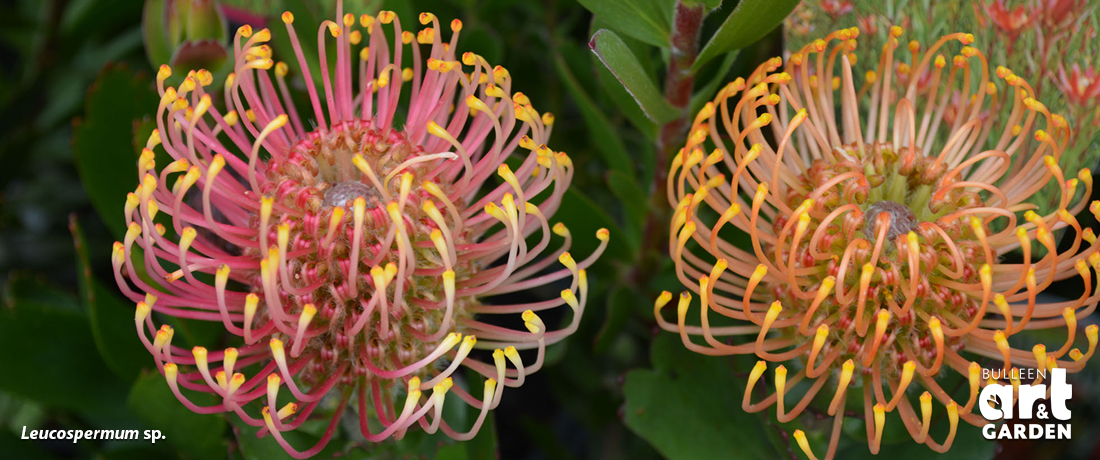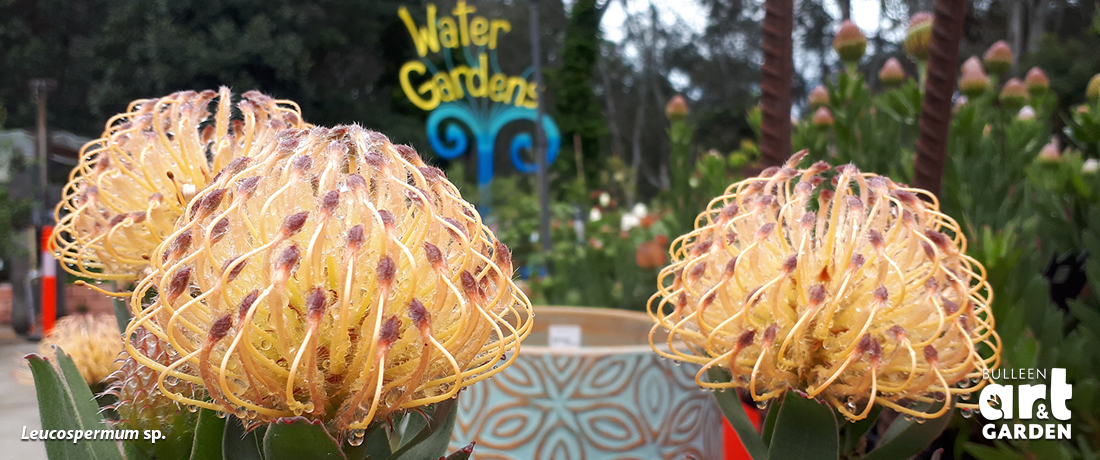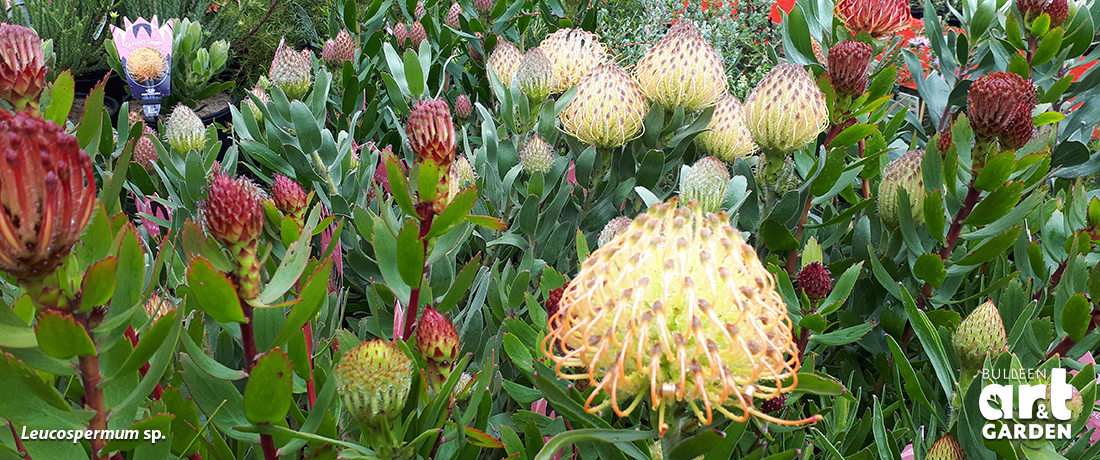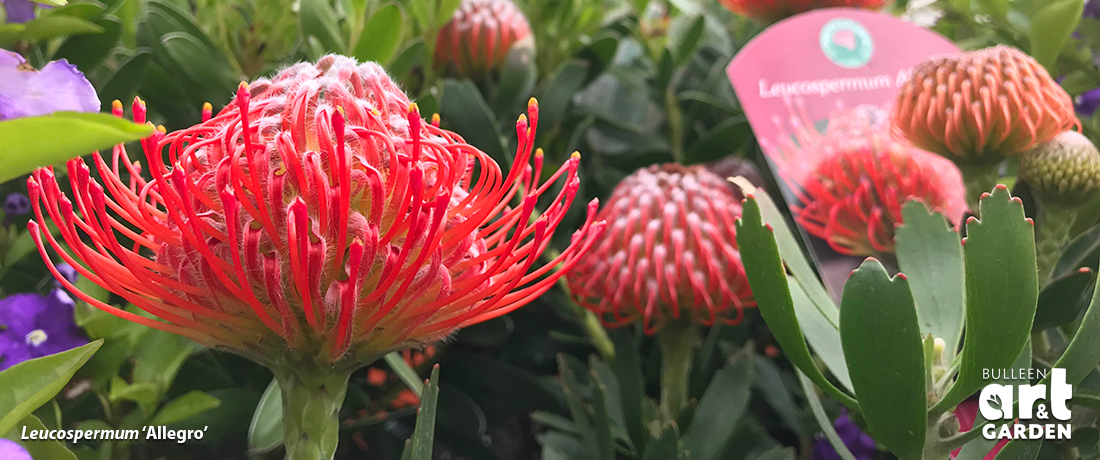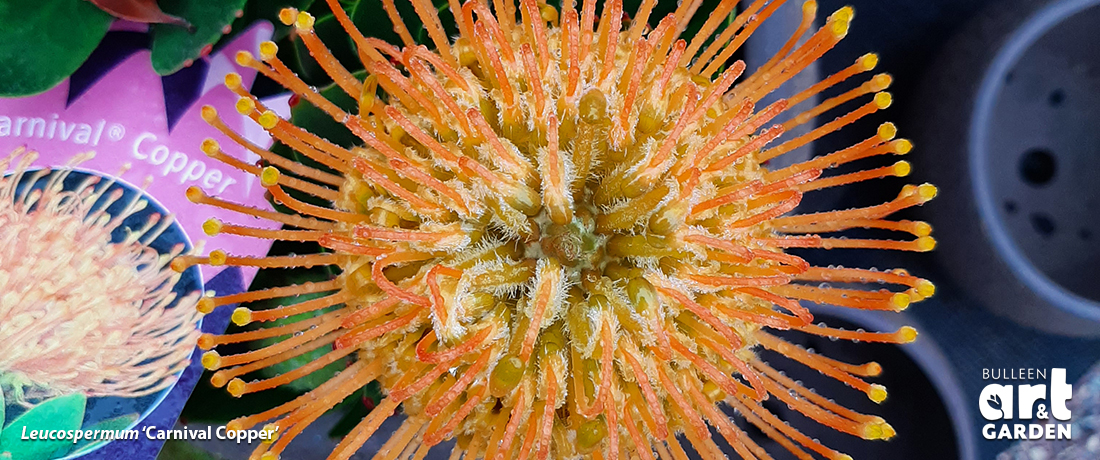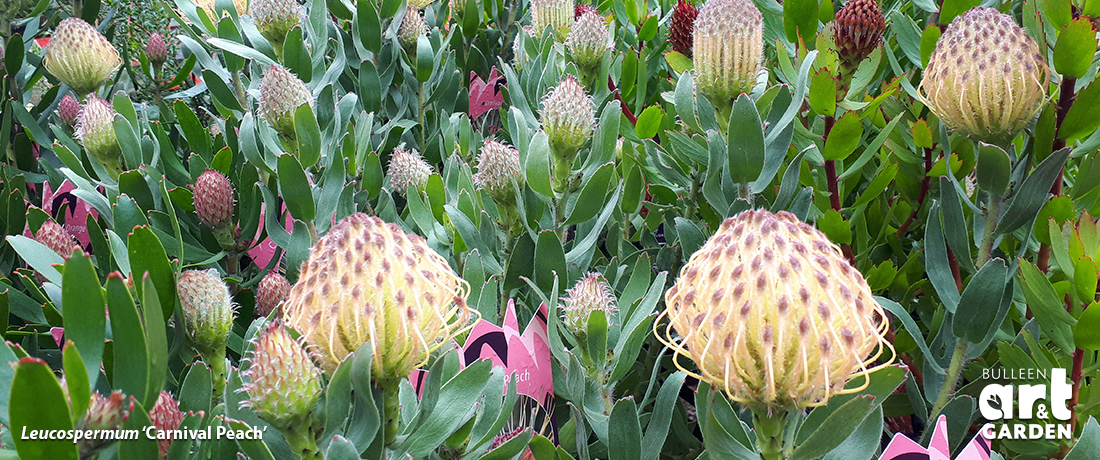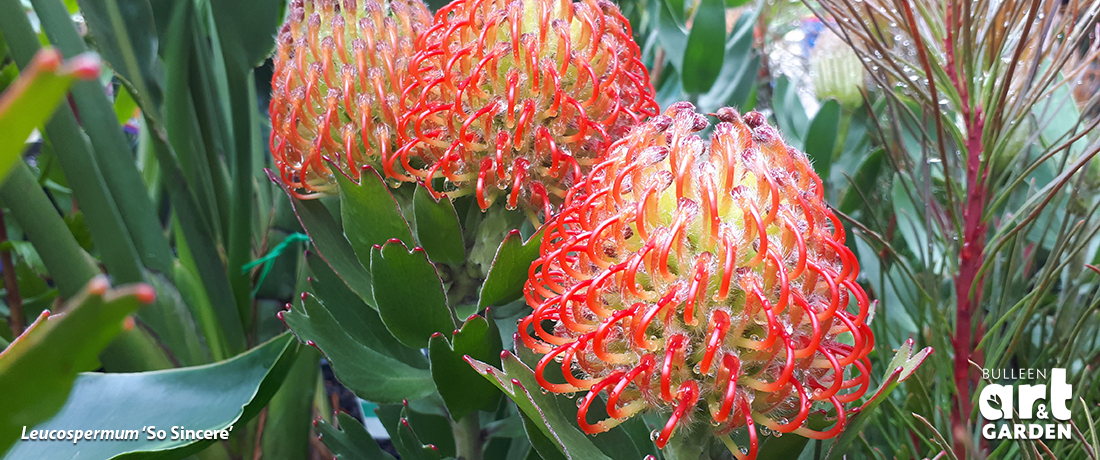 Leucospermum Carnival Copper
Leucospermum Carnival Peach


Important note about plant availability.
There are hundreds of factsheets on our website provided for your information. Not all plants will be available at all times throughout the year. To confirm availability please call (03) 8850 3030 and ask for the nursery.
Proteas are native to southern Africa and belong to the same family of plants (the Proteaceae) as the Australian Banksias, Grevilleas and Teleopa. The name 'Protea' is commonly used to refer to not only plants in the genus Protea, but also to two other genera – Leucadendron and Leucospermum, also from southern Africa.
The Proteaceae is an ancient family from Gondwanaland, with about 1600 species it is now one of the dominant flowering plants in the southern hemisphere.
Proteas, Leucadendrons, Leucospermum, Telopeas and some other Protea-like shrubs offer colour and interest year around with minimal maintenance. The southern African Proteas enjoy the same conditions as our natives and fit extremely well in the Australian native landscape. Most are relatively drought tolerant, will grow in poor soils, cope with salty coastal areas, do not need fertilising and only require occasional pruning. Proteas will reward neglect with outstanding foliage and beautiful flowers that last either when picked or in the landscape.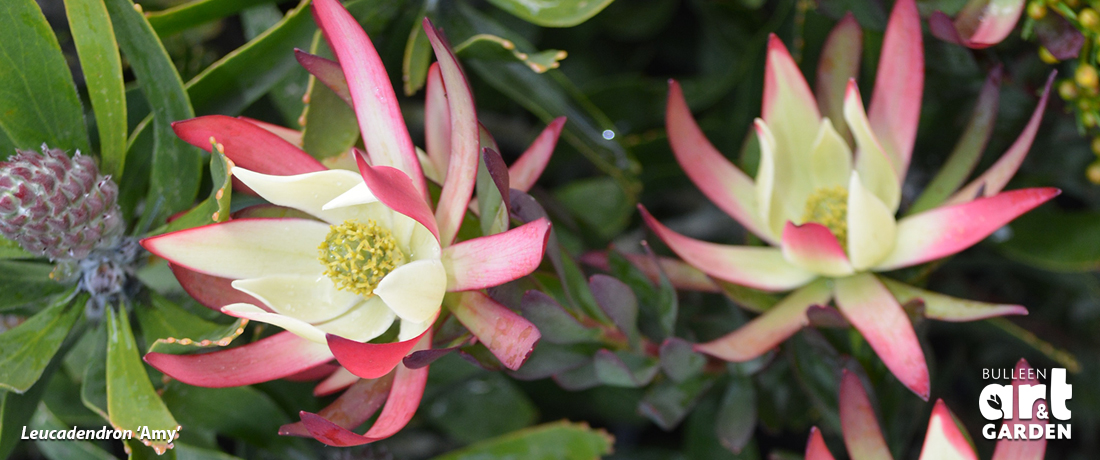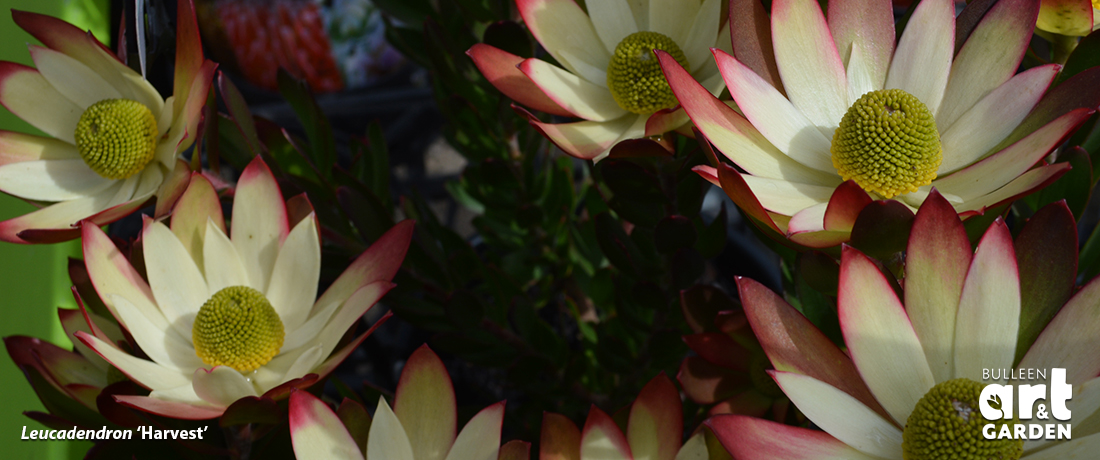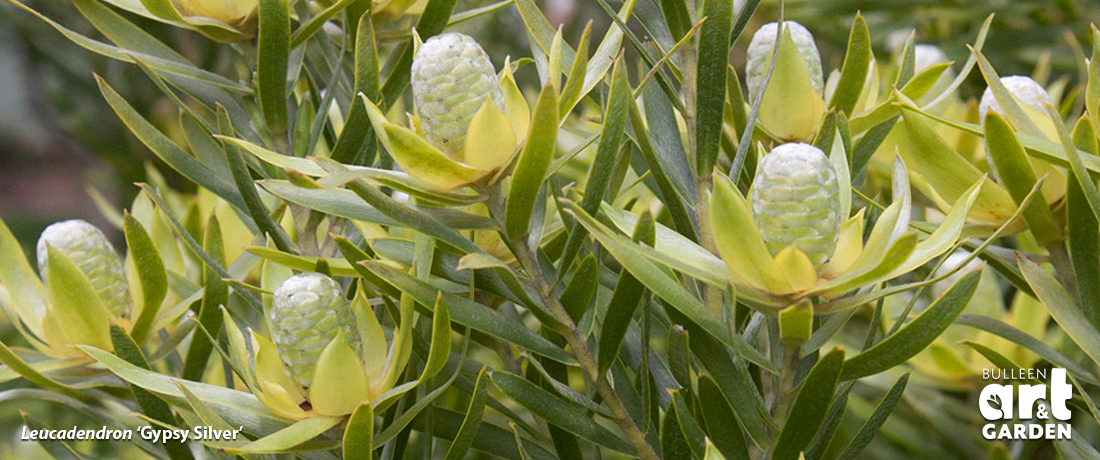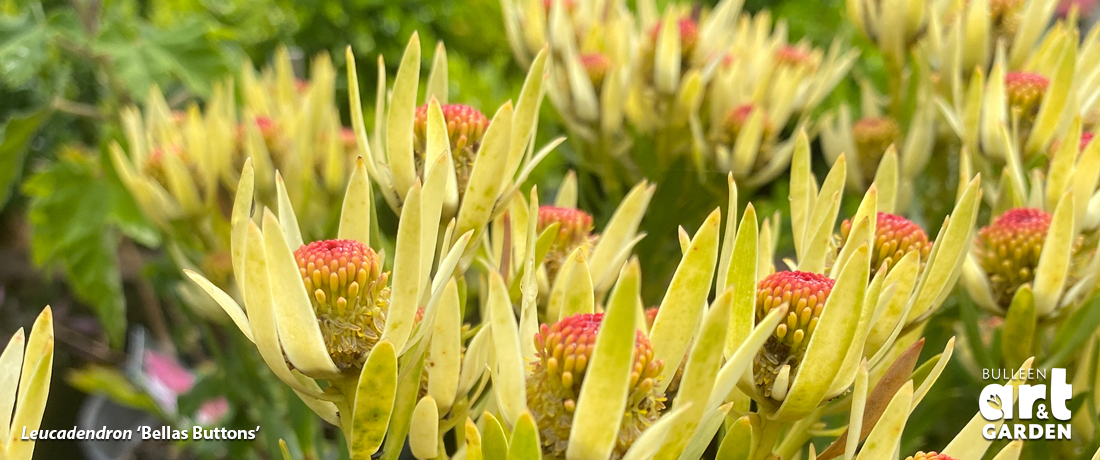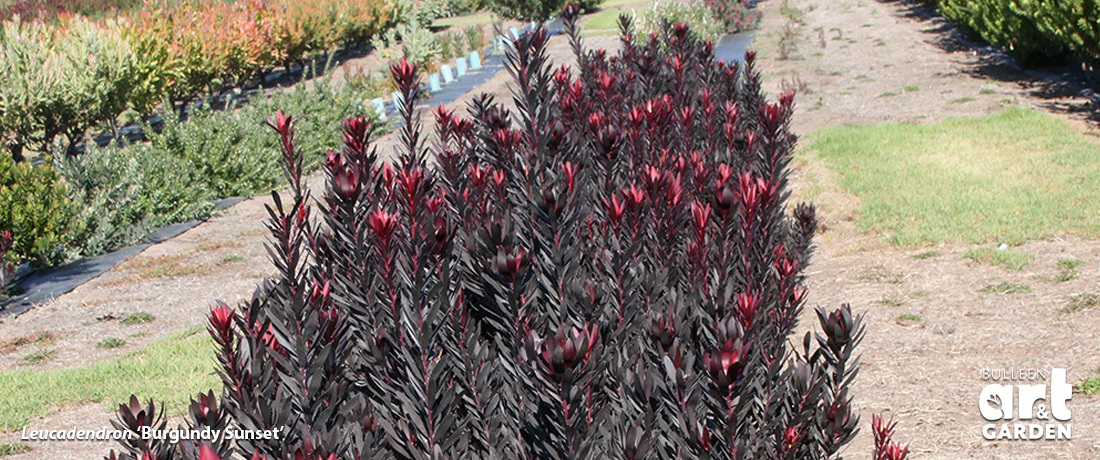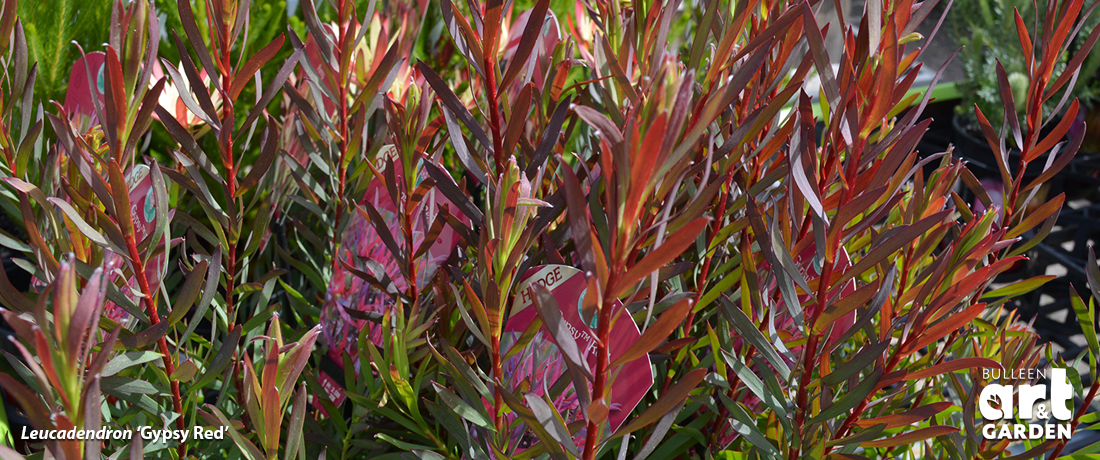 leucadendron-gypsy-silver
leucadendron-bellas-buttons
leucadendron-burgundy-sunset

Landscaping with Proteas
Proteas, Leucadendrons and Leucospermums are all medium to large sized shrubs. They can be bold and dramatic or in elegant and soft harmony. Some landscaping suggestions for using these plants are:
Planting as a backdrop to colourful perennials
Mixing in with native shrubs and trees
Combined with ornamental grasses
Planted with drought hardy shrubs and succulents
Used in bold blocks for texture and colour
Used in pots
In modern style gardens with coloured Phormiums, Cordylines and Yuccas
Position and Soil Conditions
Most Proteas need a position in full sun, although the Telopeas will tolerate part shade. The soil needs to be well drained and open. This is most important for Proteas, and none survive boggy soil, they don't like 'wet feet'. Heavy clay soil may need to have household compost added, and possibly some coarse sand. However, it is best to choose a naturally well drained site.
Proteas are relatively drought tolerant plants, however you will need to keep young plants well watered until established. Cut back the watering gradually, and if the plants are well mulched, you may only have to water occasionally. During periods of drought, Proteas will require occasional watering. The soil pH should be neutral to acidic for most Proteas. Do not add lime to the soil and avoid planting in areas where lime has been added recently. Proteas naturally grow in areas with poor soils and have adapted to soil that has low nutrient levels and little or no Phosphorus. For Proteas in the ground, you do not need to fertilise. It is recommended to mulch the plants well, making sure the mulch is clear of the trunk. Suitable mulches include bark and leaf mulches, or pebbles, or gravel.
Proteas in Pots
Proteas may be grown in large pots very successfully. Good quality potting mixes are well drained and open with a slightly acidic pH and as such are the ideal soil environment for Proteas. When growing Proteas in pots, do not use a saucer beneath the pot and raising the pot off the ground will ensure good drainage, as will extra holes in the base of the pot. You will need to keep the potting mix moist, but not wet. When growing Proteas in pots, you will need to fertilise with a slow release fertiliser. The fertiliser must be low in Phosphorus, such as Osmocote Native Fertiliser.
Pruning Proteas
This is about the only maintenance required when growing Proteas. Prune back the young plant just after it has been planted to encourage branching. Prune again after 6 months to encourage a bushy plant. Let the plant grow and flower, (this can take 12 to 18 months). The best way to prune after this is to pick the flowers. Otherwise prune all flowering stems back, but not into bare wood. On older bushes, it is important not to prune off more than one third to half the foliage in one go.
Proteas as Hedges
Many of the Leucadendrons and Leucospermums are ideal as informal and often dramatic hedges. They form dense easily maintained screens and hedges. and can be used to great effect in the garden with very little effort.
Examples are: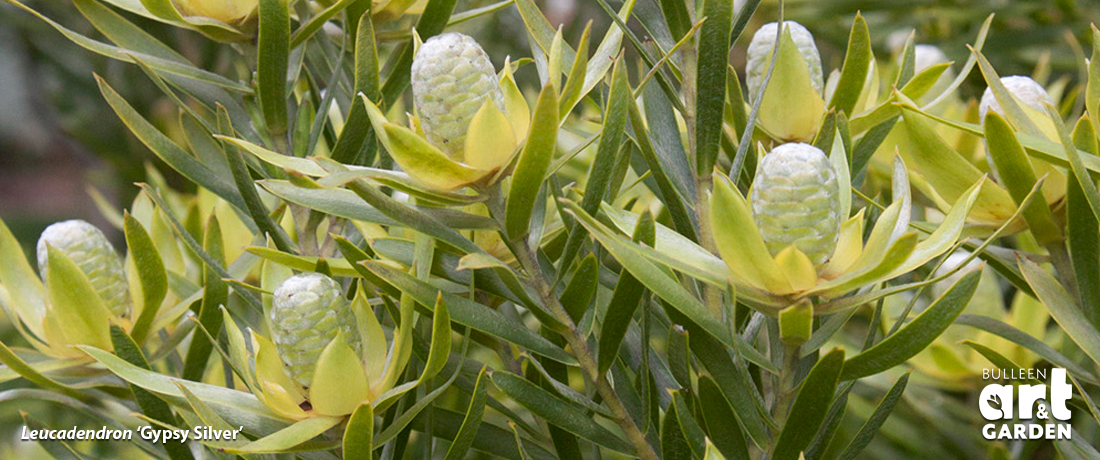 Leucadendron 'Gypsy Silver'
Makes a fantastic silvery green hedge/screen which is covered in masses of yellow flowers in spring followed by lovely silver cones in early summer; these hold well and the effect is long lasting, soft and elegant.
Likes full sun and good drainage. Can take frosts to -3C. Tolerates dryness. Height 2.5m x 2m.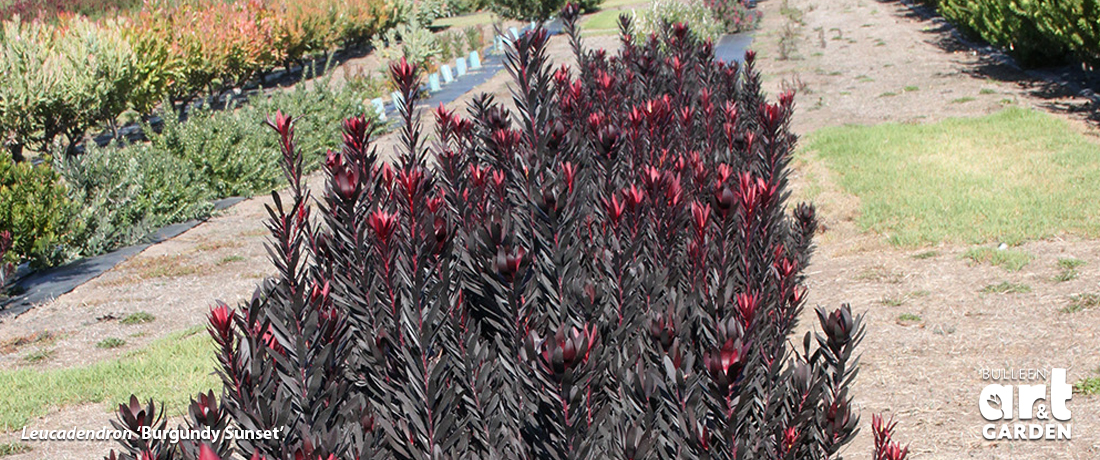 Leucadendron 'Burgundy Sunset'
A high impact plant with striking dark burgundy foliage (almost black) setting off the rich deep burgundy flowers. Flowers last well through autumn /winter providing often much needed winter colour and drama. Burgundy Sunset makes a fantastic hedge, growing 2.5m x 2m, needing little care and attention and rewarding neglect with a stunning show.
Likes full sun and good drainage. Can take frosts to -3C. Tolerates dryness.