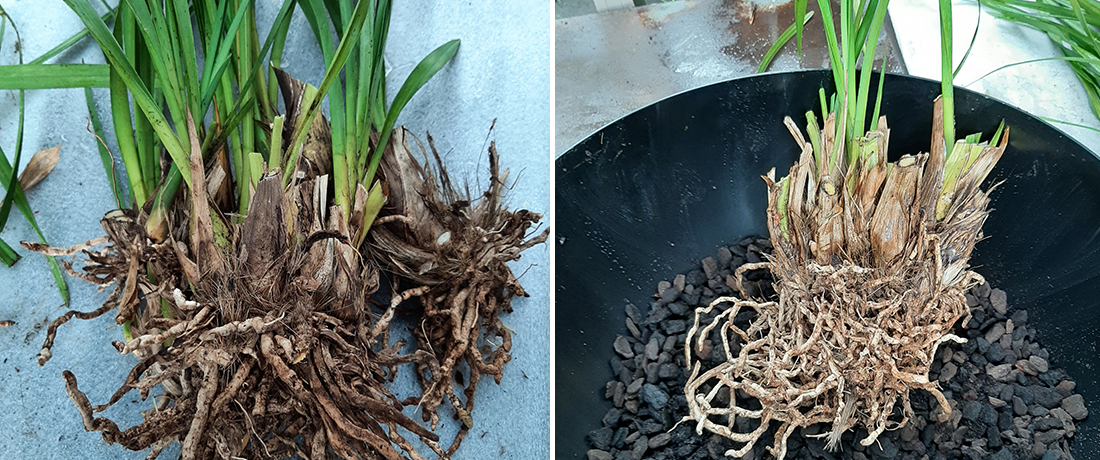 Cymbidium Orchids like to be a bit congested in their pots, but there does come a time when things get a bit tight, and you have to repot your orchid to allow it to thrive again. Be prepared for a delay before it flowers again, it may need a year or two to regrow into its new pot before flower spikes appear.
A customer asked us to repot their orchid recently and each step of the process is detailed below. If after reading this – you would prefer us to do it, send in a photo and we will quote you a charge… you will need to supply the pot and we will clean up the bulbs, repot in fresh orchid bark and feed with premium orchid fertiliser. As a guide, we would normally charge about $150 for the process below.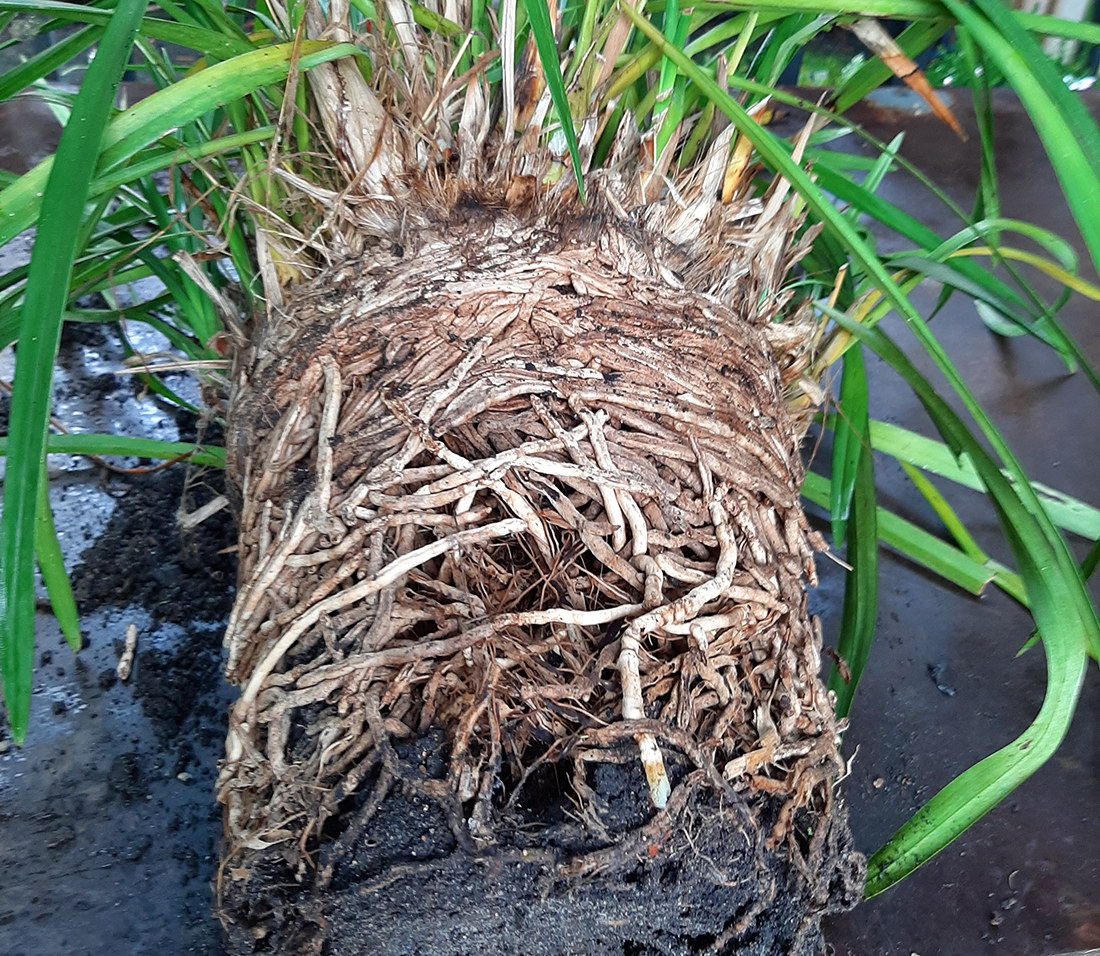 There were centipedes throughout the Cymbidium and some small amount of mealy bug damage. Also, the leaves looked a bit thin, as if it needed more light. The first thing to do was cut through the pot and lift it away from the root mass. The Cymbidium was very congested in the pot with nearly all the potting medium gone, just a mass of mostly dead roots left.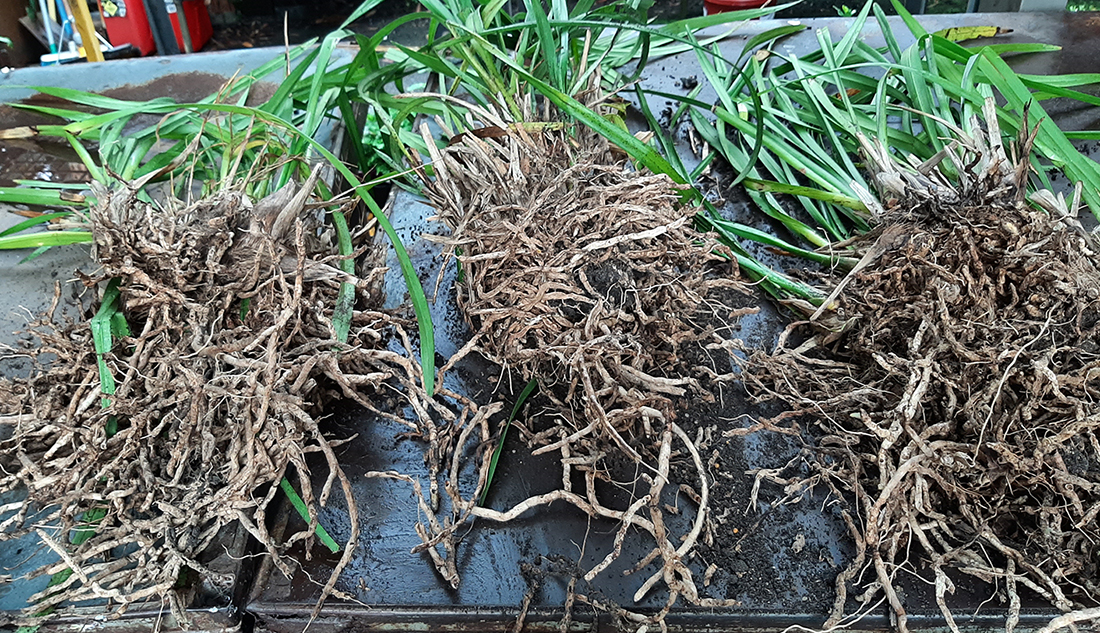 Using sharp secateurs and some muscle, cut and pull apart the mass into several more manageable pieces.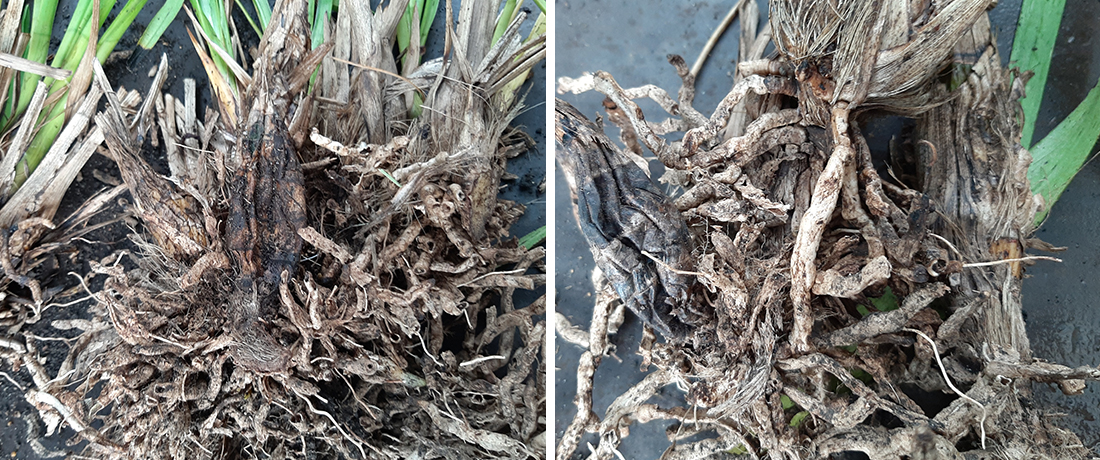 Remove the dead and wrinkled looking bulbs and roots. Healthy roots are pale, firm and vibrant to the touch, dead roots are spongy and brown. Cut out the dead bulbs leaving a single row of old bulbs (called back bulbs) against the good bulbs with leafy shoots. Cut off the dead roots and shake out the debris and old plant material. Trim away damaged and tatty leaves. Don't be too precious about it – these are tough plants.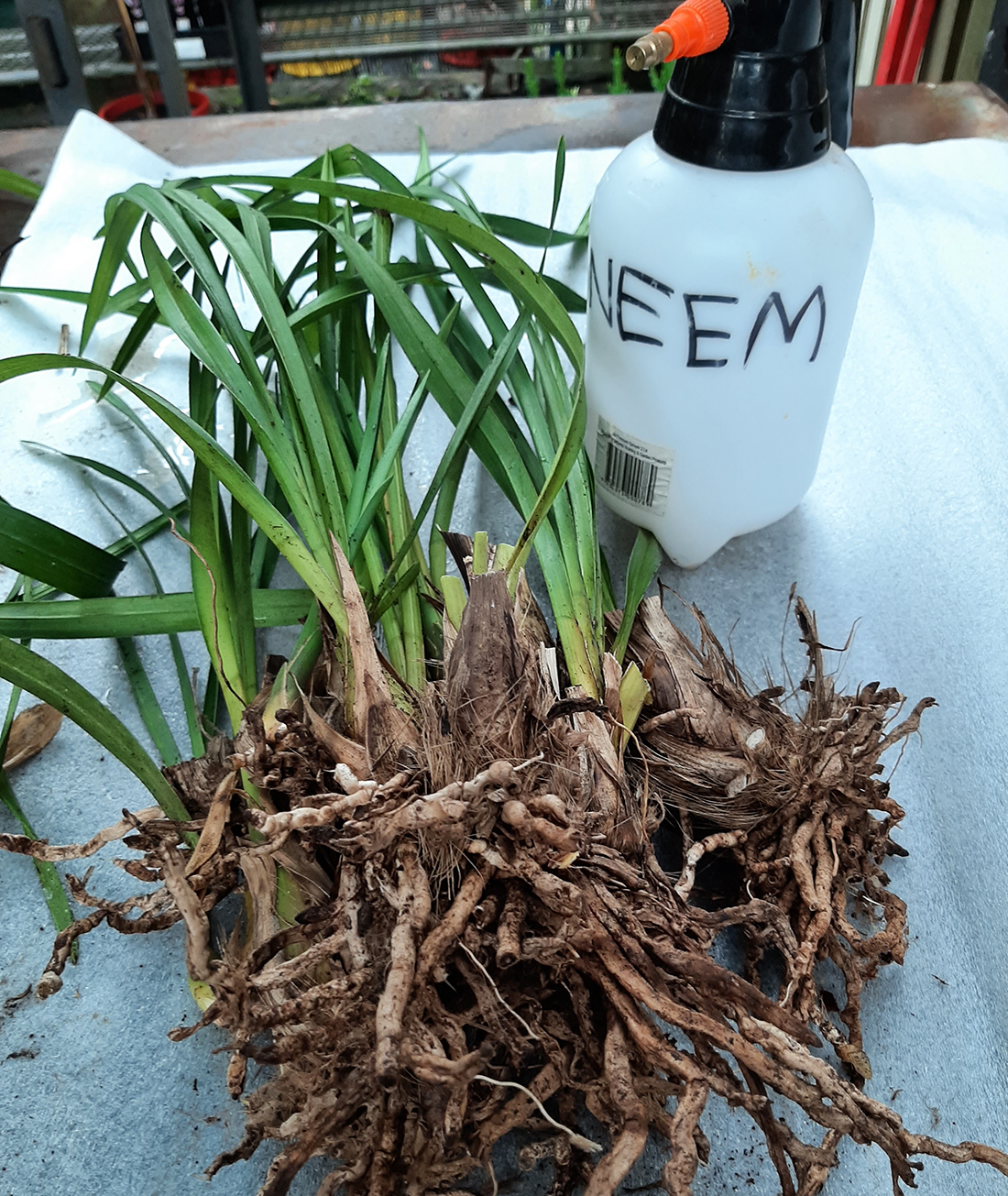 Now you have only good material left, carefully inspect for any insect damage. You can often wipe it away, but a spray with white oil or neem oil at this point will help protect your rejuvenated orchids.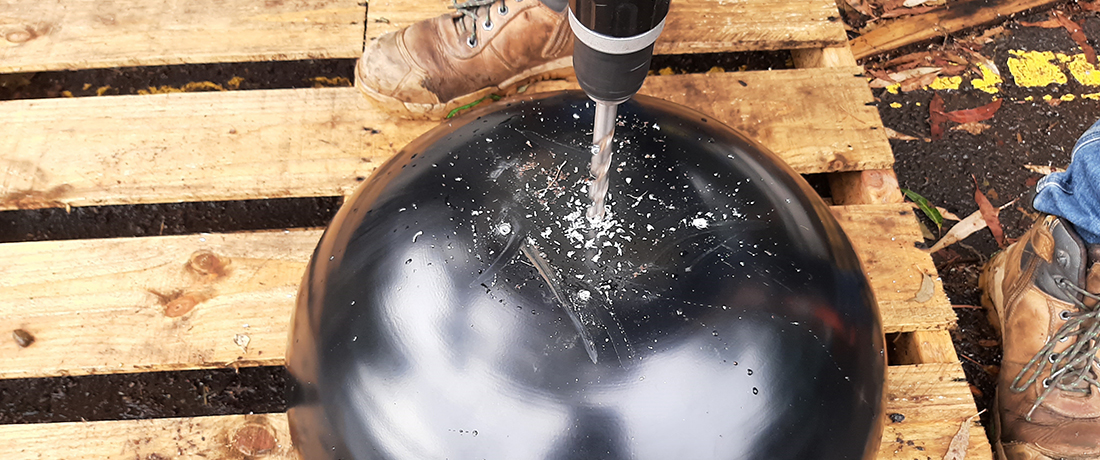 Time to prepare your pot. When choosing a pot, select one with excellent drainage. In this example, the customer supplied a beautiful metal bowl to repot the orchid in, but it only had a single tiny drain hole. We drilled in 7 more large drain holes, or the whole process would have been wasted, as orchids need perfect drainage. Cymbidium orchids have zero tolerance for wet roots.
You now have a good clump of orchid bulbs ready to be re-potted. In this instance we put the biggest clump in the centre onto a bed of coarse orchid mix and then all the smaller clumps around and back filled with more orchid mix. Be careful to keep the bulbs above the level of the orchid mix and the roots below.
To finish off, water the orchid bulbs in well – this will help settle and stablise the fresh orchid mix around the roots and bulbs. After you have watered, apply a wet orchid fertiliser. Feed in late spring / summer for their main foliage growing period, and once they start flowering, feed after the flowers have finished.
In this instance, with such a big bowl, it may take a few years before the orchid re-flowers, but in the meantime it looks fabulous.