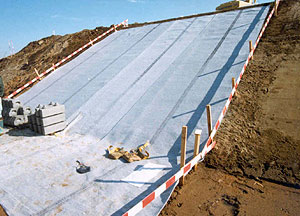 Sometimes you come across a job that involves steep slopes or banks, and these need to be stabilised correctly to ensure you don't lose your soil and / or plants to runoff or erosion. The following information is a rough guide for installing Geotextile, the matting commonly used for stabilising slopes.
It is important to remember that sometimes banks and slopes can require more than just matting and can be quite dangerous if construction is inadequate. You need to use your judgement as a landscaper as to whether or not you need to be getting an engineer involved in the project. If you are in doubt we recommend you ALWAYS get a second opinion. Call the local council for more information.
When designing a stabilisation system for your bank there are a few considerations that need to be made to allow you to make the most appropriate choice.
You need to consider:
Site use

Gradient

Orientation

Soil structure

Rainfall
Site preparation
Site preparation is one of the most important steps. This will ensure the success of the work that you are carrying out while making long-term maintenance far easier. Removal of weeds is essential prior to installation. You should also remove any rubble, old tree stumps and obstructions from slope. The closer the matting can be to the soil surface the better the result will be. If there is not enough topsoil to facilitate plant growth you may need to add this as required.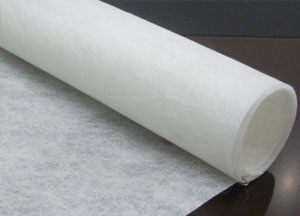 Trenching
If the slope is of a gradient of 1:3 or steeper or in an area of greater water movement trenching is required. Dig a trench along the top of the slope to a minimum depth of 150 mm. Place the end of the mat into the trench and pin it down. Backfill trench with appropriate media.
Laying the Geotextile
The Geotextile comes in rolls that are 50m long and 2m wide. Roll the matting down from the top of the slope to the bottom, allowing it to follow the contours of the substrate. In sections where two rolls overlay, they should overlap each other 100 mm and be pinned every 300 mm.
Pinning
Pins should be placed a minimum rate of 3 pins per square metre in optimal conditions. In areas of unstable soil, steeper slopes or higher water runoff, a greater number of pins may be required.
Planting
Slice small slits running across the face of the slope of approximately 150 mm into the matting where plants will be placed. Remove required amount of soil from under the slit using a tool such as a Hamilton tree planter or towel and plant. Take care not to spill soil onto the mat as to prevent the spread of weed seeds.
Planting Guide
Plant selection depends on individual taste and what would best suit the area. As a general guide it is recommended that slopes be planted out with 4-6 grasses or ground covers per square metre. Trees and shrubs should be planted as they would in a normal landscape design.
Commonly used native plants include:

Grass and Lilies

Chocolate lily (Arthropodium strictum)
Yellow bulbine-lily (Bulbine bulbosa)
Pale flax-lily (Dianella longifolia)
Black-anther flax-lily (Dianella revoluta)
Spiny-headed mat-lily (Lomandra longifolia)
Common tussock-grass (Poa labillardieri)
Grey tussock Grass (Poa sieberiana)
Kangaroo grass (Themeda triandra)

Herbs and ground covers

Creeping Bossiaea (Bossiaea prostrata)
Tall Daisy (Brachyscome diversifolia)
Cut-leaf daisy (Brachyscome mulitifda)
Clustered everlasting (Chrysocephalum semipappsum)
Common billy buttons (Crasperia glauca)
Button everlasting (Helichrysum scorpioides)
Matted bush pea (Pulteraea pedunculata)
Ivy-leaf violet (Viola hederacea)
Tufted bluebell (Wahlenbergia communis)

Small to medium shrubs

Gold-dust wattle (Acacia acinacea)
Hedge wattle (Acacia paradoxa)
Prickly Moses (Acacia verticillata)
Rock correa (Correa glabra)
Common correa (Correa reflexa)
Common heath (Epacris impressa)
Hop goodenia (Goodenia ovata)
Common rice-flower (Pimelea humilis)
Golden bush-pea (Pulteraea gunnii)

Tall shrubs to trees

Lightwood (Acacia implexa)
Black wattle (Acacia mearnsii)
Blackwood (Acacia melanoxylon)
Golden wattle (Acacia pycnantha)
Drooping sheoke (Allocasuarina littoralis)
Sweet bursaria (Bursaria spinosa)
Yellow gum (Ecalyptus leucoxylon)
Yellow box (Eucalytus melliodora)
Candlebark (Eucalyptus rubida)
Tree everlasting (Ozothamnus ferrugineus)
Commonly used exotic plants include:

Grass and Lilies

Blue Fescue (Festuca glauca)
Wild Iris (Dietes grandiflora)
Day Lily (Hemerocallis spp.)
New Zealand Flax (Phormium spp.)
Sage (Salvia spp.)
Angel's Fishing Rod (Dierama pulcherrimum)
Yucca Bright Edge (Yucca sp.)
Cabbage tree (Cordyline australis Cvs.)
Agapanthus Black Panther (Agapanthus hybrid)

Herbs and ground covers

Creeping Thyme, Woolly Thyme (Thymus nittida / pseudolanuginosus)
Treasure Flower (Gazania hybrid)
Creeping Convovulus (Convovulus sabatius)
Snow in Summer (Cerastium tomentosum)
Pig Face (Mesembryanthemum spp.)
Creeping Boobialla (Myoporum parvifolium)
Happy Wanderer (Hardenbergia violacea)
Carpet Roses (Rosa var.)
Verbena (Verbena Cvs.)
Cat Mint (Nepeta X faassenii)
Snake Vine (Hibbertia scandens)

Small to medium shrubs

Silver Bush (Convovulus cneorum)
Dwarf Abelia (Abelia X grandiflora Nana)
Chinese Lantern (Abutilon X Hybridum)
Mexican Orange Blossom (Choisya ternata)
Blue Plumbago (Plumbago auriculata)
Dwarf Sacred Bamboo (Nandina domestica Nana)
Dwarf Lily Pily Bush Xmas (Syzygium Bush Xmas)
Hebe (Hebe spp.)
Grevillea species (Grevillea spp.)
Australian fuchsia (Correa spp.)
Rock Rose (Cistus spp.)

Tall shrubs to trees

California lilac (Ceanothus Blue Pacific)
Grevillea species (Grevillea spp.)
Pin Cushion Bush (Hakea laurina)
Citrus species (Citrus spp.)
Laurustinus (Viburnum tinus)
Photinia (Photinia glabra Rubens)
Native Frangipanni (Hymenosporum flavum)
Crabapple Malus (ioensis Plena)
Silver Birch (Betula pendula)
Manchurian Pear (Pyrus ussuriensis)
Brush Box (Lophostemon confertus)
Maintenance
To maintain the look and function of the site it is necessary to actively remove any weeds that appear, especially in the first two years of the site's development. This will give the plants the greatest chance of survival and will promote the bank stabilisation. After the first couple of years the plants will have grown sufficiently to compete with any weeds that may appear. The site can then be treated in a similar fashion to any other garden bed and weeded in the same manner.
If the site is highly infested with weeds prior to planting it is recommended that only grasses and trees are planted to begin with. This will allow weed removal to be carried out with broadleaf selective herbicides. Once the grasses have established and the weeds have been controlled the herbaceous plants can then be planted.