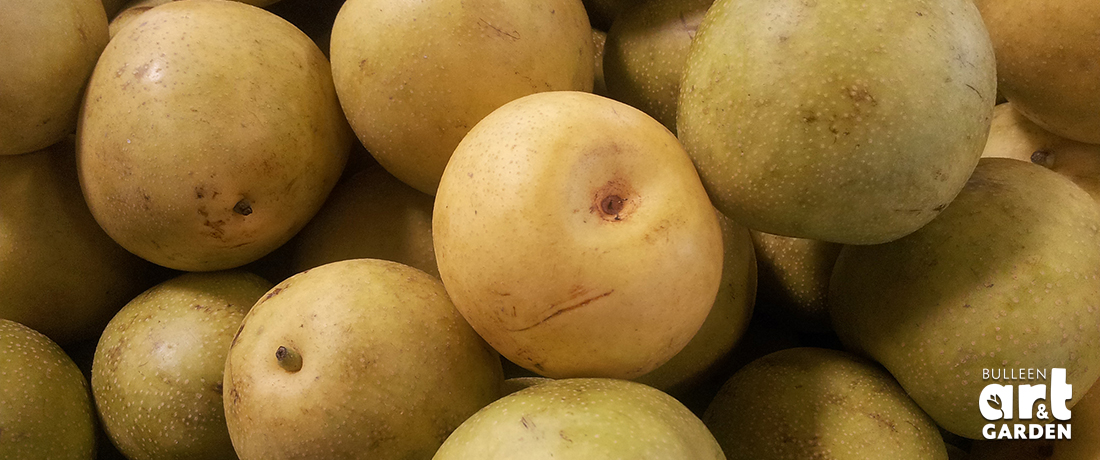 Important note about plant availability.
There are hundreds of factsheets on our website provided for your information. Not all plants will be available at all times throughout the year. To confirm availability please call (03) 8850 3030 and ask for the nursery.
Nashi or Asian Pears (Pyrus pyrifolia) are native to China, Japan & Korea and date from about the 16th Century. They have been produced commercially in Australia for about 25 years.
Nashi Pears are more round like an apple, rather than European varieties that are a true pear shape. The fruit has brown, white or yellow skin and is very juicy, crisp and rather grainy compared to the smoother, softer more buttery flesh of European pears. Asian Pears are ripe when firm & have a sweet smelling aroma. They store very well in the fridge.
Nashi Pears are very high in fibre, a good source of Antioxidants, Vitamin C, Folate and Potassium. They are excellent in salads and stir-fries, a delicious accompaniment to a cheese platter and crisp little beauties for the lunch box. They will generally fruit within 2 to 3 years of planting.
Growing
Nashi Pear trees are a great fruit tree for beginners as they will grow in a wide variety of soils. They have vigorous, upright growth on a medium size tree and very few disease problems. Plant them in a sunny, well-drained position with plenty of well-rotted manure.
Give the trees a dose of All Purpose Plant Food at the end of August to promote flowering and fruiting. Top up with manure over the summer
It is a good idea to thin the fruit when they are small to prevent branches becoming too heavy and breaking. This also gives each fruit a chance to grow to its optimum size and quality.
Pear and Cherry Slug can be a nuisance in the spring and summer; use Success – Naturalyte Insect Control, once every two weeks from about mid spring.
Pollination
With a few notable exceptions (discussed below) pears require two different varieties to fertilise each other. Pears fall into flowering groups: Early, Mid, Late and Very Late. A simple rule is that a pear variety will pollinate with another variety within its own group or with one in an adjacent group. The trees don't need to be immediately adjacent, a suitable variety next door will do the job. Trees just need to be within a bees flight…
Nashi Pear varieties
Chojoro
Pollinators: Nijisseili (20th Century), Hosui, Sensation, Williams Bon Chretien (syn Bartlett)
Hosui
Pollinators: (partially self-fertile) Chojuro, Sensation, Williams Bon Chretien (syn Bartlett)
Kosui
Nijisseili (20th Century)
Pollinators: Partially Self Fertile: Beurre Bosc, Buttira Precoce Morettini, Packham's Triumph, Sensation, Williams Bon Chretien (syn Bartlett), Shinsui
Shinseiki
Pollinators: Self-fertile, however will do better if pollinated with Winter Nellis
Shinsui
Pollinators: Nijisseili (20th Century)
Ya-Li