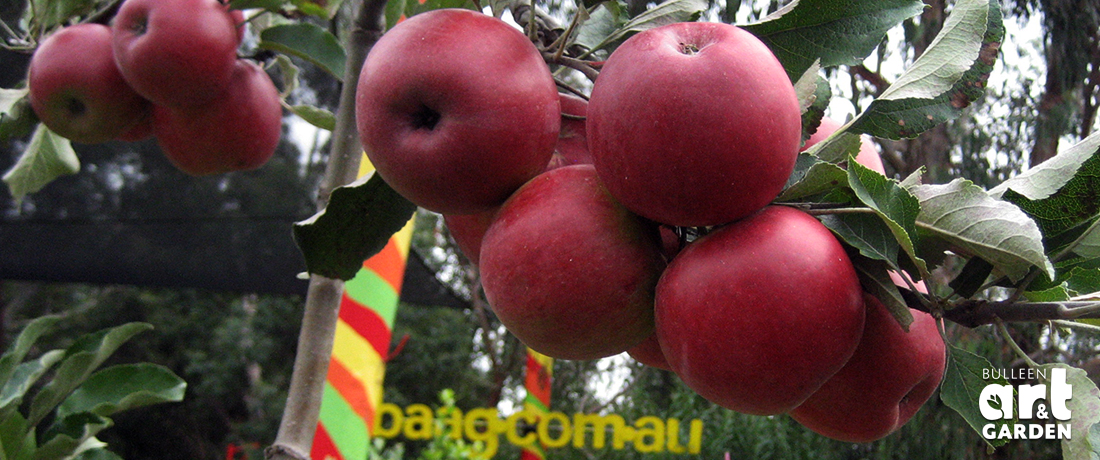 Important note about plant availability.
There are hundreds of factsheets on our website provided for your information. Not all plants will be available at all times throughout the year. To confirm availability please call (03) 8850 3030 and ask for the nursery.
Apples are one of our most popular fruit. They are also a tree that many people don't try to grow at home. But you should be! Melbourne has an ideal climate for growing apples. Apples require regular maintenance to bear a successful crop in the home garden. However it is worth the effort, particularly if you chose your favourite variety or a variety that is not available in your supermarket. There are many different varieties to choose from, most with superior taste to commercially grown apples, (selected partially because of their long keeping qualities). In addition to the fruit, you also get a beautiful spring display of blossoms as well as a wonderful shade tree in summer. For those of you with smaller gardens you can plant a dwarf variety (with full sized fruit) or try your hand at Espaliering. For an interesting commentary on the perils of breeding apples for the supermarket shelves read this article from The Atlantic.
Cultivation
Apples require a sunny open position (at least 5 hours of full sun a day), and a fertile, moist but well drained soil. Add gypsum to heavy clay soil and mix compost through the soil prior to planting. Ensure an even supply of moisture throughout the growing season.
Fertilise in spring with a general purpose, slow release fertiliser.
Annual pruning in winter, firstly to develop a strong framework, and thereafter to encourage fruit bearing branches.
Regular pest and disease control measures should be carried out. Coddling moth and woolly aphids are common pest problems on apples in this area.
We keep a large range of apples in stock all year round here at BAAG, read on for the full list of varieties.
In addition to the apples listed here, we also keep a large range of Heritage Apple Trees.
Pollination
Some people are put off by the fact that apples need to be pollinated with a different variety. Remember this does not mean you need room for two apple trees. There are many multi-graft varieties available with cross-pollinating varieties on the one tree. You can also plant two apple trees in the same hole if space is an issue in your garden.
Full Size Traditional Trees
(all varieties generally grow to 4m x 4m)
Cox's Orange Pippin
One of the oldest apple verities, Cox's Orange Pippin is a medium to large sized apple with a red orange stripe in the skin over a greenish background. The creamy coloured flesh is crisp, aromatic and juicy. Ripens the end of March and is a good keeping extremely popular dessert apple.
Gala
Has a wonderful flavour, great eaten fresh. Bright red colour over yellow. Tree grows to 4m x 4m. Dwarf available.
Golden Delicious
Great cooking apple with sweet flavour leading to a slightly tart finish. Gorgeous yellow fruit that store well. Matures mid-season
Granny Smith
Everyone loves a Granny Smith! Bright green, crisp fruit, with a delicious flavour, great for eating fresh and cooking. Matures late-season.
Jonathon
The original bright red apple. Tasty, bright red, medium sized fruit with a slight tartness. Matures early to mid-season.
Pink Lady
A tasty, medium sized apple with a delightful pink to scarlet skin. Top eating flavour. Matures mid to late season. Dwarf and miniature available.
Pomme de Neige
Mottled bright red skin on areas exposed to the sun. Snow white crisp, juicy and sweet flesh, maturing late March to April. Use as fresh fruit, for cooking and drying. Small sweet apple ideal for kids.
Red Delicious
A well known apple, very deep red thick skin, distinctive shape. Large sized apples. Matures mid-season. Dwarf available.
Red Fuji
Delightfully sweet aromatic fruit that is a muted red in colour. Great for eating fresh, and keeps well left to hang on the tree. Matures mid to late season.
Semi-dwarf, Dwarf and Super-dwarf
All apple tree are grafted onto a root stock, these rootstocks can determine how large the final tree will grow. Increasingly popular are dwarfing rootstocks which keep the final height to under 2.5m and in some cases closer to 1.5m. Many (and more each year) conventional apples are being grafted onto dwarfing and super dwarfing rootstocks
Leprechaun Dwarf
A naturally growing dwarf growing tree, this is essentially a dwarf Granny Smith, with all the cooking, eating and pollinating characteristics of our famous green Granny Smith apple.
Monty's Surprise Dwarf
A small growing (2.0m x 1.5m) tree with extra large fruit.This remarkable apple has some of the highest flavonoids and antioxidant levels, both in the skin and flesh, of any apple variety found in the world (many times higher), it also has high micro nutrient levels. Combine this with fine crisp white slightly tart flesh and you have a winner. Can be used as an eating, cooking, dried or cider apple. Note – large sized fruit means this tree will need support staking.
Pinkabelle Dwarf
A true 'naurally growing dwarf' tree, Pinkabelle is a variety of Pink Lady apple. Growing on a neat 2m x 1m tree, the fruit is sweet, full sized and tasty. Partially self-fertile, but would love a friend to pollinate with. This is a grafted tree. Matures mid to late season.
Columnar Apples
Columnar apples will grow to a height of about 3.0m and 600mm wide. They are a great choice for pots and smaller gardens, or that tricky, narrow spot along the fence line. Left to grow their full 3m in height, they will potentially bear 15kgs of apples. They naturally form short shoots and fruiting spurs from their second year. These set masses of blossom and subsequently lots of fruit – which will require thinning to get maximum sized fruit. The heavy blossom set makes them a particularly attractive garden feature in spring.
Ballerina Bolero
A tasty little tree that produces sweet flavoured fruit. Light green in colour with a slight pink to red blush. Great eaten fresh, or used in cooking. Matures mid-season.
Ballerina Charlotte
Bright red, juicy fruit great for both eating and cooking. Matures mid-season.
Ballerina Flamenco
A beautifully sweet and juicy eating apple, Flamenco bear medium sized bright red fruit with a slight green tinge. Matures mid to late season.
Ballerina Maypole
A gorgeous compact Crab-Apple, Maypole puts on a floral display in spring that is not to be missed! Oh, and the crab apples aren't bad either! Maypole is a great little pollinator for the bulk of the "Ballerina" range. Matures mid-season.
Ballerina Polka
Pretty green apples with a slight red blush. Fruit is sweet, crisp and juicy and great both fresh and cooked. Matures mid-season.
Ballerina Waltz
Deep red, small to medium sized fruit. Great flavour with a slight tang, Waltz is great both fresh and cooked. Matures mid to late season.
Pom Pink
Yellow green base colour with stunning bright purple red blush over the top. A second generation ballerina with improved blossoming and fruiting characteristics. Known as a columnar apple and characterised by strictly upright growth with rich robust blossom, followed by masses of superb apples. Apples are medium to large, firm and crisp with creamy white flesh, aromatic and juicy with an excellent flavour. Can be used as an eating, cooking or cider apple. Excellent cool storage characteristics. Ideal for the gardener as it has very low susceptibility to apple scab, cancer, fruit rots and aphids, a very low maintenance apple. Fabulous tree for landscaping purposes with durable showy blossom, disease free generous foliage and attractive fruit. Provides a strong vertical element and looks stunning when mass planted.
Cumulus
Sweet white flesh with a fine crisp texture. Solid red blush over pale green background. Wonderful eating apple of a good large size.Excellent for eating fresh, stewing, apple cider, cooking and dried apple. Harvest February to March. Like all columnar apples – a prolific bearer.
Harmony
For those of us who want a columnar version of Golden Delicious – this apple it has the classic yellow skin over creamy white sweet and juicy flesh. Not too big, a nice medium size, great for kids. Very versatile can be eaten fresh, or used in stewing, apple cider, cooking and for dried apple. Prolific. Harvests March to April.
Herald
Large red skinned fruit over sweet crisp cream and fine textured flesh. Very versatile can be eaten fresh, or used in stewing, apple cider, cooking and for dried apple. Prolific and harvests February to March.
For more information on Heritage Apple trees click here
For more information on selecting bare root fruit trees click here
For our fact sheet on getting the most out of grafted trees click here
For those with small gardens check out our factsheet 'Fruit Tree Espaliering Basics'