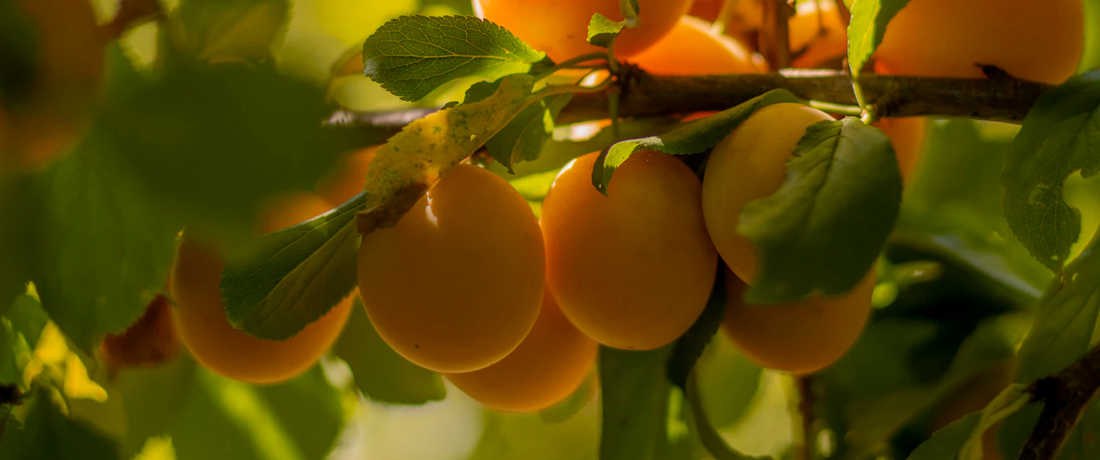 Important note about plant availability.
There are hundreds of factsheets on our website provided for your information. Not all plants will be available at all times throughout the year. To confirm availability please call (03) 8850 3030 and ask for the nursery.
Furry and golden on the outside, juicy and flavourful on the inside, apricots are little balls of sunshine in a cool climate garden. From jams to liqueurs, there's nothing you can't do with an apricot… and these gorgeous, long-lived trees are a perfect fruity feature in your patch, growing to a manageable 4m x 4m size. If you prefer a smaller tree, there are now several old favourites grafted onto dwarfing rootstock – perfect for pots (need staking when young).
Like most stone fruits, Apricots prefer a sunny spot in a garden that gets pretty nippy in the cooler months, and warms nicely come spring and summer. They are somewhat frost tolerant once established, and should be protected from wind and salt (shouldn't we all!).
Apricots will respond well to a rich, well-drained soil with a pH of about 7 – 8.5 (slightly alkaline). Prepare soils three months before planting out apricots, using dolomite lime to raise pH and building a slight mound to improve drainage, especially with heavy clay soils like those around Bulleen.
Like most stone fruits, apricots love their roots to be anchored in soil that is moist, but never damp or wet. Monitor water over warmer months, and provide compost and manure every few months for good fruit.
Ok, this is where the serious business begins for apricot owners. Apricots will benefit from an annual prune and thin out, but this must be done after harvest, in summer to mid-late autumn in order to avoid disease issues. Apricots are prone to gummosis (Bacterial Canker) and pruning in the warmer months allows quick healing of the wound, reducing the chance for the bacteria to enter. These trees have a tendency to put on a great deal of "echidna-like" twiggy growth, known as spurs, and, when pruning, many of these spurs may need to be removed to open up the centre of the plant. Don't get rid of them all though, the spurs are where the fruit sets. Give apricots a winterwash and thin fruit in early spring to increase airflow, and help prevent pest and disease problems.
Apricots produce their fruit on one year old wood and two year old spurs. Many grafted varieties will begin to bear good crops of fruit within three to four years.
Early Divinity: Medium round/oval fruit, classic apricot colour with a red blush. Sweet flavour with the skin giving a touch of tartness. A good early variety. Crops better with Moorpark as a pollinator.
Hunter and Dwarf Hunter: Medium to large round/oblong fruit with pale apricot skin. Flesh is darker apricot colour and sweet and juicy. The latest fruiting apricot, around mid January. Self pollinating.
Moorpark and Dwarf Moorpark– One of the most popular of the Apricot varieties, Moorpark has a gorgeous flavour, and is possibly one of the sweetest apricots you will ever eat. Large round/oval fruit with a deep orange over a green base. Firm juicy flesh with excellent apricot flavour. Ripens early January. Self pollinating.
Story's and Dwarf Story's– Officially, this variety is an earlier bearing Moorpark, though you wouldn't know it to look at the fruit. Medium sized, golden fruit with a slight pink blush and a sweet, fragrant flavour, Story's is great eaten fresh, or made into jams and preserves. Self pollinating.
Trevatt and Dwarf Trevatt: LArge round pale yellow fruit with a slight ref blush. Rich apricot coloured fruit, firm, sweet and juicy. Good apricot flavour. An excellent all purpose apricot, reliable, heavy cropping. Fruiting in late December, perfect for Christmas. Self pollinating.
Miniature/Dwarf varieties available: Yes
Multigrafts available: Yes
X Pollinators Required: No, many are self-fertile