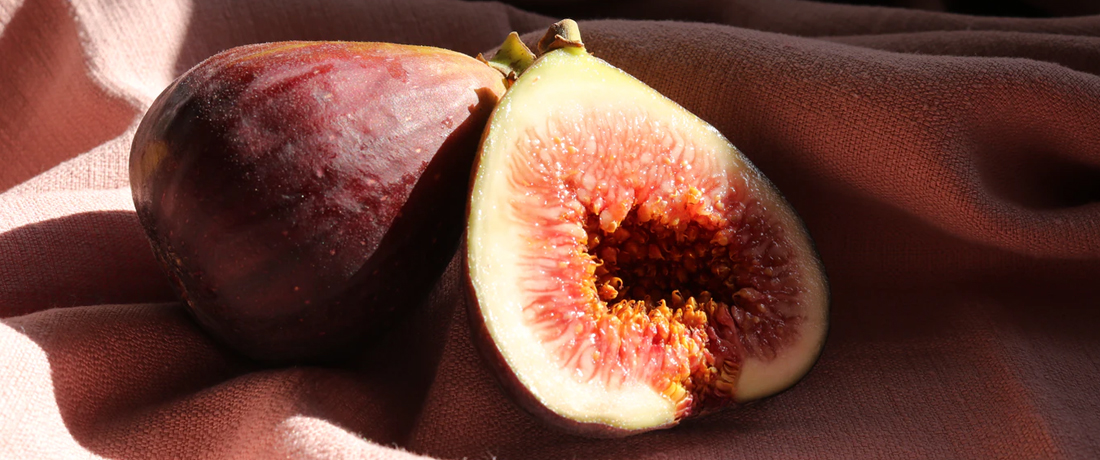 Growing figs is a breeze in Melbourne, where our hot dry summers and cooler winters provide ideal growing conditions. A true survivor, the fig will cope with almost total neglect and it isn't prone to all those diseases of other fruit trees (peach leaf curl, cherry slug, shot hole, gall wasp, leaf miner, codling moth, oriental moth).
Survival is one thing – for great eating figs a rich, free-draining soil with a neutral pH, plenty of organic matter and a layer of straw mulch will help retain enough moisture to get plump good eating figs. Often figs are planted in raised beds or mounds, to ensure drainage is sufficient. Find a sunny spot with not too much wind, in a position where you can enjoy the summer shade provided by this tree. That said, I have seen figs surviving and producing wonderful crops in the most inhospitable environments imaginable. They really are the survivors of the fruit tree world.
Harvesting figs is easy, and they should be picked when they are slightly soft to the touch and smelling sweet. Figs will NOT continue to ripen once they have been removed from the tree, so pick them when you need them and handle them with care as they can bruise easily.

Important note about plant availability.
There are hundreds of factsheets on our website provided for your information. Not all plants will be available at all times throughout the year. To confirm availability please call (03) 8850 3030 and ask for the nursery.
Adam: A French variety with light yellow brown skinned fruit with a hint of violet. Medium to large sized fruit with pink/red flesh. Excellent quality fruit, good flavour.
Black Genoa: Excellent flavour. Large, conical, greenish purple skin, dark red, rich sweet flesh. Reliable, heavy cropper. Two crops a year. Vigorous, spreading tree. February for three months.Fresh fruit, drying and jam. Self-Pollinating.Originates from the Mediterranean, Middle East and Northern Africa. Prefers hot, dry summer and cool winter. Adapts to many soils, water regularly. Matures from February for 3 months duration. Remove one or two of older branches annually.
Black Ischia: Very soft skin and flesh – this means you wont see them in the shops as not suited to storage and transport. A small purplish black fig with strawberry pulp. Sweet and rich flavour.
Blue Provence: Blue/Violet skin and exceptionally sweet dark red flesh. Bears late in the season.
Brown Turkey: Large, conical, brown skin, pink sweet-flavoured flesh. Vigorous, productive and hardy. Early Summer and late autumn. Fresh fruit, drying and jam. Self-Pollinating.
Conadria: A medium to large yellow-green fig with light strawberry pulp, very high sugar content and a rich flavour. Bred by Ira Condit and released in 1957. Frost hardy. Resists spoilage, good keeping fig.
Deanna: Deanna produces large green figs that ripen to yellow or greenish yellow.
Dwarf Brown: Originally sourced from a home orchard in N.S.W., where it had grown to about 2 metres high and about the same in width. Nice flavoured brown skinned fruits and a genuine dwarf tree suited to smaller spaces and backyards.
Excel: A very sweet, large, all purpose, greenish yellow fig with a light amber flesh. The flavour is superb and the figs are highly resistant to splitting even during adverse weather. Very hardy.
Preston Prolific: Very thick flesh, creamy white and juicy, with sweet flavour. Extremely vigorous and late cropping. Harvested February to March.
Red Conadria: Yellow to light green, with a slight purple blush, medium to large pyriform fruit.High sugar content. Juicy strawberry coloured flesh with excellent flavour, sweet and mild. Fruit resists spoilage in rainy weather. Skin cracks all over but does not split. Flesh is firm.
Silvan Beauty: Purple skinned fruit with orange flesh, good flavour and heavy bearer, makes great fig jam, discovered growing in Dandenong Ranges, harvests late season, tree can grow quite large.
Spanish Dessert:Spanish Dessert is a cultivar of Ficus smyrna, the best variety of fig to grow. It only has female flowers, and if you want fruit from it you will also need a Ficus 'Capri' fig, (inedible fruit, but the only variety to have both male and female flowers). This is essential for pollination of Smyrna varieties.
White Adriatic: A vigorous Fig variety, usually producing one crop a year (the breba crop can be very light). The fruit is good for drying, but is also delicious fresh. Brown green skin over pink flesh with excellent sweet flavour. Self fertile.
White Genoa: Large, conical, yellow-green skin, red-pink sweet, mild flavoured flesh. Suits cooler areas. Lighter cropper than other varieties. Early Summer and late autumn. Fresh fruit, drying and jam. Self pollinating.
Fig Mosaic Virus
Mosaic is a viral disease to which figs vary in susceptibility. The main symptom is mottled leaves. Some varieties infected by mosaic show dwarfed leaves and fruit; others are scarcely affected. Mosaic is incurable but is rarely a reason to discard plants. Spread mostly by mites, but also by pruning and/or grafting from an infected tree to a clean tree.