There are many options for edging your garden. We carry a wide range to choose from to suit most needs. Below is the edging range at BAAG.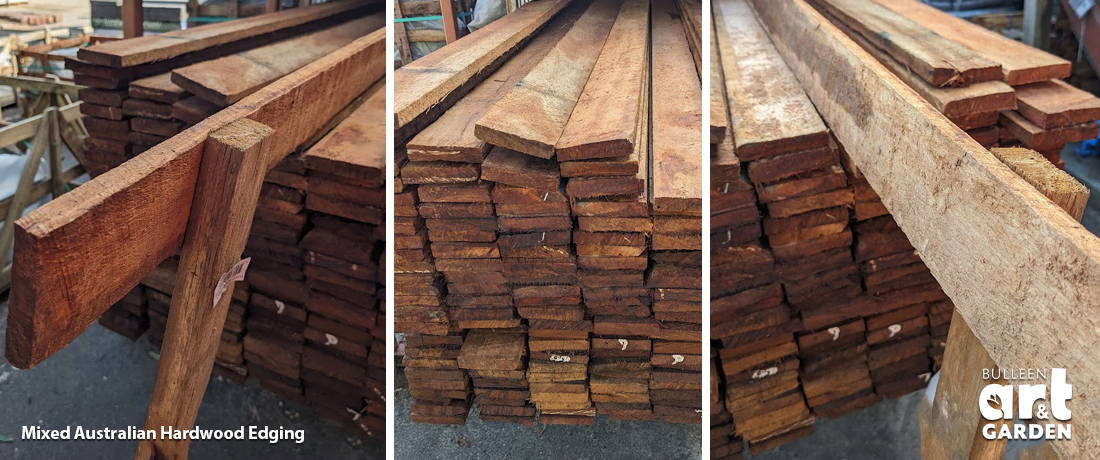 Mixed Australian Hardwood edging
Variable lengths available. 70mm x 13mm.
2.4m to 5.6m, priced per lineal metre.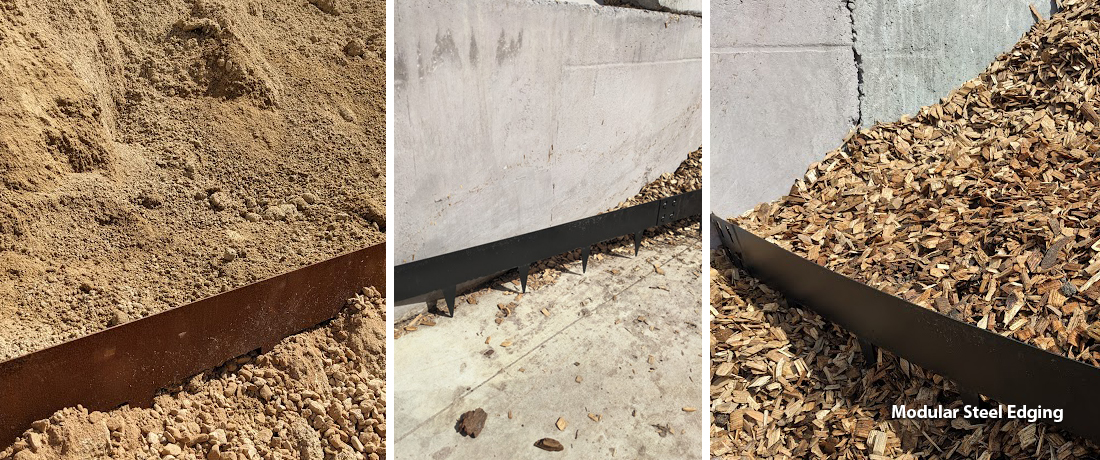 Modular steel edging
Powder coated black or corten (rusty) finish.
1m x 100mm with built in spikes and joiners.

FormBoss Corten Steel Edging
2.4m x 100mm, 2.4m x 150mm, 2.4m x 230mm and 2.4m x 390mm in stock. Other sizes can be ordered.
FormBoss Corten steel (the rusty looking steel) garden edging. The steel is designed with an outer protective patina layer that will provide the distinctive red and brown hues.

Recycled Plastic Edging
4.2m x 75mm x 8mm
Super flexible and will last forever, the plastic edging will turn into any shape you like. Able to make extremely tight circles, the plastic edging can border plants or entire garden beds. It is only available in brown.

Ecowood Treated Pine edging
3.6m x 75mm x 25mm
As with our Ecowood Treated pine sleepers, this edging is a form of treated pine. The non-arsenic treatment ensures it is a suitable option around kids or the vegie garden. Due to the thickness of the treated pine, it is far more rigid than the other edging options. Details on the Ecowood treatment can be seen here on our Sleeper page.

Linkedge Aluminium edging
3m x 100mm
3m x 75mm
3m x 50mm
Whilst more expensive than other edging options, the aluminium edging can give your garden a modern feel. Simply bend the edging once, knock the spikes into the ground and any shape or curves you desire can be instantly created. With a range of heights available, you can choose the edging that suits your garden. We also stock the joining plates, spikes and spike guides required for Linkedge.

Edging Clips & Joiners
These metal clips can be used on the hardwood edging or plastic edging. Simply knock them into the ground over the edging and they'll hold the edging in place. You'll require a clip approximately once every metre, more if creating a tight bend.

Survey pegs
Untreated pine pegs can easily be put against or screwed into the edging. Available in packs of 25, they come in 300mm, 450mm or 600mm sizes. Similarly to the metal clips, we recommend a peg every metre or so.
Alternate options
There are many other options you can take when edging your garden. If you prefer a high edge, maybe a sleeper might be your preferred edging option, see our range of sleepers here. Of course, a line of bricks or pavers can also be used. Don't be afraid to think outside the box.
Delivery to the following suburbs
Please note – Deliveries of small quantities may not be possible over longer distances. Please contact the yard to confirm. Please call even if your suburb is not listed here, we may still deliver to you depending on your requirements.
Abbotsford
Alphington
Armadale
Arthurs Creek
Ascot Vale
Ashburton
Ashwood
Auburn
Balwyn
Balwyn North
Bellfield
Blackburn
Blackburn North
Blackburn South
Box Hill
Box Hill North
Box Hill South
Briar Hill
Brunswick
Brunswick East
Brunswick West
Bulleen
Bundoora
Camberwell
Canterbury
Carlton
Carlton North
Caufield
Clifton Hill
Coburg
Coburg North
Collingwood
Diamond Creek
Doncaster
Doncaster East
Donvale
Eaglemont
East Melbourne
Eltham
Eltham North
Essendon
Fairfield
Fitzroy
Fitzroy North
Glen Iris
Greensborough
Hawthorn
Hawthorn East
Heidelberg
Heidelberg Heights
Heidelberg West
Hurstbridge
Ivanhoe
Ivanhoe East
Kew
Kew East
Kingsbury
Lower Plenty
Macleod
Macleod West
Malvern
Malvern East
Melb University
Mont Albert
Mont Albert North
Montmorency
Northcote
Nunawading
Park Orchards
Parkville
Pascoe Vale
Plenty
Preston
Research
Reservoir
Richmond
Rosanna
South Yarra
St. Kilda
Surrey Hills
Templestowe
Templestowe Lower
Thornbury
Toorak
Viewbank
Warrandyte
Watsonia
Watsonia North
Wonga Park
Yallambie