We stock a large range of cement, dry mix and associated products. All products are conveniently packaged in 20 kg bags. We stock everything you need for your next DIY building, paving or landscaping project.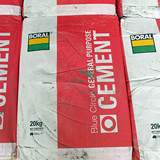 GP Cement
GP (general purpose) cement is the powder used for making concrete and mortar. GP cement contains around double the actual cement content of GB (general builders) cement, making it a far stronger and higher quality product. GB cement contains 50% slag (a by-product of cement making) and should NEVER be used as a structural cement. If you see bags of cement advertised at insanely cheap prices, be sure you are comparing the same product… GB and GP cement are NOT the same thing.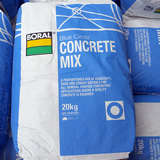 Concrete Mix
The easiest way to mix concrete is with Concrete Mix – just mix with water. It's ideal for footings, foundations, edgings and any structural application.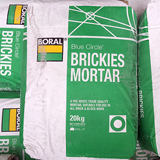 Brickie's Mortar
This easy to use pre-blended mortar just needs water. It represents a combination of sand cement and lime in just the right amounts to give a workable mix that's ideal for brick, block and rock laying, as well as re-pointing and ridge capping.
One 20kg bag will lay approx 20 bricks or 10 cement blocks.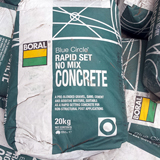 Rapid Set Concrete
If you have any non-structural applications such as fence posts or letterboxes the fastest way to concrete is with Rapid Set Concrete. Approximately two 20kg bags will be suitable for a typical hole. Just add water, no mixing is required. The initial set is achieved in 15 minutes.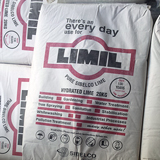 Limil
Builders lime or Limil is mainly used to make mortar more workable and slow down the drying process.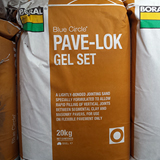 Pavelok
Pavelok is a stabilised jointing sand used to fill in between the gaps of pavers. Gaps can be a maximum of 3mm. Contains a gel which sets firm but remains flexible. This allows pavers to expand and contract with the weather.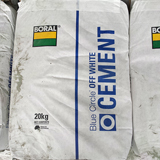 Boral Off White
Boral Off White is a GP (general purpose) cement and is the powder used for making concrete and mortar. The Off White cement is a very light colour and will provide a different colour finish. Off White cement is exactly the same as Brightonlite cement.