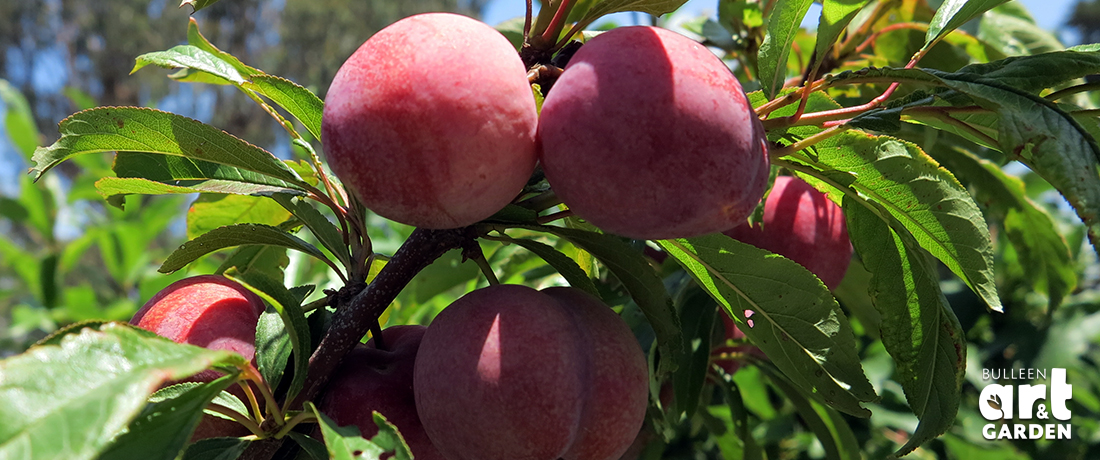 Important note about plant availability.
There are hundreds of factsheets on our website provided for your information. Not all plants will be available at all times throughout the year. To confirm availability please call (03) 8850 3030 and ask for the nursery.
Bursting with flavour, plums are a summer delight. These graceful, deciduous trees with thick, coarsely-toothed leaves are an asset to any garden and were once found in most suburban back yards. Plums together with Figs are probably the easiest of the fruit trees to grow. The don't get peach leaf curl, cherry slug, leaf miner, gall wasp, codling moth or oriental moth. Gummosis is rarely a problem. Really, all they need is sufficient sun, food and water.
Recent years has seen the advent of double grafted plums which solve the pollinating dilemma, and dwarf plums which solve the space dilemma of smaller modern back gardens. Plums went out of fashion, possibly because everyone had a plum tree so supermarkets didn't bother to source them. Now they are much harder to get and are firmly back on the radar. Grow your own plums, delight in plum jam, fresh plums, stewed plums and bottled plums. Awesome.
When it flowers in the early spring, your plum tree will be covered in blossom and look simply stunning, in a good year approximately 50% of the flowers will be pollinated and become plums. Biting onto a sun warmed ripe plum picked from your back yard tree is a childhood rite of passage.
They come in a wide variety of colours and sizes and are commonly divided into either European or Japanese plums. European plums are oval or oblong, about 5-6cm long, with a range of yellow, green, pink to purple skin colours. The flesh is multi-coloured from yellow, creamy-white to blood red and encloses a single large oval seed, which may be a freestone or clingstone. Japanese plums are slightly different, being more rounded to heart-shaped, 5-8cm long, with a depression at one end and a slight point at the other. Their skin colour can range from yellow to red and their flesh can be yellow, amber or yellow with red.
Grow in deep rich soil and in a temperate to warm climate. You cannot grow a good fruiting plum tree from a seed (or stone). Selected plum varieties are grafted onto a rootstock chosen for it's versatility and resilience to disease.
The trees will start producing good eating fruit about three to four years after planting. Pick by hand as they mature to protect the easily damaged skin.
Why Plums Are Good To Eat
• All contain some vitamin C and small quantities of other vitamins and minerals.
• A good source of dietary fibre, including soluble fibre.
• Sweetness comes from natural sugars that are digested slowly, giving plums a low glycaemic index (GI).
How to Keep Plums
If unripe, ripen at room temperature. When ripe store in the fridge and use within 5 days. With tart skins and juicy fruit, they are delicious eaten raw with stone removed, or they can be poached, boiled, baked, grilled, pan-fried or micro-waved. Serve with ice cream, over breakfast cereal, in fruit salad, with meat, sauces, pies, sherbets, cakes or breads.