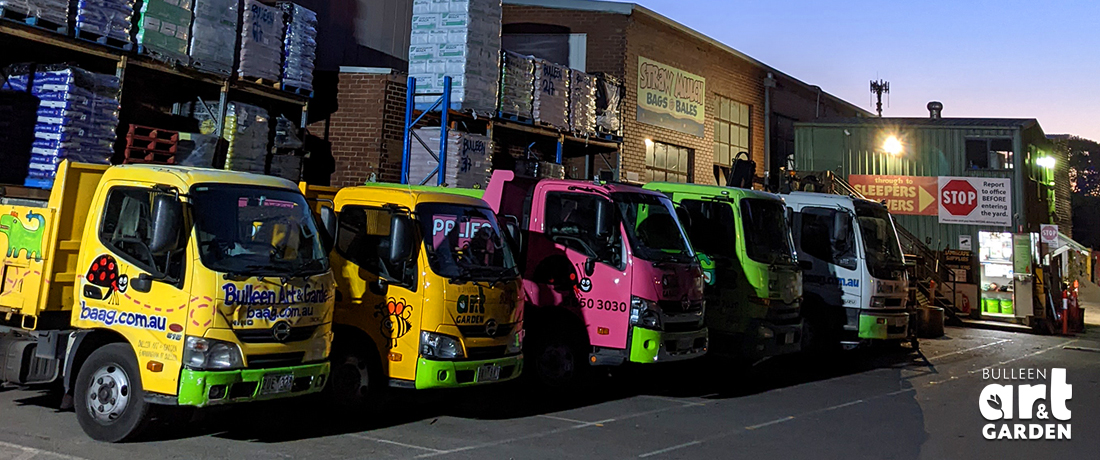 We deliver all over Melbourne!
We can deliver our bulk sand, soil, mulch, compost and stone to your site in most areas of Metro Melbourne. Our fleet of trucks are on the road doing bulk sand and soil deliveries 7 days a week, and they come in all sizes (and colours). Our drivers are neat, fit, healthy and always up for a chat.
Contact the yard on (03) 8850 3030 or email yard@baag.com.au to discuss your delivery requirements.
Please note that a delivery surcharge applies on Sundays and Public Holidays. Minimum delivery quantities apply.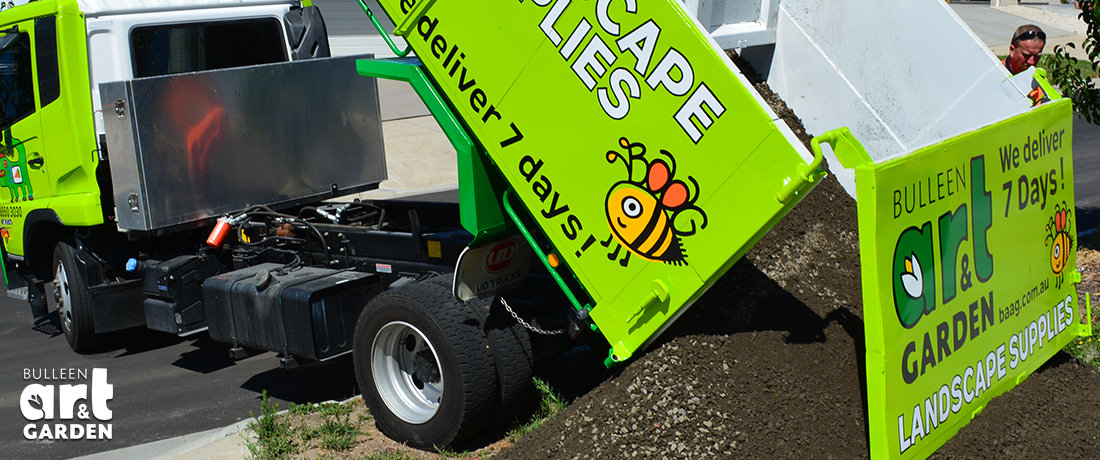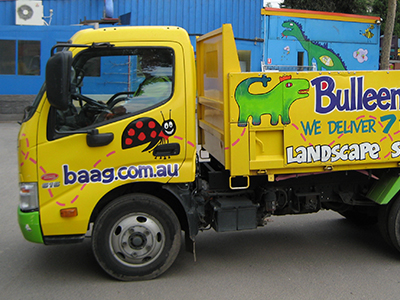 Yellow Truck
Our smallest truck measures 2.2m mirror to mirror allowing it to fit down nearly every laneway in Melbourne. It can carry 4 cubic metres of light products, or up to 2 cubic metres of heavy products.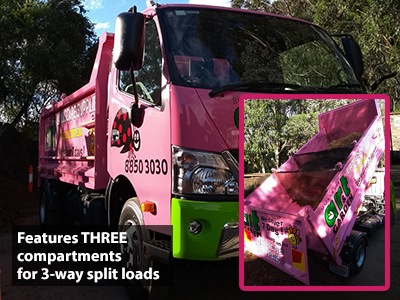 Pink Truck
Our bright pink truck catches the eye of everybody who sees it. Being 2.45m mirror to mirror wide, it can carry 3 cubic metres of heavy products or up to 7 cubic metres of light products. This truck has 3 compartments meaning we can easily deliver three separate bulk items at once. Talk to the boys in the yard regarding how loads can be split.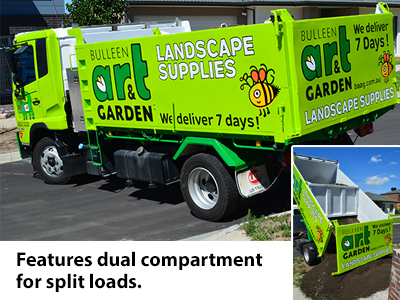 Green Truck
Our big green truck can comfortably carry 10 cubic metres of mulch or 4 cubic metres of heavy products. With 2 bays, it can also carry split loads with ease. Its width is 2.8m mirror to mirror.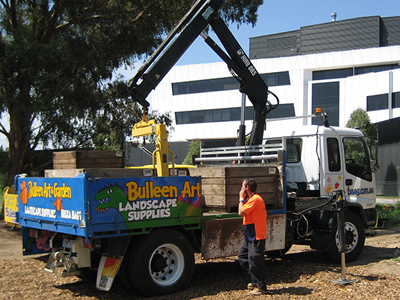 Crane Truck
This big truck is 2.8m wide and can carry up to 5 cubic metres of heavy products or 6 cubic metres of other products. It can also carry up to 8 bulka bags at once. With the crane we can carry bulka bags or packs of sleepers over fences or put them onto some roof tops.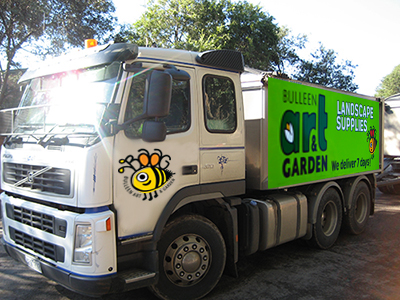 Tandem Truck
If you've got a big job on, we can send our Tandem truck to deliver a big load. No job is too big, we can organise any sort of quantity to your job site.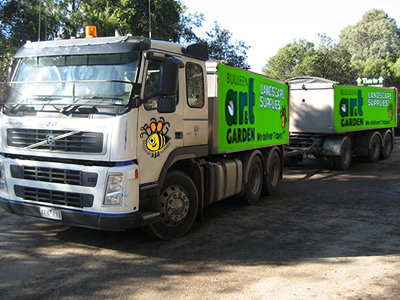 Truck and Trailer
This truck and trailer can deliver 20 cubic metres of heavy product and up to 30 cubic metres of light products.
We regularly deliver to the following suburbs. To organise a delivery please email the yard or phone (03) 8850 3030. Please call even if your suburb is not listed, we may still deliver to you depending on your requirements. Minimum quantities apply for delivery service. If your requirements are too small for us to deliver, we also offer a free two hour trailer loan service.

Conditions of Sale and/or Delivery
Placement of an order implies the acceptance of these terms and conditions.
Any time period or date stated for delivery of the goods is an estimate only.
Bulleen Art & Garden accepts no responsibility for damage when delivering goods inside the boundary of the customer's premises. Delivery of goods does not imply installation or individual placement around property. Products will be unloaded only in a location which the driver deems to be safe, and only beside the truck.
The customer must provide a safe, suitable and practical means of access to the site. Any unreasonable delays will be charged to the customer. If an unsuccessful delivery occurs and BAAG needs to return the goods additional cartage charges may apply. No responsibility is taken for goods delivered to unattended sites.
Any changes to the order will incur a $30 fee. No refund on delivery charge if order is cancelled within 24 hours of delivery. Property shall not pass to the purchaser until paid in full – 2.5% service charge per month for overdue invoices.

Abbotsford
Alphington
Armadale
Arthurs Creek
Ascot Vale
Ashburton
Ashwood
Auburn
Balwyn
Balwyn North
Bellfield
Blackburn
Blackburn North
Blackburn South
Box Hill
Box Hill North
Box Hill South
Briar Hill
Brunswick
Brunswick East
Brunswick West
Bulleen
Bundoora
Camberwell
Canterbury
Carlton
Carlton North
Caufield
Clifton Hill
Coburg
Coburg North
Collingwood
Diamond Creek
Doncaster
Doncaster East
Donvale
Eaglemont
East Melbourne
Eltham
Eltham North
Essendon
Fairfield
Fitzroy
Fitzroy North
Glen Iris
Greensborough
Hawthorn
Hawthorn East
Heidelberg
Heidelberg Heights
Heidelberg West
Hurstbridge
Ivanhoe
Ivanhoe East
Kew
Kew East
Kingsbury
Lower Plenty
Macleod
Macleod West
Malvern
Malvern East
Melbourne University
Mont Albert
Mont Albert North
Montmorency
Northcote
Nunawading
Park Orchards
Parkville
Pascoe Vale
Plenty
Preston
Preston East
Preston West
Research
Reservoir
Richmond
Rosanna
South Yarra
St. Kilda
Surrey Hills
Templestowe
Templestowe Lower
Thornbury
Toorak
Viewbank
Warrandyte
Watsonia
Watsonia North
Wonga Park
Yallambie