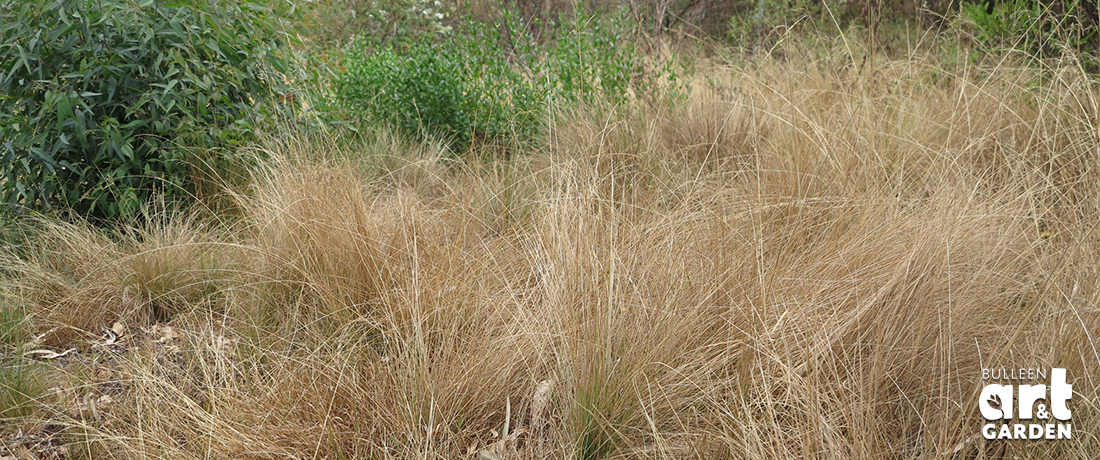 Indigenous Gardens – Indigenous plants are unique because they are perfectly suited to the environment that they belong to. This means that they can usually survive on local rainfall patterns and thrive in the local soil. Indigenous plants look great and are a very important food source for a wide range of local fauna.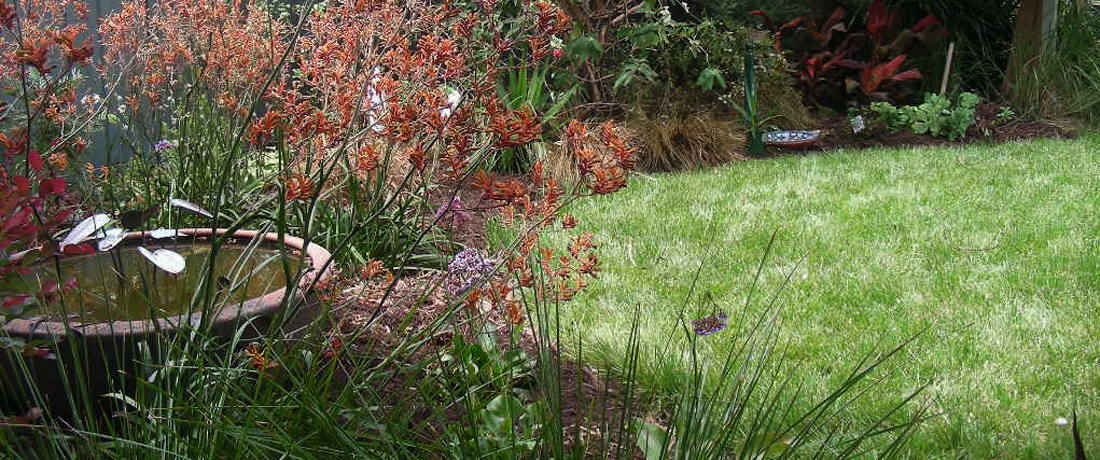 Pruning Australian Natives – With the continually growing and improving range of Australian native plants available, the days of the scrappy Australian native plant garden are behind us. The range of new cultivars (and the old favourites), like many plant varieties, benefit from pruning.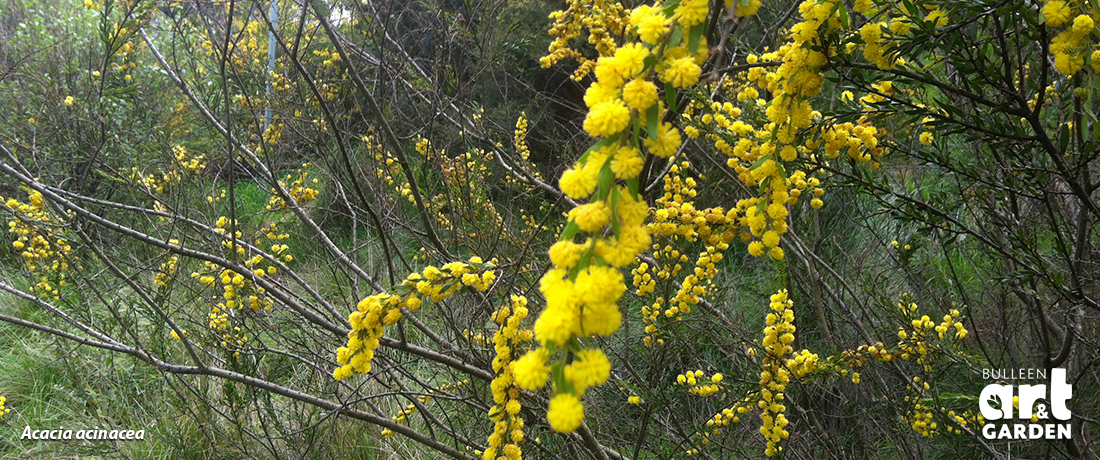 Acacia acinacea (Gold Dust Wattle) – Small stiff light green leaves borne on gently arching branches. Masses of fragrant golden yellow flowers from late winter to early summer. Suprisingly hardy!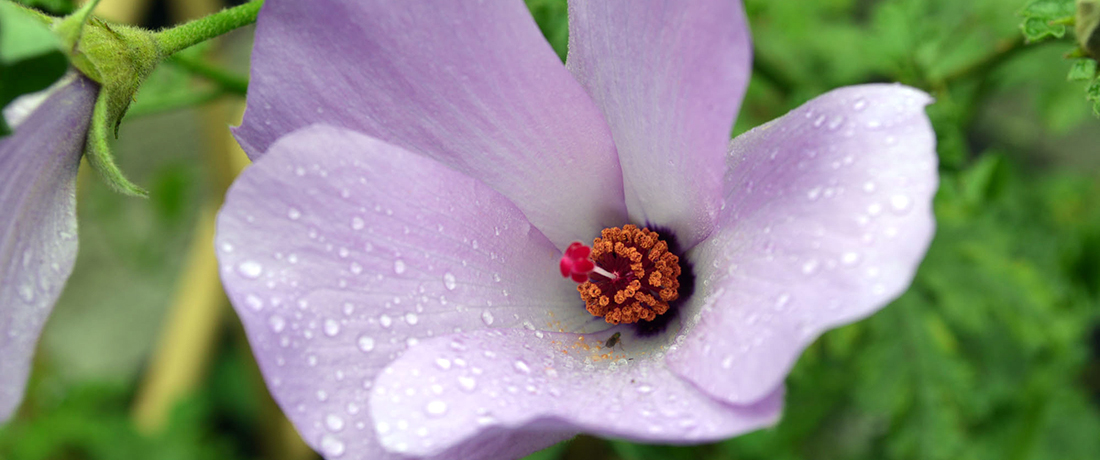 Alyogyne – Australian member of the Hibiscus family known for its gorgeous open satiny petalled flowers. Flowering from late spring to the end of summer, it produces hundreds of flowers which open in the morning and last the single day.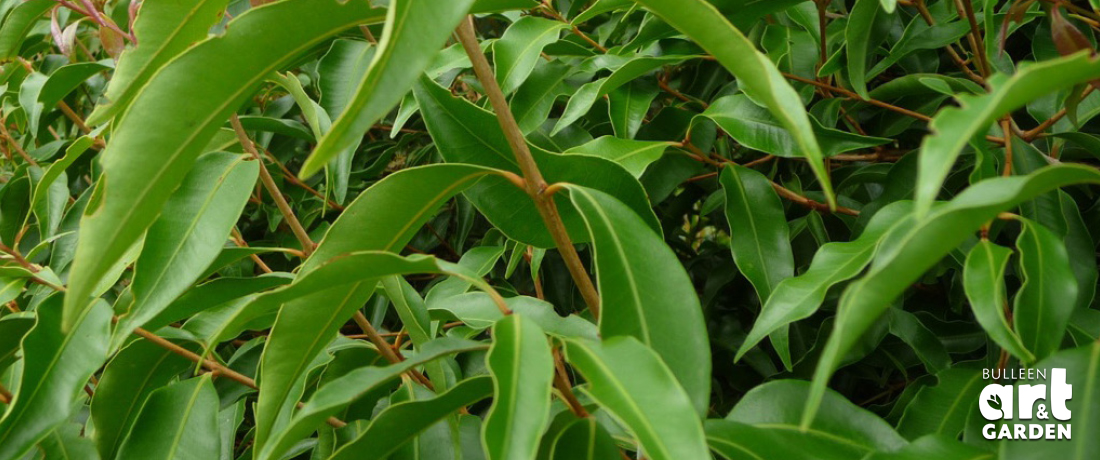 Aniseed Myrtle – Aniseed Myrtle is a rare subtropical rainforest tree from northeastern NSW. It makes an excellent tub specimen that looks great if tip pruned regularly. It has white, scented flowers in spring.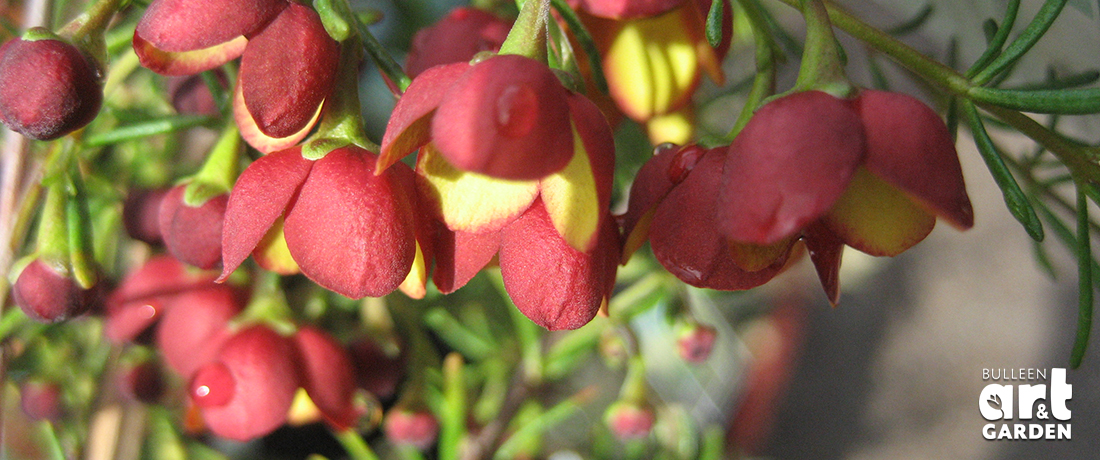 Boronia – Quite a lot of breeding has been done with boronias and numerous lovely cultivars and hybrids are on the market and worth looking at. Perhaps the most exciting development is the grafting of boronias to give them a longer garden life.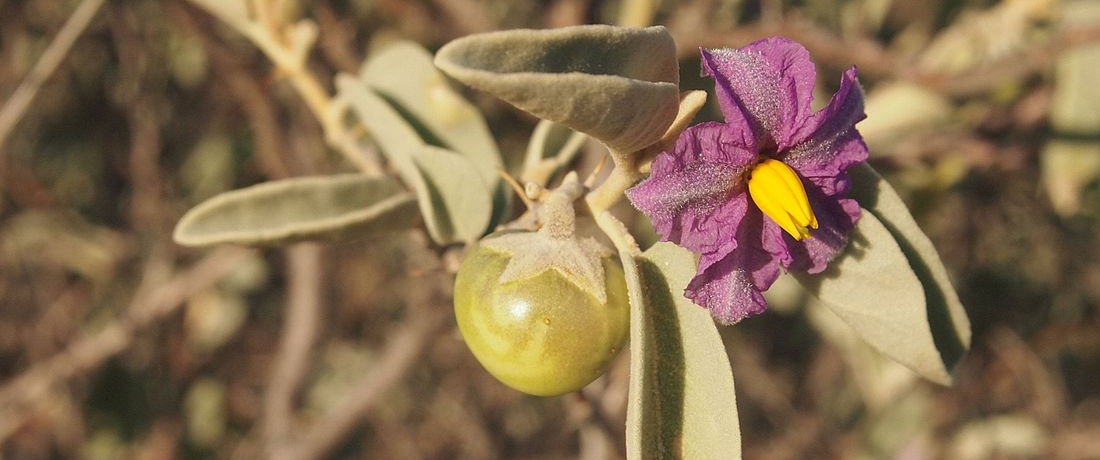 Bush Tomato – The fruits of these plants were eaten by Indigenous Australians, but only when ripe. This is an important point, as the fruits are poisonous when green.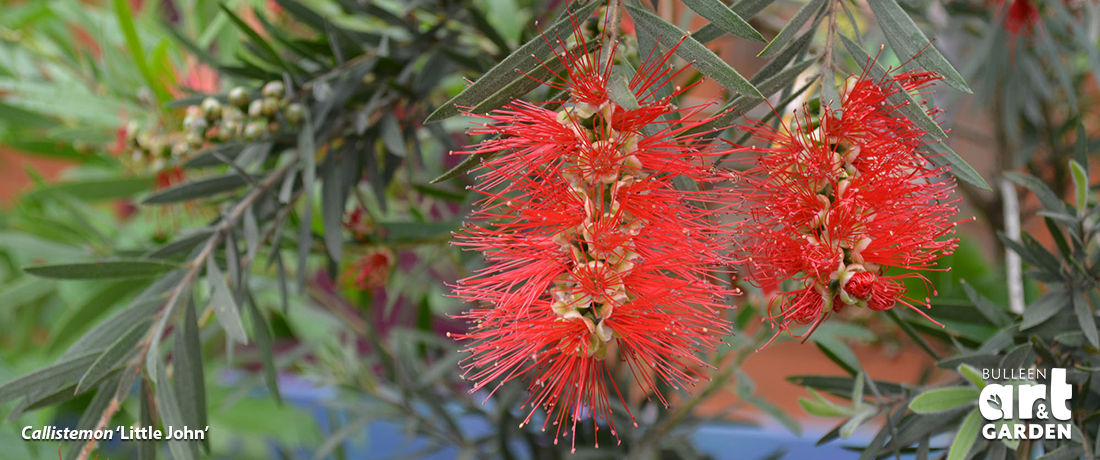 Callistemons (Bottlebrushes) – One of the most profuse flowering of all our native plants, the bottlebrush is both beautiful and tough. Colours range from white and cream through to pale pinks, brilliant reds and purples.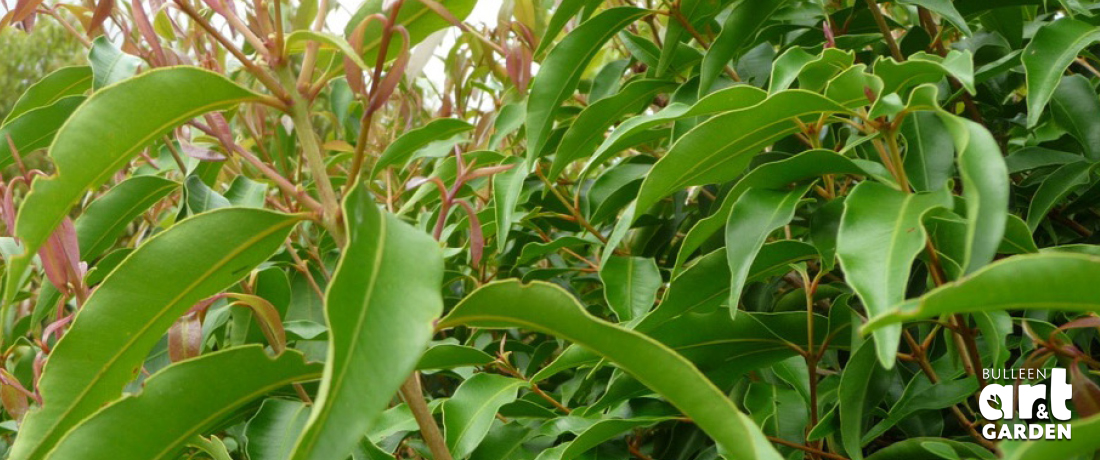 Cinnamon Myrtle – Cinnamon myrtle is a subtropical tree from Eastern Australia. In the wild it can grow to 30m, but in cultivation it could grow to 7m. Cinnamon myrtle leaves produce a cinnamon–like aroma when crushed.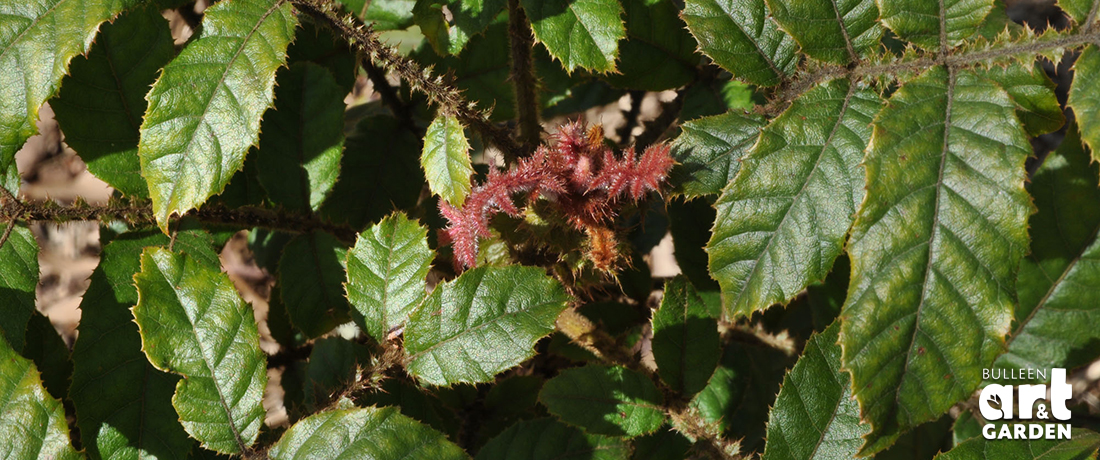 Davidson's Plum – The deep dark purple fruits contain a soft juicy vibrant dark red flesh with a sharp acidity. Rarely used as a fresh fruit due to the intense acid and low sugar content, instead the fruit is wonderful added to yoghurt, jams, sauces and drinks.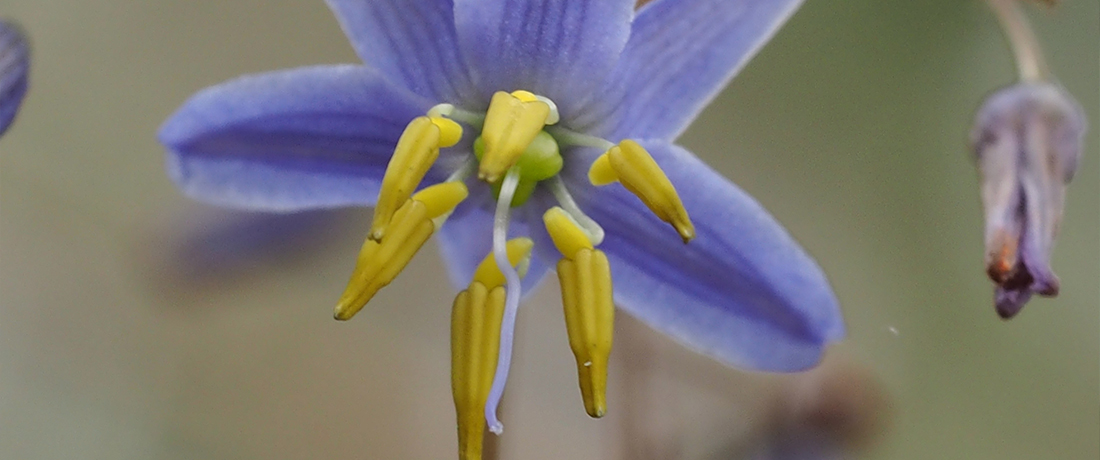 Dianella longifolia var. longifolia (Flax Lily) – Apart from being a great landscaping plant, Dianella longifolia has an ornamental and edible berry. It is a tough, hardy plant that will add lovely blue-green upright foliage to the garden, as well as numerous blue and yellow flowers on tall stalks.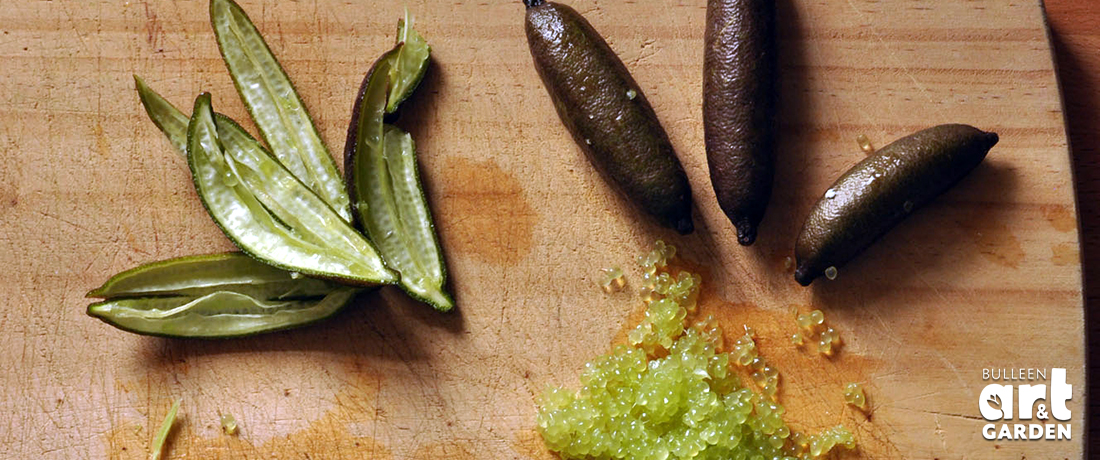 Finger Lime – Finger limes are native to the rainforests of SE Queensland and northern NSW. A naturally thorny 6m tall understory tree producing the highly desirable 6-12cm long finger shaped fruit; they are highly adaptable and commercially are grown in poor soils.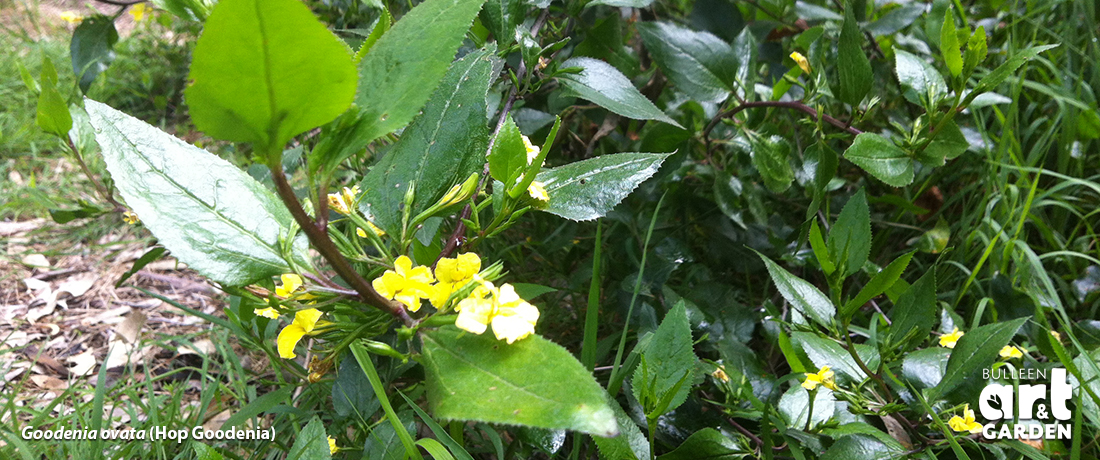 Goodenia ovata (Hop Goodenia) – Bushy shrub with bright yellow flowers, contrasting with fresh green foliage. Vibrant yellow blooms make good cut flowers. Sprays of yellow flowers most of the year, with peak flowering through spring and summer.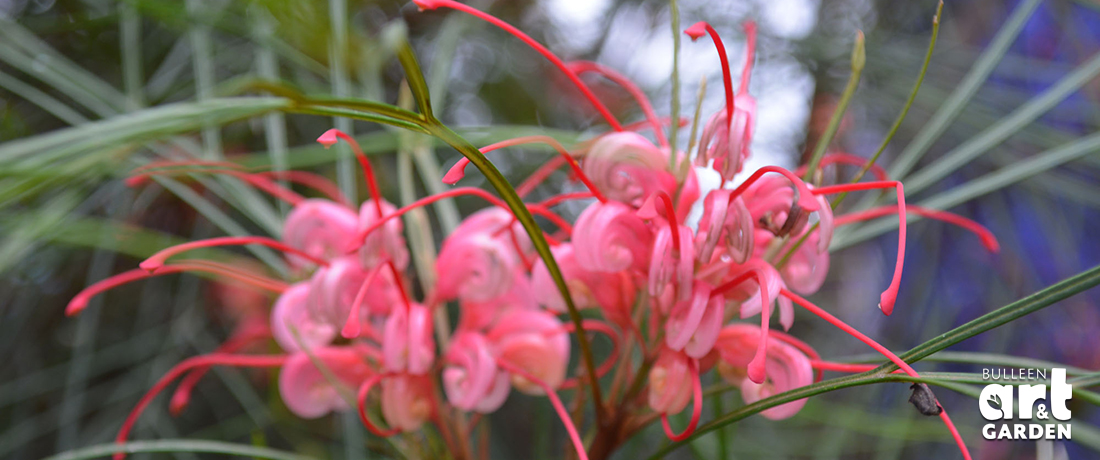 Grevilleas – Grevilleas are ever flowering, ever popular and there is an ever-increasing number of new cultivars released each season. This genus ranges from groundcovers to trees and can have some widely different requirements and tolerances.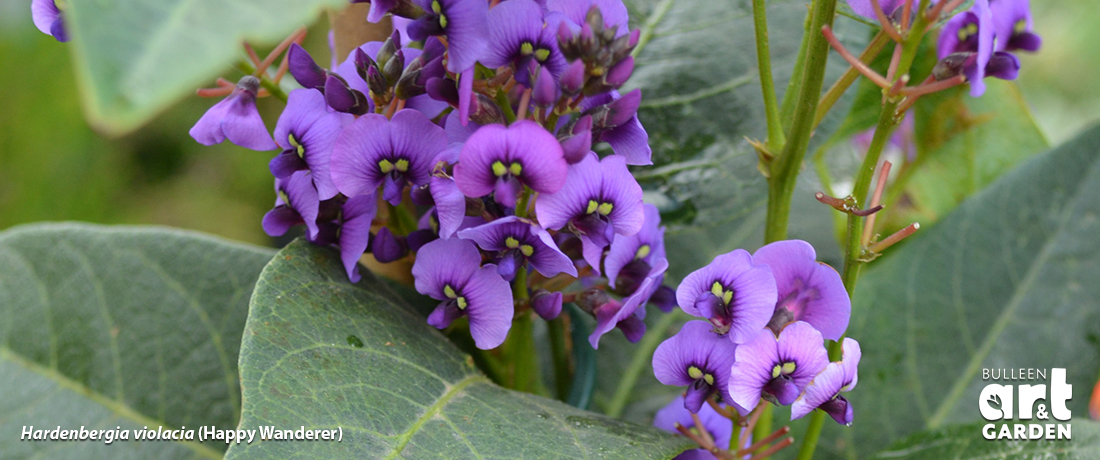 Hardenbergia violacea (Happy Wanderer) – The long flowering period make it a valuable pollen source for native bees. Frost tolerant and copes with dry exposed sites, but prefers some protection from the full sun. Looks best planted in groups. Gorgeous, delicate soft pink flowers from late winter through spring.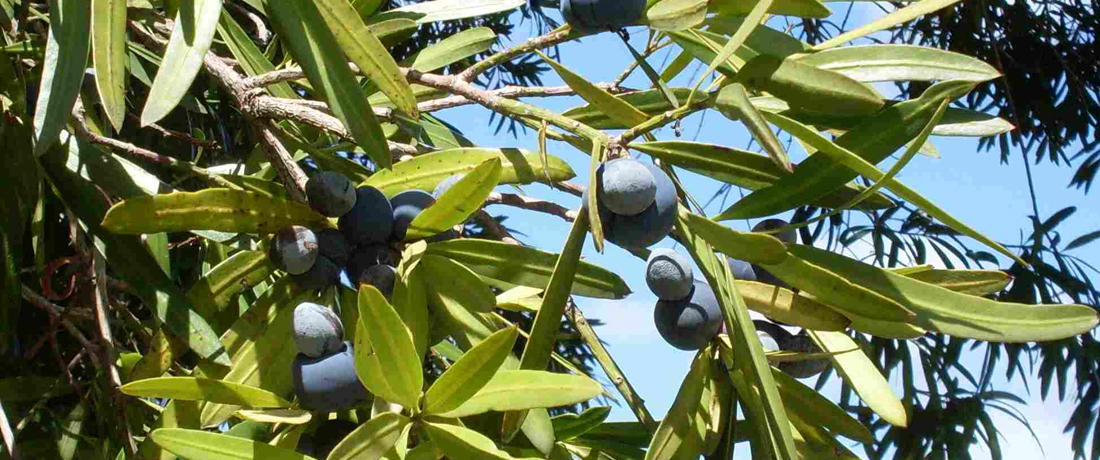 Illawarra Plum – An ancient tree originating 245 million years ago, Podocarpus elatus has been around since the dinosaur age and is from the same family as pine trees. It occurs naturally in subtropical rainforests of NSW and QLD, and as far south as the Victorian border.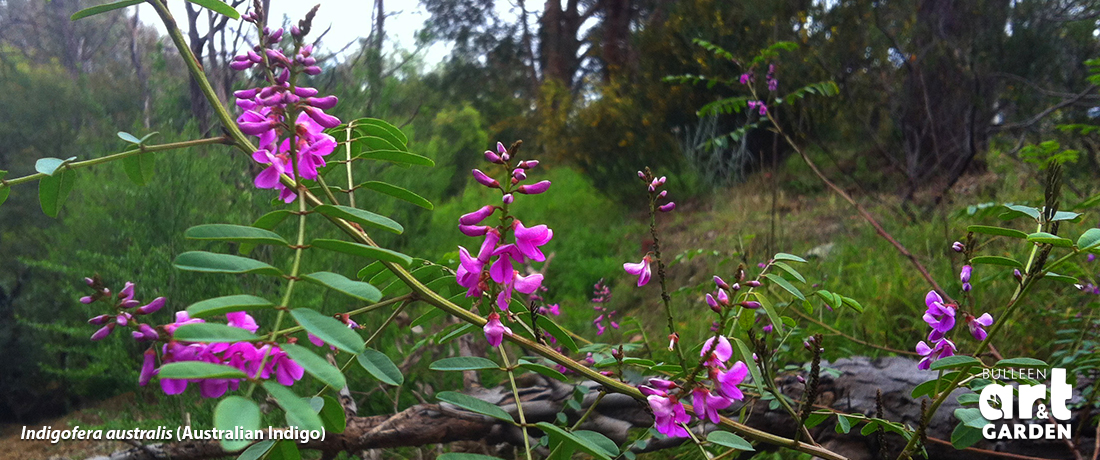 Indigofera australis (Australian Indigo) – Flowers are sprays of soft purple through to pink from mid-September to November. Lovely soft blue green lacy foliage. Form can be variable, pruning will give a neater dense form, leaving alone will lend to a more delicate open arching form.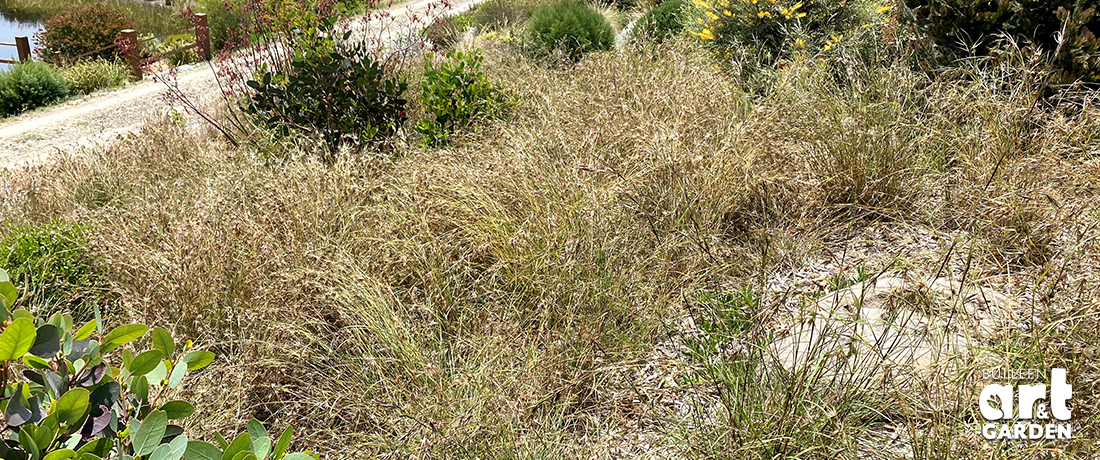 Kangaroo Grass – Soft, erect or sprawling perennial tussock with narrow green, purple or blue leaves. A distinctive grass which forms extensive swards in native grasslands. Glossy, rust coloured spikelets on slightly arching stems from September to February.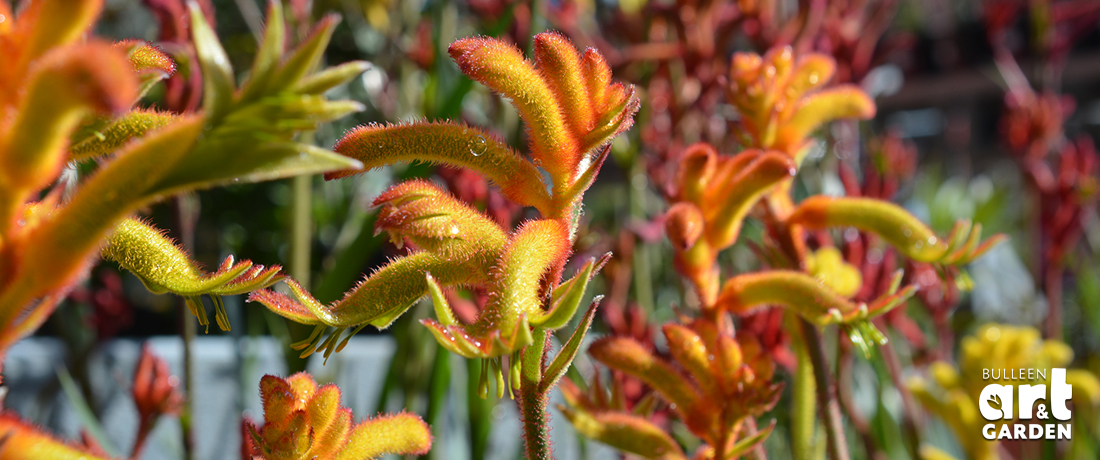 Kangaroo Paw – There are 12 different Kangaroo paws, 11 different Anigozanthos species and one Macropidia fulginosa. All are from Western Australia. Many of the named cultivars available from the nursery are hybrids of these different species.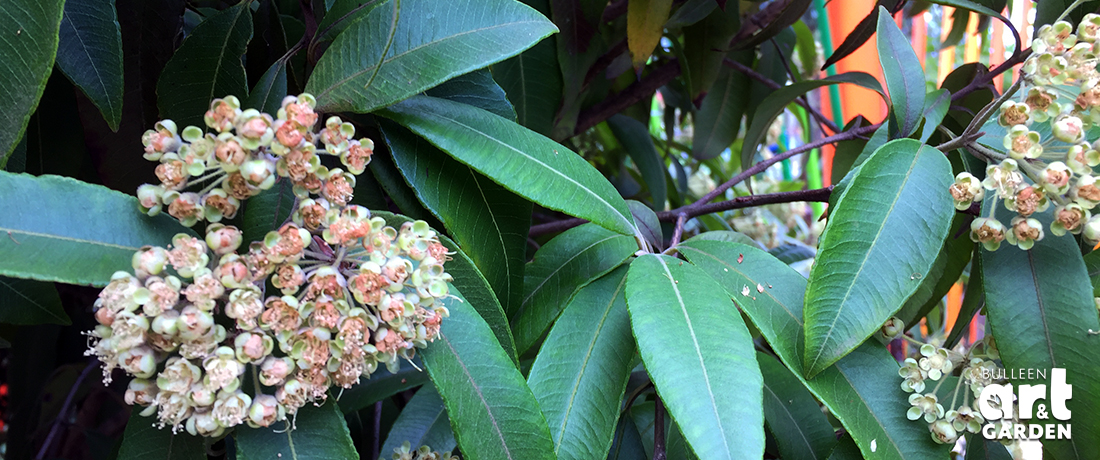 Lemon Myrtle – A favourite with chefs these days, Lemon Myrtle has moved past the novelty stage and is now widely used due to its outstanding lemony characteristics. The leaves have an exceptionally powerful lemon taste and aroma – "more lemon than the lemon".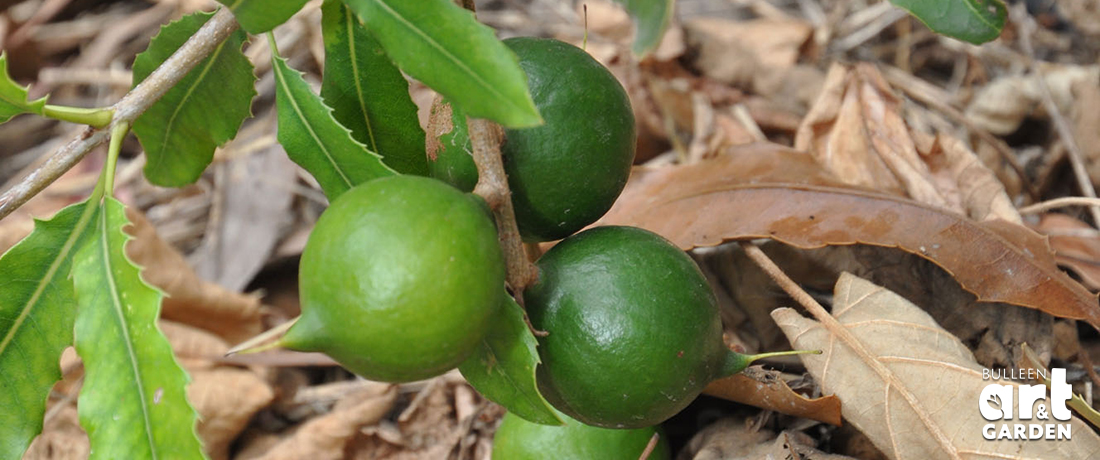 Macadamia – Macadamia nuts are one of the few Australian 'bush foods' that have found success as a commercial food crop right around the world. These nuts have an amazing sweet, subtle buttery flavour with a soft, smooth, crunchy texture and are one of the most versatile nuts.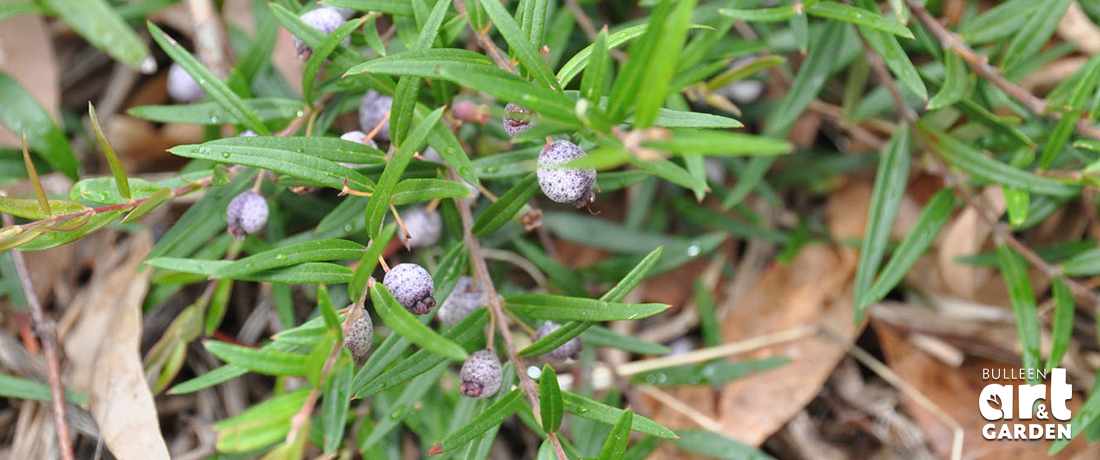 Midgen Berry – This low growing, spreading shrub is an ornamental and hardy plant that is useful as tall ground cover or small shrub. After a lovely show of creamy blossoms many small berries appear on the shrub, looking like tiny speckled eggs.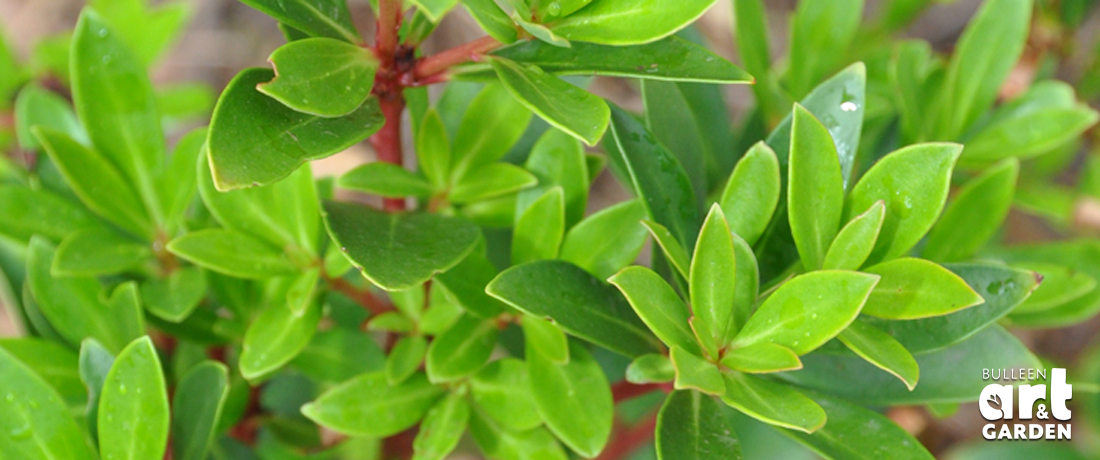 Mountain Pepper – Creamy flowers appear in small clusters in September, followed by dark red berries that turn black when ripe in around March or April. The leaves have a hot flavour when chewed, and the berries are enjoyed by native birds.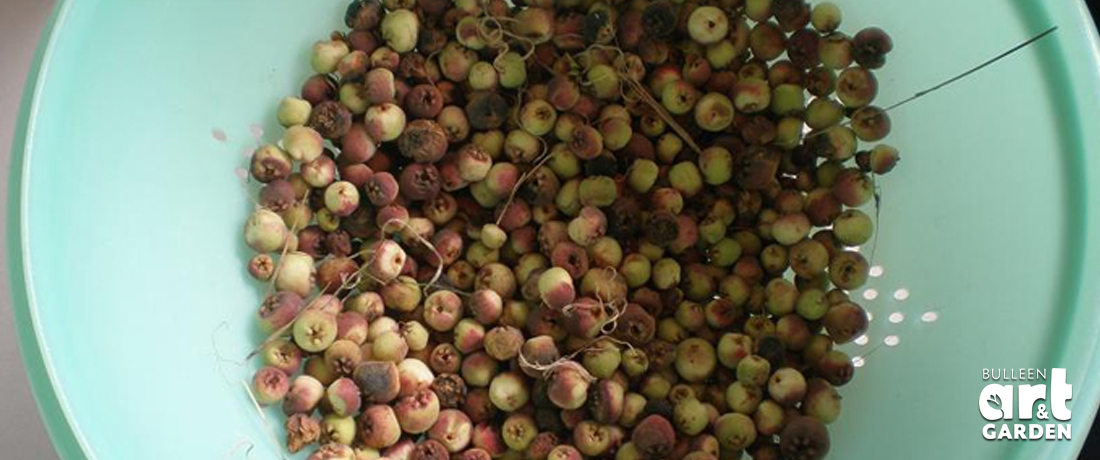 Muntries – Absolutely fabulous native fruit, rapidly gaining favour not just with local provedores but also by our top chefs and leading restaurateurs. Containing up to four times the level of antioxidants of blueberries, these little berries are about to take off.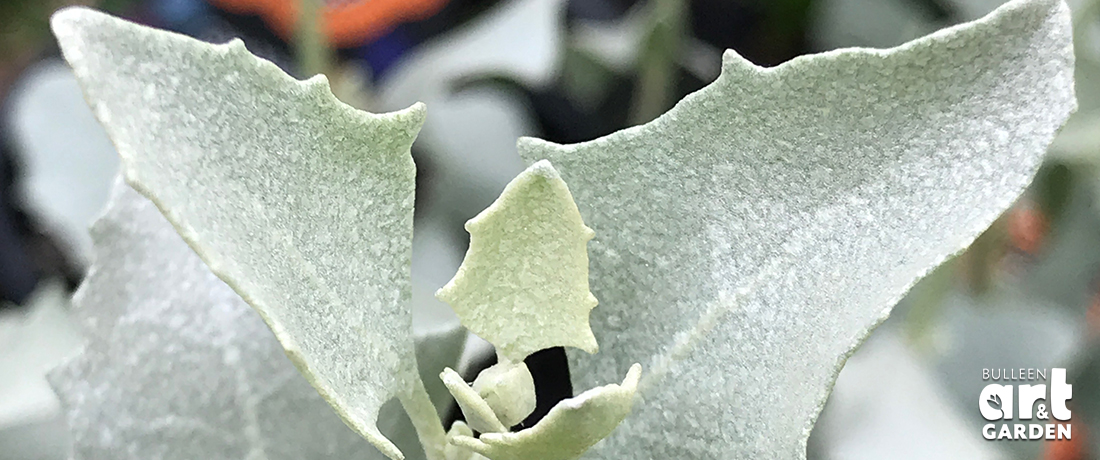 Old Man Salt Bush – The attractive silvery grey leaves are variable in shape and size, and when dried and crumbled are sought after as a salty flavouring for many foods.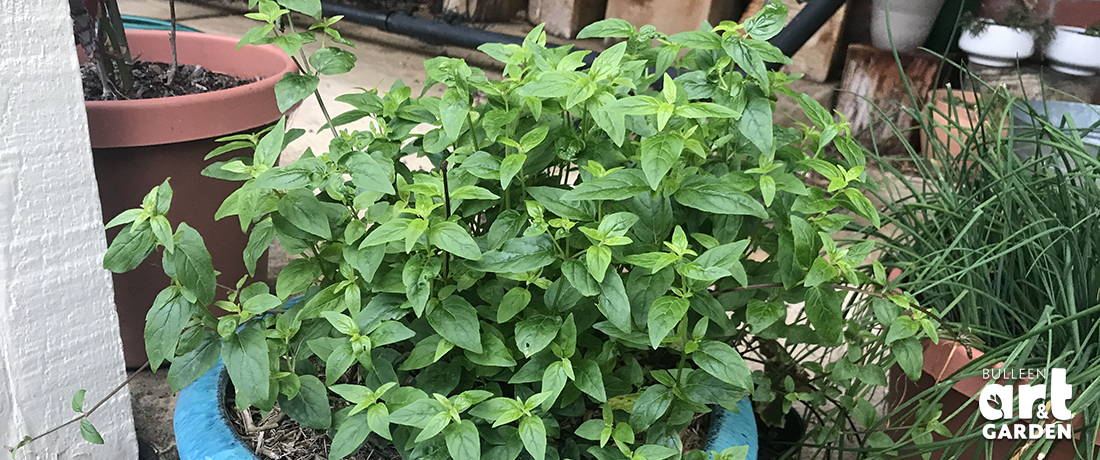 River Mint – Related to the common mint that is commonly used in cooking, M. australis is our own local version.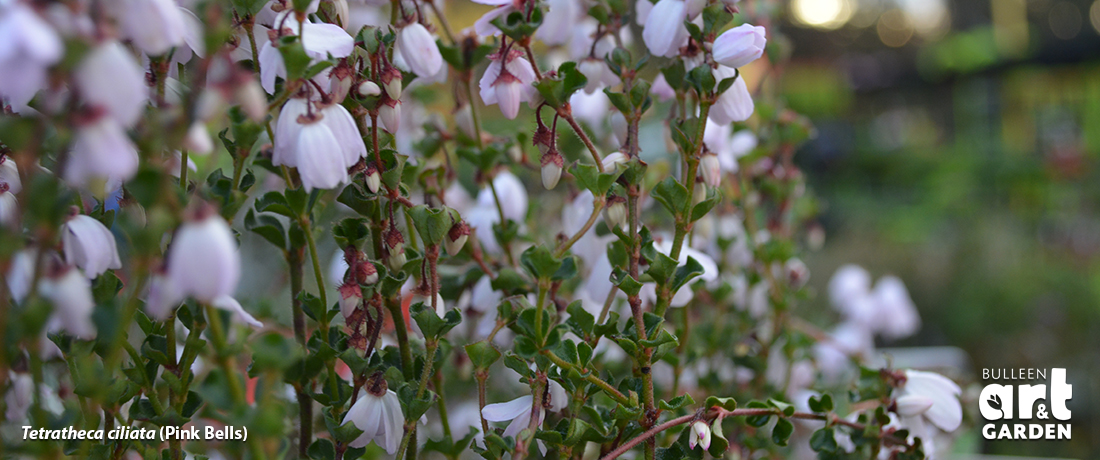 Tetratheca ciliata (Pink Bells) – The long flowering period make it a valuable pollen source for native bees. Frost tolerant and copes with dry exposed sites, but prefers some protection from the full sun. Looks best planted in groups. Gorgeous, delicate soft pink flowers from late winter through spring.