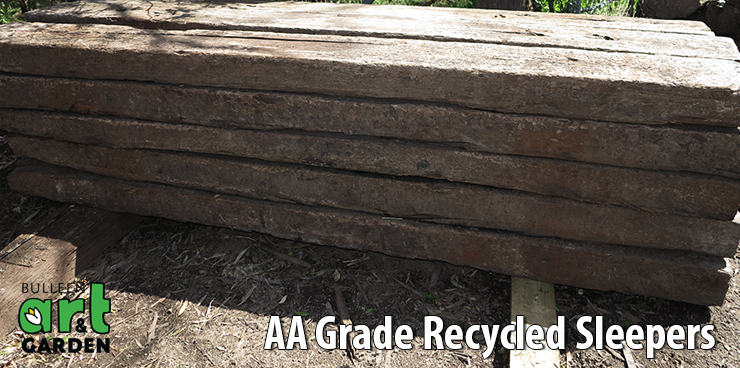 AA Grade Recycled Sleepers (Non-treated)
AA Grade Railway Timber Sleepers are the most solid timber sleepers with good square sides, edges and faces. AA grade timber sleepers are great to use for DIY projests such as timber furniture, garden fences, water features, retaining walls and many more.
Size: 2.45m x 225mm x 125mm (approx)
A Grade Recycled Sleepers (Non-treated)
These old railway sleepers have come from a rail line in Northern NSW. Whilst they are aged, being tough old red gum they still have plenty of life in them and will look great when used in your landscape.
Being untreated natural hardwood, they are excellent for use in the garden, particularly vegie beds, and completely safe to use around kids.
Size: 2.45m x 225mm x 125mm (approx)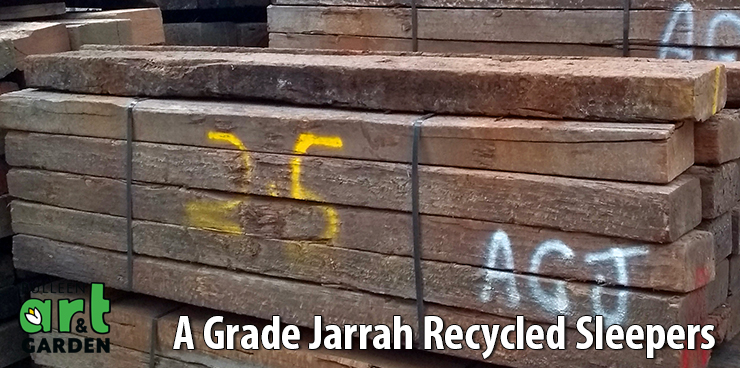 A Grade Jarrah Recycled Sleepers
Recycled, treated Jarrah sleepers.
Size: 2.5m (approximately)
AA Grade Jarrah Recycled Sleepers
Recycled, treated Jarrah sleepers.
Size: 2.4m to 2.7m (approximately)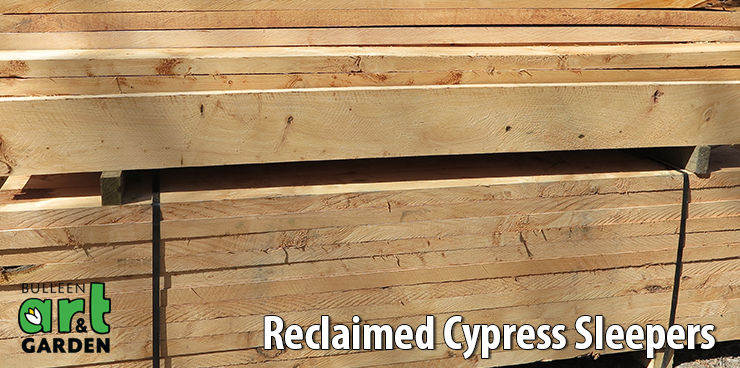 Reclaimed Cypress Sleepers
Our Reclaimed Cypress, Cupresses macrocarpa is a native to North America but has been planted widely across Australia. It is important to note this is not Cypress Pine from the Callitris species.
Used as wind breaks across farms, the now oversized trees are being logged to provide a sustainable timber option. Farms across Gippsland are providing this beautiful golden timber. Our supplier's business is focused on sustainability, which includes the products they sell and the energy used in harvesting, production and delivery.
Reclaimed Cypress sleepers are naturally resistant to termites and fungus. This makes them ideal to use in above ground landscaping. Untreated they are safe to use in the vegie patch.
NOT for in ground use or permanent soil contact unless treated, lined or painted.
Sizes available:
2.4m x 200mm x 50mm
2.4m x 200mm x 75mm
2.4m x 200mm x 100mm
3m x 200mm x 50mm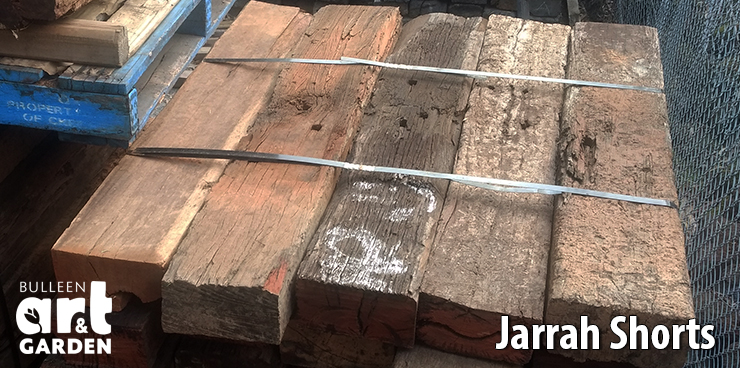 Jarrah Shorts
Perfect for steps and small garden beds, these are ex-railway Jarrah sleepers cut at 1.2m in length. They retain all the brilliant colour and texture with the added bonus of being easily handled.
Ecowood Pine Sleepers (Non Arsenic)
Ecowood is a range of treated wood products protected with unique timber preservatives incorporating copper and azole co-biocides as active constituents. It has been thoroughly tested in Australia and overseas and has excellent performance against decay and insect attack. Safe durable and attractive, Ecowood is available for use in hazard level H4 in accordance with AS1604.
Ecowood is intended for long term performance against decay and termites. It incorporates only recycled copper and safe organic azole biocides as active constituents which may be more acceptable to certain users or more appropriate in particular applications such as playgrounds and vegetable gardens. Ecowood is preferred for prefabrication and re-manufacturing where extensive machining and cutting work generates a lot of treated wood dust and waste. Ecowood is safe for applications that are in close human contact and durable against decay and termite damage. Ideal for many residential, commercial and civic applications where outdoor above-ground and in-ground timber is specified.
Re-sealing Requirements
Where a piece of timber is cut to length, rebated or drilled it is essential that the newly exposed surfaces are re-sealed
with a suitable in-can timber preservative such as Tanalised Ecoseal. (Available in the trade store) All treated timber
should not be rip sawn, re-thicknessed or heavily planed as these actions will reduce the protection afforded by the treatment.
Sizes available:
2.4m x 200mm x 50mm
2.4m x 200mm x 75mm
2.4m x 200mm x 100mm
3m x 200mm x 50mm
3m x 200mm x 75mm
Australian Hardwood Sleepers
Harvested from Forests in Southern NSW, these Plantation Sydney Bluegum sleepers are untreated and completely safe to use around vegies.
The sleepers harvested are certified to the Australian Forestry Standard (AFS) and are part of the Australian Forestry Certification Scheme (AFCS). This is recognised by the Program for the Endorsement of Forestry Certification (PEFC), the world's largest forest management certifier. This certification verifies that these sleepers come from certified, legal and sustainable resources.
Sizes available
2.4m x 200mm x 50mm
2.4m x 200mm x 75mm