Paving
Bulleen Art & Garden have a big range of pavers and retaining wall blocks on display. Concrete pavers, natural stone pavers, random stone pavers and a variety of concrete retaining wall blocks are on show.
Our knowledgeable yard staff are more than happy to discuss any of your paving ideas or problems. We can help via our recommended tradespeople (click here), or simply provide 'how to' advice for the weekend warriors. Of course, we offer all the other items that you may require when paving; from string lines to paver sealants.
Among the companies that we display are National Masonry, ECS masonry, Riverstone and Edwards Slate and Stone. Drop in to see the colour ranges and ask for a brochure or price list.
We keep a selection of pavers on hand in our yard. From second hand red bricks, a variety of sizes and colours in concrete pavers, plain concrete slabs and random paving stone can all be purchased on the same day.
We also offer a paver cutting service. Simply bring your pavers marked with permanent marker or crayon and we'll be able to cut them to size for you. It can take some time to cut pavers, so it's a good idea to call ahead if you want some cut.
Stepping Stones
Transform your old dirt path into something beautiful and interesting with our range of premium stepping stones. You'd be surprised at how much a few rounded tiles can enhance your entire garden or yard! Stepping stones can be used by anyone and suit a huge variety of landscapes and structures, especially Australian and Japanese garden designs.
Bluestone Stepping stones 30 mm
Small 300 – 400 mm, Medium 500 – 600 mm, Large 700- 800 mm
Beech Stepstones 30 mm
500 – 600 mm
Black Stepstones 30 mm
500 – 600 mm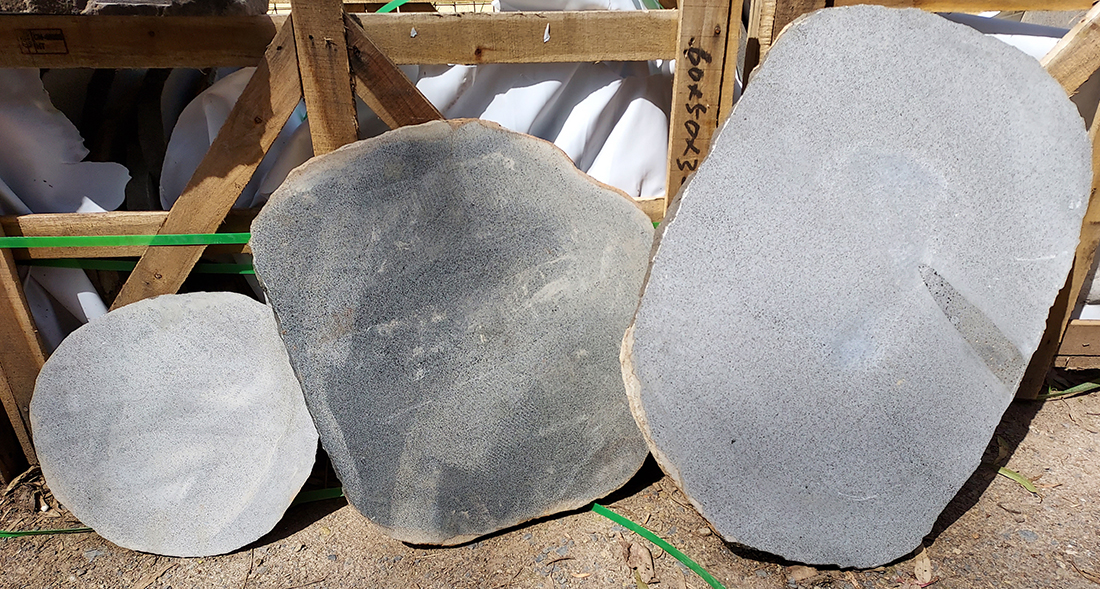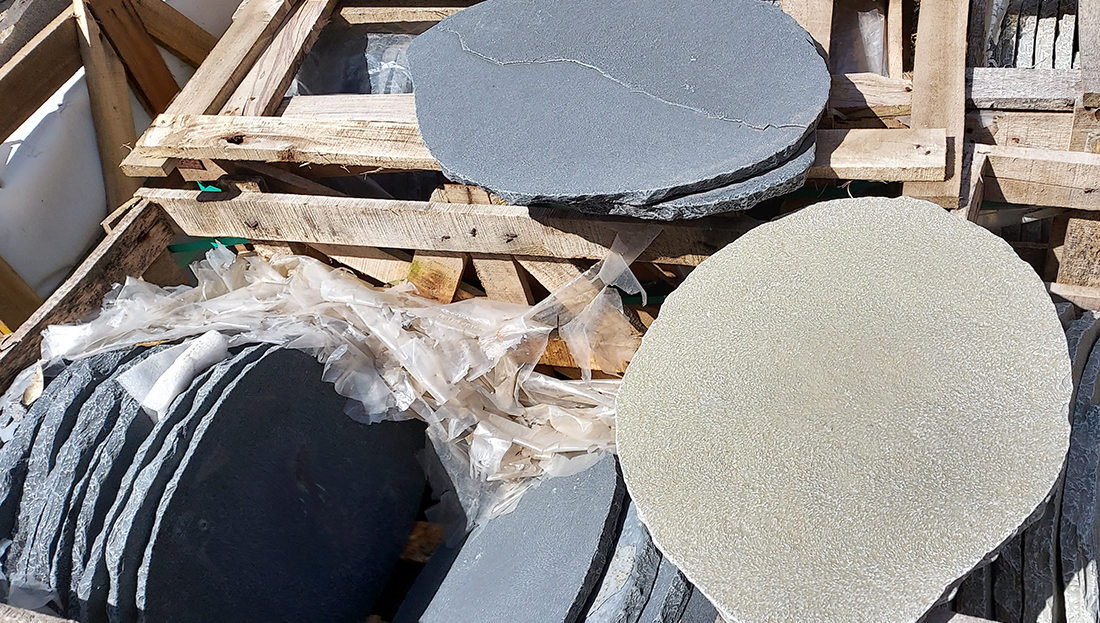 Retaining Walls
Retaining walls are built to create levels on sloping terrain and to hold soil in place. There are many options to consider when choosing how you will construct your retaining wall. The two most common are sleepers or blocks.
Regardless of the materials used to build the wall, there are some basic points that need to be remembered. Any wall over 1m in height will need to be designed by an engineer and may require council approval. Allowing for drainage behind the wall is one of the most important. Back-filling the base of the wall with scoria and agi-pipe is often the easiest and best method. Having the sock around the agi-pipe will add an extra layer of protection to the pipe to stop roots and soil from penetrating and clogging the pipe. A layer of geo-textile cloth on top of the scoria will help keep the soil away and ensure the scoria doesn't clog with soil. Geo-textile cloth will allow water to penetrate and drain away whilst holding the soil in place.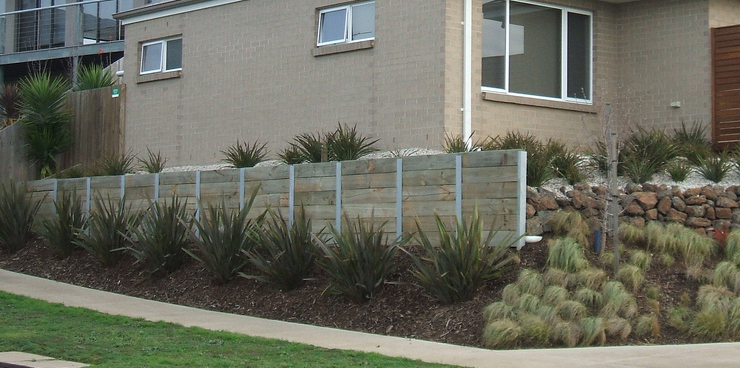 Sleeper Retaining Walls
The most common size sleeper when building a retaining wall is 75mm (3 inches) thick. Anything thinner can be too weak and not withstand the forces pushing against them. A hardwood like Reclaimed Cypress or Ironbark can be best for their extra strength, whilst Treated Pine is suitable for use in walls up to 1m in height. If you cut a treated pine sleeper, ensure you re-seal the cut area. Avoid using sleepers longer than 2.4m without extra uprights to prevent the sleepers from bowing.
Concrete sleepers are becoming increasingly popular. Obvious advantages with strength and durability are seeing them used in structural walls. With a variety of colours and textures becoming available to use, you don't have to look at a plain concrete finish.
The two options for supporting uprights are using sleepers and screwing or bolting the horizontals sleepers to them or using galvanised steel. Galvanised steel will provide a much cleaner and smooth looking finish. Your uprights need to be half in the soil and concreted in. A slight inward angle, around 5 degrees, will help counteract the natural forces pushing against the wall.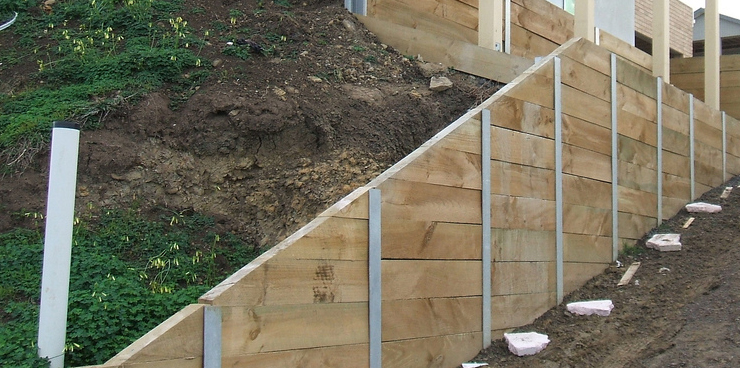 Paving cleaners – manmade paving (bricks or concrete pavers)
HCl acid is the best substance to use when removing excess grout from brick or concrete pavers, and will leave a good clean finish.
To avoid damaging your clients' plants or grass, try to wash into a drain and not onto garden beds or areas of lawn. Mix roughly ten parts water to one part acid (until the mixture fizzes) – always add the acid to the water, never do it the other way around.
And NEVER use it on natural stone pavers.
Paving cleaners – natural stone pavers
Once again, NEVER use HCl acid on natural stone pavers. Instead, use a specialised product to remove light mortar or grouting haze.
Miteq Masonry Cleaner 304 is safe to use on terracotta, natural stone and cement-based pavers and grouts. It is also great for removing the efflorescence (white bloom) you see on both terracotta and glazed pots. And while it won't repair their cracks and chips, it will help give them a new lease on life by also cleaning off mould, mildew and dirt stains.
Miteq Masonry Cleaner 306 is particularly good at removing organic based stains (such as timber and rust stains) from clay bricks and pavers, terracotta, ceramic tiles, concrete, natural stone and cement-based pavers. It's also really handy for cleaning the shower!
Miteq Masonry Cleaner 301 is the best thing to use when cleaning paved driveways that have accumulated grease and rubber marks and are generally soiled. It is also a great product for removing rubber marks and grease from terracotta, natural stone, cement based pavers and grouts. These surfaces all come up a treat, but especially so when it is used with a pressure washer.
Paving Sealers
Paving sealers are a great way of making sure that most soils, greases and general food stains don't become ingrained. They keep stains from penetrating deeply, especially into newly laid surfaces, and make cleaning and the removal of contaminants much easier. There are two types: penetrating sealers and surface sealers.
The first type of penetrating sealer is water-based. This sits just below the surface and gives a good "natural" look – it doesn't change the appearance of the paver – while also acting as a waterproofing agent. It allows the pavers to "breathe" and can be painted if needed. Miteq Sealer 102 is especially good around pools and other damp areas.
The second type of penetrating sealer is solvent-based, and is used to give a higher level of protection to dense surfaces (granite, bluestone etc) and in heavily trafficked areas (driveways, patios, bathrooms, etc). Miteq Sealer 103 is ideal for these surfaces and areas.
Surface sealers, such as Miteq sealer 201, are used to achieve a high-gloss "wet" look. They sit on the surface of the paver and don't allow it to "breathe". While generally glossy, they can have a matt finish. They can often be slippery, and so some varieties can have an anti-slip agent added to them. Some can also be used as an anti-graffiti protectant.