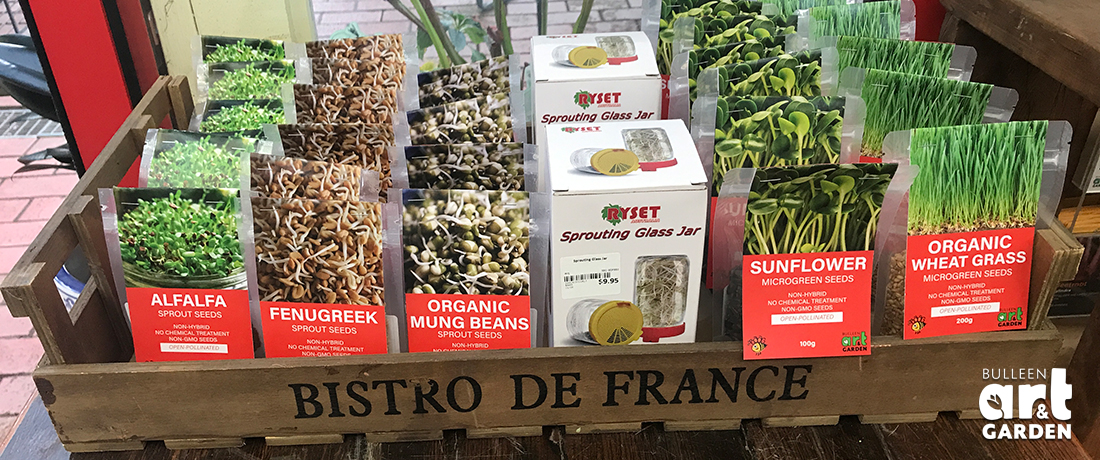 Sprouts and Microgreens really simple and quick to grow and are super healthy to eat! They are one of the best crops to grow with young kids as they see results very quickly. See the pic below to see the alfalfa Paul grew with Annie and Ollie in only a week.

Microgreens grow fast, all year round and make an excellent crop for those with little time or space. They are the very young shoots of edible plants, including salads, herbs, and vegetables. Microgreens are planted in soil and harvested once the first true leaves have developed. It is only the stem and leaves that are eaten, leaving the root behind.
Sprouts are germinated in water. A sprout is a new shoot or a seed from plants, grains or legumes that has been germinated. Sprouts are eaten when the seed has germinated but before the leaves have formed – you can eat the whole plant, seed and all.

Important note about plant availability.
There are hundreds of factsheets on our website provided for your information. Not all plants will be available at all times throughout the year. To confirm availability please call (03) 8850 3030 and ask for the nursery.