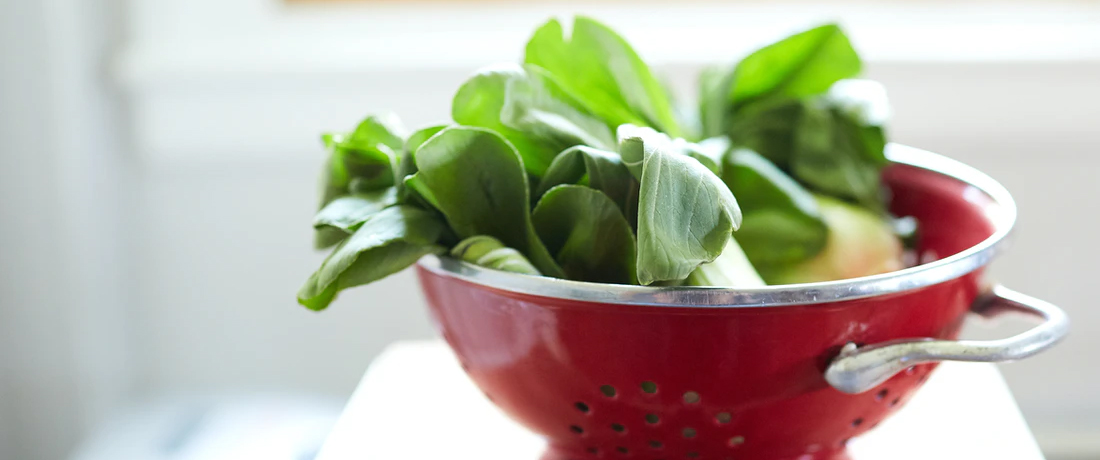 Important note about plant availability.
There are hundreds of factsheets on our website provided for your information. Not all plants will be available at all times throughout the year. To confirm availability please call (03) 8850 3030 and ask for the nursery.
You know some of them, in the supermarket there's Bok Choy, Baby Bok Choy and sometimes Pak Choy. What you may not know is that there's a lot more Asian greens out there and that they are perfect for planting when the weather is cool. After all, you need to plant something when it's too cold for tomatoes!
Asian Greens are the quickest growing vegies you'll ever grow. You can harvest the outer leaves as soon as they're big enough, which can be as little as 2-3 weeks. Otherwise, harvest in 5-6 weeks.
Asian Greens include mustards and the more bitey leafy greens, they are most often used in a mixed stirfry, but they're also a great addition to a salad or on sandwiches. Also try them stirfried on their own with garlic and coated with soy and oyster sauce.
These plants like to grow quickly so they need a lot of fertiliser and water. Pick a sunny spot, dig in loads of well rotted manure and compost at planting. You can top dress your Asian greens patch with blood and bone every 6 weeks or liquid feed them every 2 weeks with either worm farm juice, compost or manure tea or the many available ready made organic liquid fertilisers like Charlie Carp. Make sure you wash them well before eating.
Plant them from autumn to early spring, they love the cool weather and tend to bolt to seed if the weather is too hot or if the soil dries out.
These types of vegetables are in the cabbage family, so in mild weather, the cabbage white moth will lay eggs on these plants, later a green caterpillar will hatch out and devour your plants in a real hurry. You can either create a flywire screen to cover these plants, inspect the undersides of leaves for little pointy yellow eggs and squish them or try to find the green caterpillars and remove them. Otherwise, if you see some caterpillar damage, protect your plants with natural sprays like Dipel and Success. Also, watch out for slugs and snails.
Try these varieties…
Bok Choy
A quick growing plant prized for its broad, white stemmed leaves. Small, compact, non-heading and slow to go to seed.
Pak Choy
Just like Bok Choy, only bigger.
Mizuna
A very vigourous japanese mustard. Mild flavour when young. Stays tender for a long time in the garden. Tall, grows to 1 metre, with attractive serrated leaves. Frost hardy, so great for the colder months. Plant in rich soil from autumn to spring in a sunny spot, 40 cm apart. Liquid feed regularly and protect from cabbage white moth, slugs and snails. Harvest when the leaves are to size, or in 6-8 weeks. Great in stirfies, salads or sandwiches. Plant it at the back of the garden as mizuna can grow to a metre tall. Also great in pots.
Mibuna
A fast growing asian green with long narrow leaves to 45cm. Tastes like bok choy with a firmer leaf and a mustard-like flavour. Great in cooler months. Plant in rich soil in a sunny spot from autumn to spring. Protect from cabbage white moth, slugs and snails. Great for stirfries, salads and sandwiches. Liquid feed regularly. Like all the asian greens, they grow fast so are hungry crops.
Mitsuba
Aromatic and tall plant to 90cm. Great in stirfries and stews. Stems can be blanched.
Mustard Spinach
Large, light green leaves, a lovely, nutty mustard flavour.
Giant Red Mustard
Large, tender, purple-red leaves with a hot, strong mustard flavour. Height to 40cm. Use leaves in salads and stirfries and the seeds in cooking. Also a striking ornamental for foliage contrast. Very hot when eaten raw but when cooked will lose its heat whilst retaining its mustard flavour.
Mixed Mustard Greens
A mix of green and coloured mustards, available as seed in hot or mild mix.
Tatsoi
Grows compact, spoon shaped leaves on a plant that grows flat to the ground. A very cold hardy plant, great cooked and often used in salad mixes.