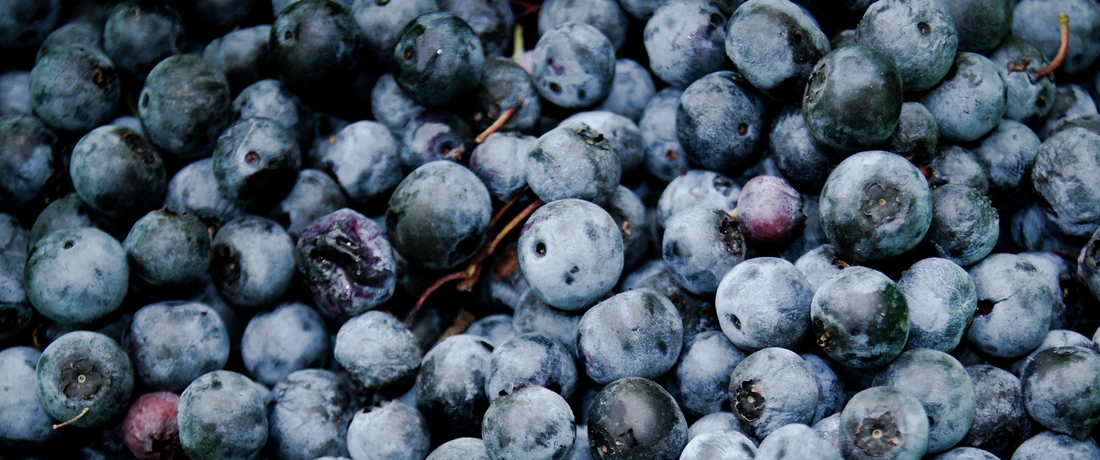 Important note about plant availability.
There are hundreds of factsheets on our website provided for your information. Not all plants will be available at all times throughout the year. To confirm availability please call (03) 8850 3030 and ask for the nursery.
These long lived deciduous or evergreen shrubs can be grown purely for their ornamental value. With their lovely pink brushed white bell shaped flowers and brilliant yellow, orange and red autumn foliage on a 1 to 2.4m high thornless shrub, they add value to any garden.
Blueberries are an ideal fruiting plant for the home garden, related to azaleas and rhododendrons, they require similar (but more acidic) growing conditions: an acidic (pH of 4.5 – 5.5), well drained soil, rich in organic matter, in a sunny position (they can take limited amounts of shade and in very hot regions may benefit from protection from the full blast of the hot afternoon sun). Their roots are shallow and fibrous and should not be allowed to dry out. Mulch is ideal around blueberries because it protects the roots and controls weeds and the plants thrive on the organic matter provided and the consequent soil micro-organisms.
Do not over fertilise your blueberries, additional compost and manure (not chook manure) through the growing season is sufficient. The liquid seaweed or fish emulsions are also beneficial. Little and often is best with fertilising blueberries.
Blueberries require 750+ chill hours, Melbourne commonly gets 650 chill hours (outer suburbs get more) – so a mild winter may see poor fruit set. If in a warm spot, look for low chill blueberries like Sunshine Blue.
Bees are essential for a good fruit set, so consider companion planting. For good fruit ripening blueberries need at least half a days sun and are best protected from strong winds, do not let the soil dry out. The average mature bush should produce around 5kg of berries. The fruit ripens in clusters, but unevenly. They ripen over 5 to 6 weeks and you need to select the largest berries in each cluster to pick. Repeat this process each week. You may need to protect the berries from birds with netting.
Pruning
For the deciduous blueberries: In the first two years remove weak and spindly growth in winter, and remove the flowers in spring to avoid fruit set. At this stage you want the plant to put its energy into its overall root and branch structure, not fruiting.
From the third year on prune each winter, keeping only the strong canes and laterals. Remove the cross growing twiggy growth and any low growth around the base – leaving lonely upright canes from the base. Select for bright coloured wood with long (at least 3 inch) laterals. Remove blotchy colored short growth. If 1/3 to 1/2 of the wood has not been removed by the above steps, thin out the fruiting laterals and small branches until this balance has been obtained. Try to plant your blueberries a minimum of 1m apart.
Growing in Pots
Use a premium azalea/camellia potting mix for your blueberries. The pH will be appropriate and you need the superior drainage, water holding capacity and fertiliser provided by a premium potting mix. Economy potting mix will not do for blueberries. Their dense fine roots need an open structured potting mix, and without this the plant will not survive more than a few years. In warmer months mulch the top of the pots and after 3 months add a slow release fertiliser (repeat every 3 months). When the fruit is setting and developing, a boost every few weeks with a liquid fertiliser (must be a fertiliser, not a tonic like Seasol) will help.
Water regularly, but do not over-water, check soil moisture with your finger – damp but not wet. Try to water the soil rather than the foliage, this helps discourage fungal problems. Keep an eye out for rust, if you even suspect rust use a copper based fungal spray – don't wait.
The dwarf evergreen varieties are perfect for pot culture.
There are many different blueberries which set fruit at different times of the year. While we do try to keep the varieties below in stock, some are unavailable at certain times of the year.
Blueberry Burst
Self Pollinating.
Early season fruiting. (December to early January)
A popular Australian-bred variety is renowned for its enormous crisp fruit. Very sweet fruit can be up to the size of a $2 coin. Bushes are semi-evergreen and only grow to 1m, making them ideal for pots or small gardens.
Blue Crop
Self Pollinating.
Mid season fruiting. (late January to February)
Bluecrop is reputed to be the most widely grown blueberry. This very productive plant grows to around 2m tall. It produces pale blue, well flavoured, large and firm / crisp berries and crops over a long period.
Blue Joy
Self Pollinating.
Early season fruiting. (December to early January)
Blue Joy has a compact habit with a lovely autumn colour and large tasty fruit. It is an early season blueberry, with individual fruit ripening at different times which extending the picking season. Fruit holds well on the bush.
Blue Rose
Self Pollinating.
Early to mid season fruiting. (January)
A very popular and ornamental blueberry variety with a vigorous, upright habit to 1.5m. Prune heavily.
Blue Rose will produce an abundance of large firm blueberries in tight clusters. Excellent flavour. Leave fruit on the bush to ripen. Use for fresh eating, freezing or cooking. One handy feature is this blueberry retains its shape after being defrosted – useful in cooking etc.
Brigitta
Needs cross pollination with another medium or late variety.
Late season fruiting. (March to early April)
A productive and vigorous, upright dense bush (up to 2.4m) with nodding bell flowers and maroon autumn foliage. Plant in a rich, friable, acidic and moist soil in a sheltered position. Firm, very large, light blueberries have excellent flavour and superb keeping qualities. Use for fresh eating, freezing or cooking.
Caroline
Self Pollinating.
Late season fruiting. (March to early April)
A vigorous, upright dense bush with nodding bell flowers and maroon autumn foliage. Ripens 10 days after Brigitta and continues for 4 weeks. Plant in a rich, friable, acidic and moist soil in a sheltered position. Produces large, light blue fruit which is extremely tasty and aromatic (with hints of aniseed). Use for fresh eating (approx.1 week after harvesting), freezing or cooking.
Darrow
Self Pollinating.
Mid to late season fruiting. (February to March)
Darrow are firm, light-blue, very large sized blueberries. They grow on a moderately sized bush (1.4m) in loose clusters and have a full bodied rich, sweet flavour. Suitable for fresh eating or freezing.
Denise
Self Pollinating.
Early season fruiting. (December to early January)
Excellent and distinctive flavour. Large very round dark berries with a reddish tinge in loose clusters which hold well on the bush. Moderately heavy producer. Use for eating fresh, freezing or cooking. Plant in an acid humus rich soil. Prune heavily to maintain vigour and fruit quality. Good for warmer spots, shrub grows to approximately 1.5m.
Elliot
Self Pollinating.
Late season fruiting. (March to early April)
Upright vigorous grower to 1.2m. Very loose clusters. Matures 10 days to 2 weeks later than Brigitta. Beautiful light powder blue medium sized berry with distinct flavour – excellent. Fresh eating, freezing or cooking.
Jellybean
Self Pollinating.
A new variety to Australia. Exceptionally pretty foliage on a neat mounded shrub. In winter the bushes in the nursery are a wonderful mix of green, red and orange leaves, in summer there are hints of red in the glossy green foliage. Growing a maximum of 60cm x 60cm and easily pruned to smaller, they are ideal for pots or a low border. The blueberries are a lovely deep blue and bore in large clusters. Very sweet and juicy. Harvest mid summer.
Jenny
Self Pollinating.
Early to mid season fruiting. (January)
Grows 2 to 2.5m tall. Features fantastic autumn colour. Acidic fruit, which if left on the bush turns very sweet and sugary. The fruit can hold on the bush all through February if protected from predators. For bigger berries, thin the flowers in winter.
Northland
Self Pollinating.
Early to mid season fruiting. (January)
Spreading vigorous bush. Fruit hangs without dropping and gets progressively sweeter. Very productive with medium-sized, dark, very sweet fruit. Fresh eating, freezing or cooking. Tolerates extremes in temperatures, vigorous shrub to 1.5m.
Peach Sorbet
Self Pollinating.
Another new variety to Australia, with gorgeous foliage showing a range of colours from peach through pink, orange to emerald green, in very cold winters, the leaves can turn shades of rich purple. An evergreen small neat shrub, again, excellent in pots or as a low border. Abundant mid sized exceptionally sweet berries harvested in mid summer.
Pink Icing
Self Pollinating.
During spring, the foliage has stunning shades of pink mixed with blue, deep greens and lavender. Cold winters will see the leaves turn a stunning iridescent turquoise blue. This attractive and compact plant bears loose clusters of sweet berries, and grows well in containers.
Sunshine Blue
Self Pollinating.
Early season fruiting. (December to early January)
Compact evergreen variety that only gets to 1m in height which makes it a good choice for pots. They are considered easier to grow because of their size, higher tolerance to less acidic soils and low chill requirement. Plants are early fruiting and produce masses of small fruit with a subtle floral flavour.