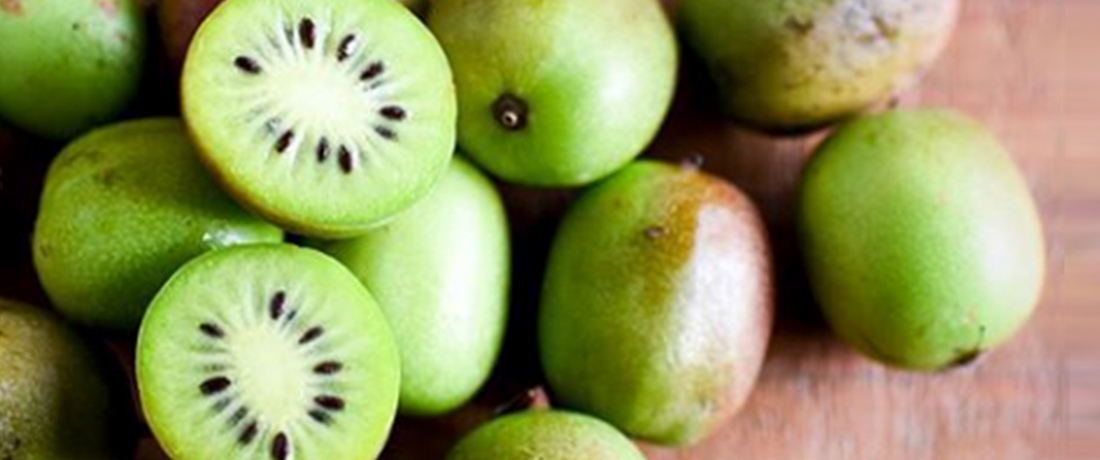 Important note about plant availability.
There are hundreds of factsheets on our website provided for your information. Not all plants will be available at all times throughout the year. To confirm availability please call (03) 8850 3030 and ask for the nursery.
Actinidia arguta
(Syn.: Hardy Kiwi or Baby Kiwi)
Known as the Hardy Kiwi because it is frost hardy, (however new growth is frost tender). Produces very sweet grape sized fruit with a smooth skin and flesh similar to the better known Kiwi fruit in appearance and taste. Needs male and female plants to produce fruit, and will not bear fruit until mature (5 years minimum). Very vigorous vines growing several metres in a year. Best in well drained soil to avoid root rot.
Bearing fruit in autumn, each individual vine can produce over 25kg of fruit. Fruits can be eaten whole, no need to peel. The fruits are aromatic with a cocktail of flavours (kiwi, strawberry, banana and pear) wrapped up in one delightful package.
A lot of work is currently being done to produce new cultivars, NZ have 3 commercial cultivars: Takaka Green, K2D4 and Marju Red, and no doubt more will be developed. Currently they do not have a long shelf life, so it is not easy to find them at a fruiterer or grocer (best chance is mid Feb to Mid April), much better to grow your own.