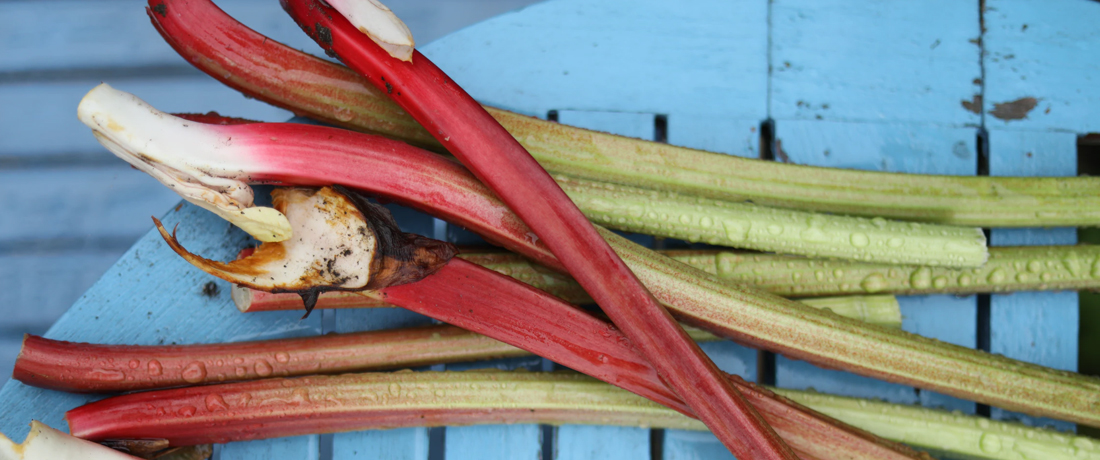 Important note about plant availability.
There are hundreds of factsheets on our website provided for your information. Not all plants will be available at all times throughout the year. To confirm availability please call (03) 8850 3030 and ask for the nursery.
Rhubarb adapts well to all climatic zones and most soils with good drainage. It can be grown in full sun or part shade, but avoid planting in heavy shade. Rhubarb plants are gross feeders and beds should be prepared by working through liberal quantities of well-rotted manure. Plant crowns 1-1.5m apart with the top of the crown level with the soil surface. Harvest very sparingly in the first year.
Avoid light overhead watering, rhubarb is better off with less frequent but with deep watering. Liquid feed every 5-6 weeks with a high nitrogen fertiliser during the growing season. Older, more established plants require less water, but do not allow to dry out or the stems will never be juicy.
To pick stalks, hold the lower part and pull cleanly from the plant. Always pick outside stalks first and leave the young centre stalks to promote more growth. When picked, cut the leaves off the stalks as these are poisonous. Any flowering stems that appear should be cut off, so that the plant's energy is diverted into producing more stalks.
Ongoing Care
Each year during winter, cultivate the soil around each plant and re-fertilise in preparation for spring growth. Rhubarb clumps should be lifted and divided every 4-5 years. This can be done during the winter months by cutting clumps into portions of one 'strong' crown and a substantial piece of root.
Popular Varieties
Ever Red: Strong thick crimson red stems, produces all year round if well watered, best harvest in spring and summer. Good for cold climates.
Giant Victorious: Amazingly productive and hardy – simply huge harvest. Pink and green colouring on the stems. The sweetest and the tasiest of all the rhubarbs.
Red Dragon: Produces vibrant long and large stems of dark red rhubarb. Sweeter than most.
Silvan Giant: Strong growing and continuous cropping variety with large thick dark red skinned stems.
Wandin Red: Excellent, strong-growing variety with large, thick, dark, red-skinned stalks.