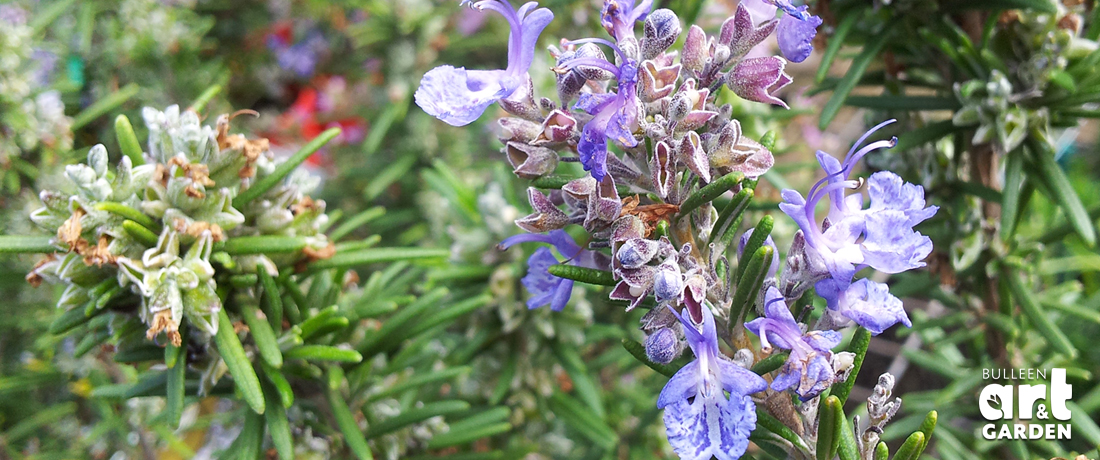 Important note about plant availability.
There are hundreds of factsheets on our website provided for your information. Not all plants will be available at all times throughout the year. To confirm availability please call (03) 8850 3030 and ask for the nursery.
Rosemary is the perfect way to start off your herb garden. They are dead easy to grow providing you follow a few simple guidelines. Not only are they one of the most versatile herbs for cooking, they are also a beautiful ornamental plant that will bring colour and fragrance to your garden. The botanical name, Rosmarinus officinalis, means 'dew of the sea', very appropriate given how often rosemary is used in Mediterranean cooking.
Rosemary is evergreen and is available in a wide range of forms. They range from spreading groundcovers to upright shrubs. The upright forms can grow up to 1.5m in height. They flower mainly in summer, but can flower for longer periods in mild winters. Flower colours include white, pink and purple / blue. Aside from being a fantastic culinary herb, Rosemary bushes also make great hedges planted close together. The distance apart you need to plant them for hedging will depend on the particular variety, ask nursery staff to help you with this.
Choosing a position
You will need to follow three basic rules with Rosemary. They love the sun, so choose a position in full sun, or at least somewhere that gets a fair bit of sun (6-8 hours) during the day. They also love a sandy soil that drains well, Rosemary bushes hate getting wet feet. If you live in an area with heavy clay soil, add plenty of compost and gypsum before you plant. Don't forget to improve the soil right in a wide area around the actual plant, you don't want the roots to hit a clay barrier as soon as they start to establish. Rosemary doesn't like frost, especially when young, so if you live in an area prone heavy frosts during winter be sure to protect the plant if frosts are forecast.
Growing in Pots
Rosemary is easy to grow in pots as long as you keep them in a sunny position. As rosemary hates getting wet feet, terracotta pots are the ideal choice. Never over-water potted Rosemary, and don't let them completely dry out. You will need to check the soil with your fingers before deciding if they need a drink. As with most potted plants, the soil in your rosemary pot will degenerate through watering and root growth. Repot every couple of years. Winter / spring is the best time to repot your rosemary.
Fertilising
Rosemary does not require much feeding at all. You can lightly fertilise in spring with Seasol (or something similar), or you can use Compost Tea or diluted Worm Juice if you have a compost bin or a worm farm. This will give it a kick along, but really… if you don't even look at your Rosemary bush it will more than likely thrive anyway. These things are tough as boots.