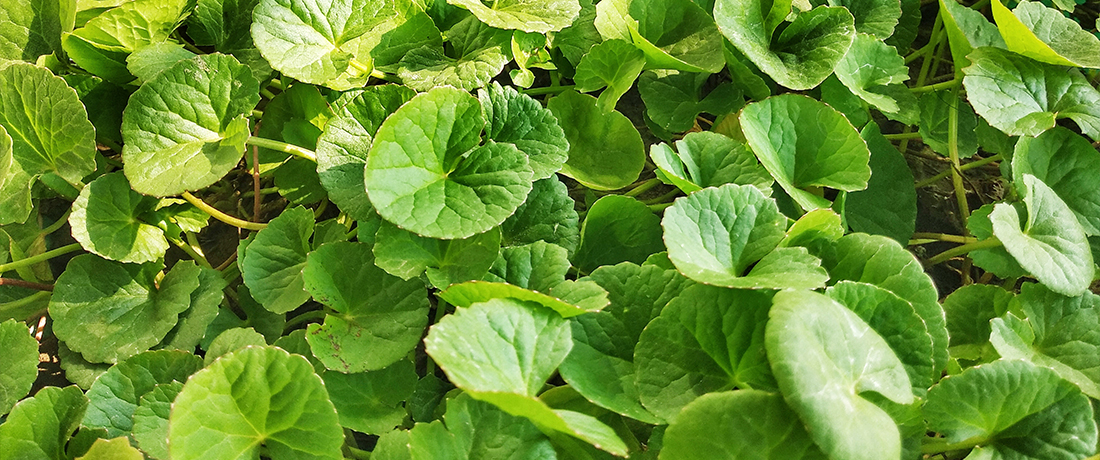 Important note about plant availability.
There are hundreds of factsheets on our website provided for your information. Not all plants will be available at all times throughout the year. To confirm availability please call (03) 8850 3030 and ask for the nursery.
Gotu Kola, (Centella asiaticum) is a tiny leafed low growing plant has been called the 'Elixir of Life'. This ground cover herb, also known as the arthritis plant, has been used by the Sinhalese and other people of India who live along the Indian Ocean for many hundreds of years. They believe that it contains remarkable longevity qualities.
Two to three small leaves, or one to two large leaves a day are eaten raw to reduce disorders like poor memory, rheumatism, arthritis, abscesses and high blood pressure. The natives of India use the plant medically as a diuretic or stimulant to the kidneys and bladder. It is also believed to be an aphrodisiac.
This rejuvenating herb has been used medically for impotence, endurance, menopause, fluid retention, age spots, depression, fatigue, to strengthen the heart, to help the body defend itself against various toxins and in cancer treatment.
Gota Kola can be eaten straight from the plant, added to salads or chopped up as a last minute garnish on a meal. The leaves can be used fresh or dried for tea and sweetened with honey if desired. It is important to take Gota Kola daily and for several weeks before any marked beneficial effect is felt.
This tonic plant is rich in chlorophyll, vitamins A, B, C, G and K; and particularly the mineral magnesium. Do not overeat as the results may be headaches, dizziness or too much energy and sleeplessness at night time.
Transient unconsciousness may occur through over consumption. Two to three small leaves or one to two large leaves daily is said to be sufficient.
The plant is a low growing groundcover with a leaf the size of a thumb nail with a serrated edge. It has a long tap root and mats over the ground. It grows in sun but will thrive in moist semi-shade and even grow taller. Indeed, its flavour is milder if grown in shade. It is easy to grow and seems to adapt to any soils. In fact, Swamp Pennywort grows along Victorian waterways as a weed. If planted in a pot ensure that enough room is allowed for the plant to spread. The container does not need to be too deep: an idea may be to plant it in a shallow foam vegetable box.
Bulleen Art & Garden cannot obviously guarantee its efficiency: however, moderate use should not present a risk.