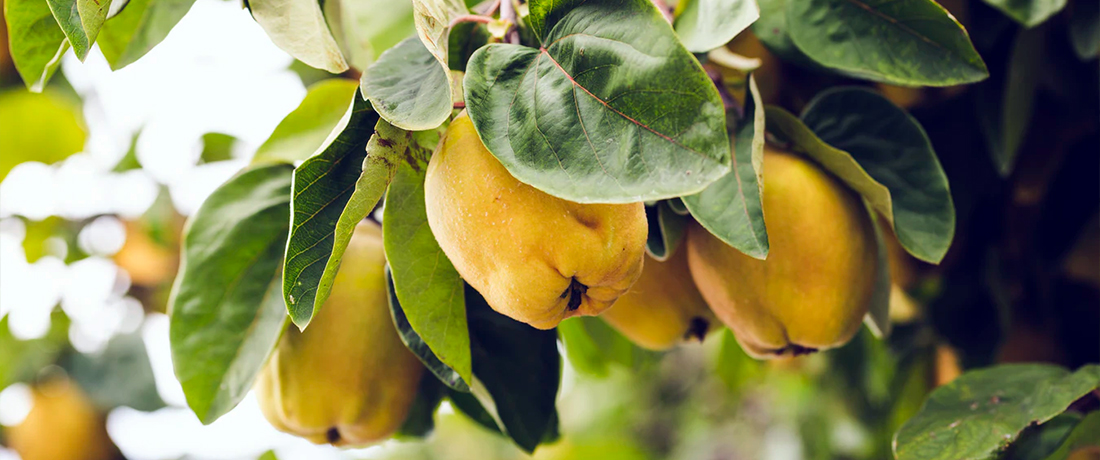 Important note about plant availability.
There are hundreds of factsheets on our website provided for your information. Not all plants will be available at all times throughout the year. To confirm availability please call (03) 8850 3030 and ask for the nursery.
The Quince has come back into vogue. Maggie Beer's quince paste re-introduced this fruit to Australia and it is now part of the culinary landscape once again. The quince (Cydonia oblonga) is a small deciduous tree growing to 4m x 4m. It can be planted just for it's aesthetic value with perhaps the most beautiful blossom of any fruit tree and striking heart shaped leaves changing to gold and orange in autumn. The trees are generally very long lived, and don't take to kindly to being shifted, so plan your position well. A tree in the right spot will reward you with amazing, ancient-looking gnarled branches – a fabulous feature plant with or without the fruit.
Quinces are very hardy little trees tolerating wet soils, as well as being somewhat drought tolerant. Regular watering, pruning, fertilising will see them set a heavy crop of fruit, and when the fruit are ripening they send a very distinctive and tantalising aroma wafting around the garden.
Pruning of quinces is much the same as for other deciduous fruit trees (pears, apples etc) and the earlier in the quince's life you can establish a shape, the better.
A few varieties to think about:
Angers: A smaller tree with a very vigorous root system (often used as root stock for grafted pears) has the smaller leaves of the French varieties. The fruits are slightly smaller and harder than other varieties, but cook down beautifully in the traditional quince manner. The fruit keeps longer than other varieties and the tree will set a heavier crop with cross pollination.
Champion: From the USA, this quince resembles a fat pear, the fruit a greenish yellow changing to golden when ripe. The colour of this fruit when cooked is amazing, the flesh tender, and the flavour milder than some other quince varieties.
De Bourgeaut: A French variety with large pear shaped fruit. Vigorous upright tree with very large leaves. The blossom is large, pale pink and highly ornamental. The late maturing fruit has classic downy skin and greeny yellow flesh cooking to a lovely deep colour. Tart and rich flavour.
Fullers: Developed in the USA in the 1860s. Regular bearer and a strong grower. Matures march – April
One of the largest sized quinces with a pleasing pear shape and a clear bright lemon-yellow colour. Flesh is tender with a rich aromatic flavour and pale pink colour when cooked. Medium vigour, spreading, medium to large leaves. Flowers mid season.
Orange quince: Bears heavily with large, bright yellow pear shaped fruits that are flavourful and aromatic. A small spreading tree with multiple trunks valued for its fruit and its beauty. Tolerates extreme cold and prefers moist heavy soils.
Pineapple: Very old variety, vigorous growing tree, extra large leaves, fruit harvests late and has very nice flavour with a pineapple like aroma, useful baking, jams, and makes a terrific quince jelly, profuse ornamental blossom. These will cook up to a lighter colour than other quinces.
Smyrna: This Turkish delight bears very large, golden yellow pear-shaped fruit on an attractive large shrub/small tree. The foliage is also quite large and very attractive. Cooked, Smyrna fruit is highly fragrant and quite firm, make it a great choice for pastes. A very popular quince with lovely flowers.
Van Deman: Winning the Wilder medal in 1891 and developed by Luther Burbank in California, this quince remains hugely popular with an almost cult following. Medium to large fruit with an oblong/squat shape, bright yellow colour, but most importantly, cooks down to an orange pulp with no grit and a wonderful aromatic spicy flavour. Matures late, extending the fruiting season. Pale pink flowers (early flowering, late fruiting) and medium sized leaves. Starts fruiting early in its life.
Chinese Quince: (Pseudocydonia sinensis (syn Cydonia sinensis)). Cup-shaped, fragrant pink flowers (to 3.5cm across) blooming in spring are followed by huge, oval fruits (quinces) which ripen in late autumn with an intensely sweet fragrant aroma. Fruits are edible off the tree or may be stewed or used in jams and syrups. Chinese quince is a small deciduous tree or large shrub with a dense oval crown and attractive bark. A moderately slow grower, it leafs out early in spring and as it ages the bark flakes off leaving a delightful patchwork of gray, green, orange and brown. If it is sufficiently cold the leaves will turn shades of yellow through to red in autumn. The beautiful fruit aside, this is a lovely tree with something to offer in every season. Best in full sun, tolerates poor soil and some drought.